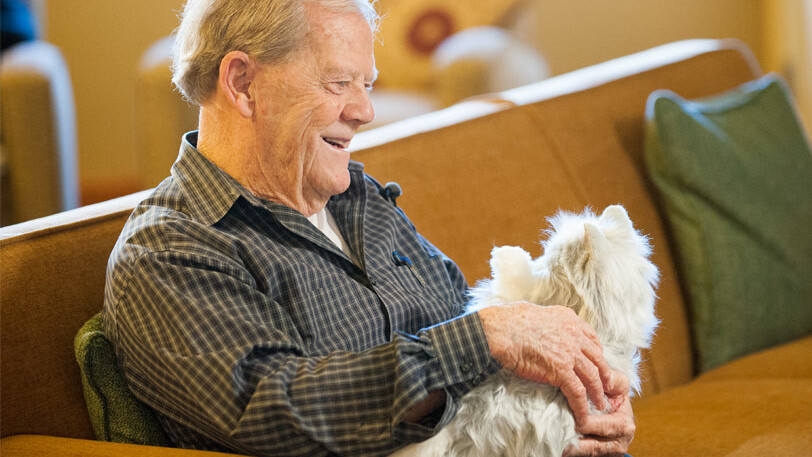 Story by
Reporter
Lauren is a reporter for The Next Web, based in San Francisco. She covers the key players that make the tech ecosystem what it is right now. Lauren is a reporter for The Next Web, based in San Francisco. She covers the key players that make the tech ecosystem what it is right now. She also has a folder full of dog GIFs and uses them liberally on Twitter at @lhockenson.
As a kid, I spent a lot of time walking down long hallways.
My γιαγιά, which is Greek for "grandmother," was once a fabulous woman who famously took a job in our town's department store but refused to work in any section except furs. But Alzheimer's Disease had robbed her of practically every trace of who she was before.
Most days, she walked down the hallways of the care facility my family spent a fortune to keep her in, as her disease required 24/7 care. Mumbling broken, incoherent Greek that neither I, my siblings nor my first-generation, fully Americanized mother could understand. My mom, heartbroken, once told me she thought γιαγιά kept walking because it was the only thing that made her feel alive.
The sterile, patently risk-averse nursing facility she lived her last years in — one likely similar to what more than 1.4 million people, many with Alzheimer's, experience across the United States — didn't offer much in the way of comfort or agency. In the '90s and early '00s, we often tried to make visits as fun and nice as you can with someone who can barely recognize you. Generally, that was the familiarity of chocolate, which γιαγιά loved.
But, perhaps in 2015, that comfort could come in the form of a robotic cat designed to mimic the look, feel, and sound of an actual living cat for those who are either physically or mentally unable to take care of one. And with that comfort also comes dignity and happiness.
Yesterday, Hasbro released its first line of devices in its Joy for All line, and it was met with less than sympathetic reactions by the media and the general Internet. Even here on TNW. But laughing at the absurdity of a robot cat, or ribbing people who might potentially purchase one for their aging parent or grandparent, heaps shame and guilt onto a population of people in this country — and, I would guess, the world — who already experience plenty of shame and guilt as it is.
Here are the facts: The CDC estimates that between 1 and 5 percent of seniors in America experience late-life depression. But those numbers skyrocket as they battle chronic illness, lose mobility and require palliative care: 11.5 percent of older hospital patients and 13.5 percent of seniors that require home care experience depression. To put that in context, 6.5 percent of adults in the US experience a major depressive episode in a 12-month period — practically half.
So, while we praise the path that technology has paved for babies, children and adults, we treat efforts to help senior citizens experience technology meaningfully as mawkish or inane, nervously laughing from a distance at our own mortality.
As a 25-year-old woman, I certainly have no need for a robotic cat companion that purrs at my touch when I pet it. But I bet you an 85-year-old woman at a nursing facility would appreciate a feeling of companionship and presence in between the times her family comes to visit. And that isn't something that we should take lightly or mock for its ability to make us feel "alone."
We should be willing to examine and understand technology specifically built for seniors as they would use and interact with them, not as we, from our privileged perspective, interpret them.
We, as well as our loved ones, will age, that is a fact. And, the United Nations projects that senior citizens will make up 21.1 percent of the global population by 2050. Knowing that, we should be more open to exploring and accepting technological advancements that make senior living as comfortable and happy as possible for our grandparents, parents, and ourselves.
And yes, even if that comfort is a robotic cat.