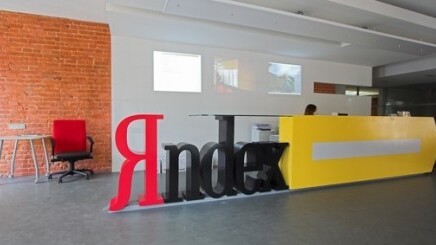 Story by
Robin Wauters is the European Editor of The Next Web. He describes himself as a hopeless cyberflâneur, a lover of startups, his family a Robin Wauters is the European Editor of The Next Web. He describes himself as a hopeless cyberflâneur, a lover of startups, his family and Belgian beer. If you'd like to know more about Robin, head on over to robinwauters.com or follow him on Twitter.
There's apparently a movie in the works about the founding of Russian online search and services giant Yandex.
It's being produced with a slightly smaller budget than Facebook movie The Social Network ($2 million versus $40 million in case you were wondering), and fewer internationally acclaimed actors, but that doesn't mean we don't want to see it when it's ready.
Titled 'The Startup', the flick will zoom in on the careers and lives of Arkady Volozh and Ilya Segalovich, the two Russian software developers who laid the groundwork for Yandex in the early nineties.
Today, Yandex employs almost 4,000 people and boasts a Russian search market share of more than 60%, trumping global leader Google.
A billion dollars may be cooler than a million dollars, but Yandex is currently valued at approximately $8 billion, making it the largest European Internet company by a margin.
The question is, of course, if the story of Yandex's founding is interesting enough to turn into a successful feature film. To our knowledge, Yandex has never been sued by any twin brothers, nor were any underage Yandex interns ever arrested for possession of cocaine.
But Yandex didn't get to 53 million unique monthly visitors without making a few enemies, so there's hope for a high body count.
17 years of Yandex
In all seriousness, producer Irina Smolko told Russian press that the shooting process was kicked off last Wednesday, and that principal photography will begin on 20 May. She hopes to have the flick finished by the end of this year.
Interestingly, a Yandex spokesperson tells us that the company isn't in any way involved with the making of the movie, which will cover a span of 17 years in the life of Yandex and its two co-founders.
Smolko told local press that there will also be a love story intertwined with the main theme of the movie, which is how 'intellectual work' created wealth and success for ICT entrepreneurs in the nineties.
It sounds like the film makers are merely focusing on Yandex because it's the most obvious choice for the topic described above, so I doubt we'll learn much more about the story behind Yandex than is already known.
In fact, Smolko says a lot of what will be featured in the movie will actually be based on about 30 interviews that were done with people who were technology entrepreneurs in the early days of Yandex's rise to Internet giant, and differ from The Social Network by focusing strongly on the realities of business in late-nineties Russia.
Either way, we wanna see it, preferably in some excellent company with a bag of popcorn and a glass of red wine.
Get the TNW newsletter
Get the most important tech news in your inbox each week.
Also tagged with