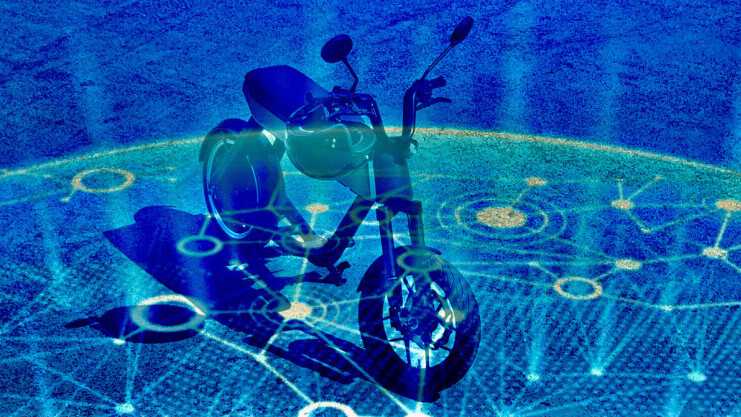 Story by
Cate Lawrence is an Australian tech journo living in Berlin. She focuses on all things mobility: ebikes, autonomous vehicles, VTOL, smart ci Cate Lawrence is an Australian tech journo living in Berlin. She focuses on all things mobility: ebikes, autonomous vehicles, VTOL, smart cities, and the future of alternative energy sources like electric batteries, solar, and hydrogen.
We've been hearing about the potential of Web 3.0 for years, a decentralized web where information is distributed across nodes, making it more resistant to shutdowns and censorship. Specifically, its foundation lies in edge computing, artificial intelligence, and decentralized data networks.  But what we haven't talked enough about, is the massive impact Web 3.0 will have on mobility.
Web 3.0 aims to build a new scalable economy where transactions are powered by blockchain technology, eschewing the need for a central intermediary or platform. And in the mobility space, there are lots of things happening.
Um, but how does Web 3.0 relate to mobility?
Over the next few weeks, I'm taking a look at a bunch of startups that are integrating mobility and the potential of Web 3.0 into their product offerings in interesting ways.
For the sake of brevity, I'm going to assume that if you're reading this far without your eyes glazing over, you probably have a basic, if not working, understanding of Web 3.0 and blockchain tech.
I'm going to simplify a bit and include plenty of juicy links for added context (and not just ones written by the companies themselves shilling their products).
So let's dive into one of the ways Web 3.0 has already begun to alter mobility.
Introducing Pave Motors and its electric motorbike
Pave Motors is a mobility company founded by two brothers that produce an electric "fusion of bike and motorcycle." But its sleek Pave 1 emotorbike isn't the only ace up the company's sleeve, as it's also doing some nifty things with data and sharing.
I spoke to founder Nicolaus Nagel, who founded the company in 2019 with brother Caspar Nagel. He told me the bike was a convergence of his passions for ebikes and blockchain tech. He shared:
The scooter industry is over 100 years old, but little has changed — internal combustion engine step-through scooters are still the norm globally. Growing up in Berlin, we always wanted the capability to move around the city quickly and easily. After we moved to Brooklyn, we discovered advancements in electric drive trains and batteries, which opened the opportunity for a new two-wheeler.
Sounds promising, so let's take a quick look at the bike's functionalities. It weighs 45 kilograms (99 pounds) and can operate at a maximum speed of 48 kmph (30 mph) and a range of between 80 kilometers and 105 kilometers (50 to 65 miles).
A 50.4 V 39 Ah lithium-ion battery powers the bike and can be charged up to 80% in just 90 minutes or fully charged in three hours.
So where does the blockchain come into it?
Pretty cool overall… but where does the blockchain come into it? Well, according to Nagel there are several central tenants:
1. Secure ownership
Pave Bikes connect to a private blockchain network. When you get your bike, you receive a non-fungible token (NFT). This is effectively a private key or token-based on ERC721. It is used to unlock the ebike via the Pave+ App.
To be exact, the Pave mobile app is technically a dApp, a decentralized application connected to the blockchain. It enables riders to securely authenticate their proof of purchase and access their bike using Bluetooth, even without an internet connection.
You've probably heard those stories of people using Tile to locate a missing bike? Even when they find it, they usually need a bunch of documentation to prove they are the owner. The team at Pave Motors is betting on blockchain to get rid of the unnecessary hassle.
Further, the digital key helps stop bike theft. Okay, it doesn't chain your bike to a lamppost. But the private key means that any theft leaves the offender with an unusable 'dumb' motorbike.
2. Peer-to-peer sharing
Bikes from established ridesharing companies can have low mileage, limit your geography with geocaching, and the hourly fees can really add up.
However, there are few services available that enable you to rent out your own ebike. In my research, I could only find one, ListNRide, which is limited to Europe and includes services fees for the hirer and hiree.
Pave is creating an easy way to share your bike with others. An ebike is a pretty significant investment, so it follows that even if you know the person you are renting it out to, you want an easy way to manage the rental. Internet-connected stuff is great until you want to share the connectivity with someone else (I at least struggle with sharing my smart home devices every time I get a cat sitter).
Further, Pave makes it possible for bike owners to securely share their bikes with other riders, either for free or for payments in cryptocurrencies or USD). They can create their own custom smart contracts. Users can also complete challenges to earn Pave rewards, and receive discounts and special offers. Pave rewards are ERC20-based tokens to use within the Pave network.
"This capability has attracted a lot of interest," Nagel told me. "Not only from people interested in crypto and blockchain but also bike enthusiasts who like the idea of an easy way to share and track their bikes."
3. The IoT data economy is pure Web 3.0
One of the most interesting aspects of Pave is the platform is built on the Streamr Network. Each bike runs on a light Streamr node which unlocks the Pave bikes' V2X (vehicle-to-everything) functionality.
As a result, the bikes can interact with network service providers, the environment and infrastructure around them (V2I), or even with other bikes (V2V). There's a future capacity for decentralized fleets.
Building on Streamr removes the need to use centralized message services like AWS or Google Cloud for data transport.
The opportunity for new data monetization
Think of the number of sensors and data entry points on an ebike and the associated devices and equipment. What if this data could be part of a larger machine economy? IoT-connected devices could trade between them storage, computation, analytics, sensor data, and even electricity.
Streamr has developed a new marketplace and data economy where IoT data can be bought and sold. This provides the capacity for Pave users to share and potentially monetize their transport data. Bikes generate data such as routing, road congestion, and mechanical feedback.
Pave owners could hypothetically sell this data. Potential customers include city planners, road maintenance authorities, highway agencies, and various suppliers from tire makers to brake manufacturers.
Further, more and more bike companies are looking at the idea of the circular economy. In these, the relationship between materials suppliers and bike makers is evolving. And the value of data becomes even greater in design and material innovation.
It's been a long road for Pave. According to Nagel, there have been seven prototypes and over 50 concepts. But now, they are in pre-production and open for pre-orders. Pricing starts at $108 a month or $3,900.
This is the first part of a series I'm writing about Web 3.0 and blockchain technology in mobility. I'm attempting to reduce the jargon and focus on the problems the tech aims to solve. Check out the second piece where I dive deep into how one motorbike company uses blockchain technology for P2P trading.
You may also enjoy:

Get the TNW newsletter
Get the most important tech news in your inbox each week.
Also tagged with