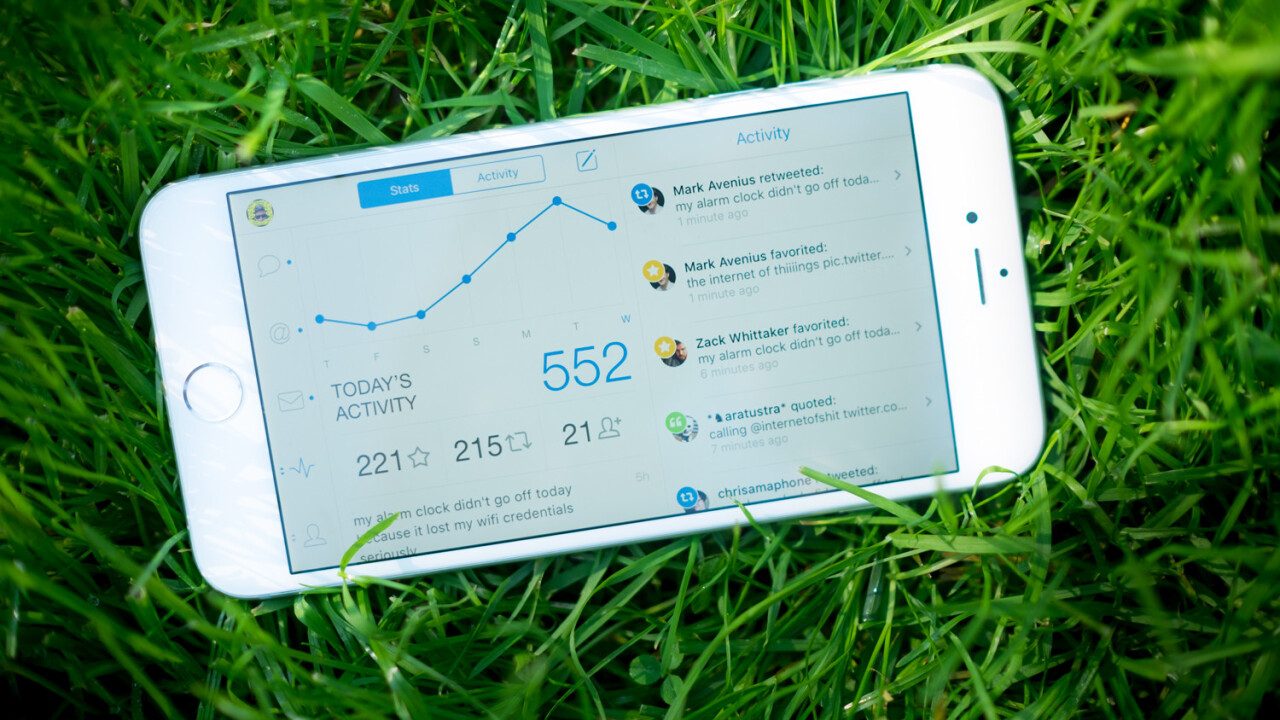 Twitter's official app is better than it used to be, but recently I've grown weary of the endless A/B testing.
Over the years I've tried every third-party Twitter app imaginable, with little success pulling myself away from the official one.
Tweetbot 4, which is out today, finally changed that for me.
My biggest problem with most third-party Twitter apps is that you're mostly forced to use the social network through this void of not knowing what interactions you're receiving without push notifications enabled.
Previously, apps have been disallowed by Twitter if they showed an 'activity' view, as it replicates functionality of their own app. It appears that those rules have finally relaxed slightly.
Today's Tweetbot update delivers that activity view — a new option selectable in the bottom row of icons shows stats and activity from your account in one place.
At the top of the stats screen, Tweetbot 4 shows a graph with the total interactions you've clocked up over the week, then breaks it down into how many of each type you've received today.
Below that, you'll see tweets with the most recent interactions as well as their total counts overall.
If you prefer a view of every single thing happening, the activity view toggled at the top of the screen shows a breakdown of each interaction as it comes in.
I've been testing the new activity view over the past few weeks and it's literally made me stop using the official Twitter app, as Tweetbot's overview is easier to read and gives you a birds eye view.
The only thing this view doesn't show is quoted retweets, but I can handle that for now, since they appear in the replies view.
Tweetbot 4 also adds iPad support for the first time, meaning the purchase of a single version of the app will work across all of your iOS devices. In the past, you had to buy a separate version of Tweetbot for your iPad, but those days are over with this release.
That's because it's now a universal app, rather than separate versions for each device, so one purchase works on both your iPad and iPhone.
The update also tweaks a few smaller things. You can now choose from a larger or smaller image size in your timeline. Replies to tweets now stack on top of a tweet in detail view, instead of underneath, which makes more sense. There's a landscape mode for iPhone 6 Plus owners.
Tweetbot 4 is a seriously great step forward, one that both fans and newbies to the app will love — it presents formidable competition to the official Twitter app, since it contains no ads, A/B testing or other distractions. The only thing I miss are Twitter cards.
The app is also distinctly faster than Twitter's official app, which has a slow, frustrating full-screen animation almost every time you open it. Tweetbot opens a few seconds faster, which is distinctly noticeable if you use it a lot.
Tweetbot 4 will cost $4.99 during the launch period for everyone, and will offer an upgrade option for owners of Tweetbot 3 once that sale is over. For everyone else, the full price when the sale ends will be $9.99.
Considering the amount of value Tweetbot 4 offers, I absolutely think it's worth your money to upgrade. You might be able to finally delete the official Twitter app completely.
➤ Tweetbot 4 [iOS App Store]
Get the TNW newsletter
Get the most important tech news in your inbox each week.
Also tagged with