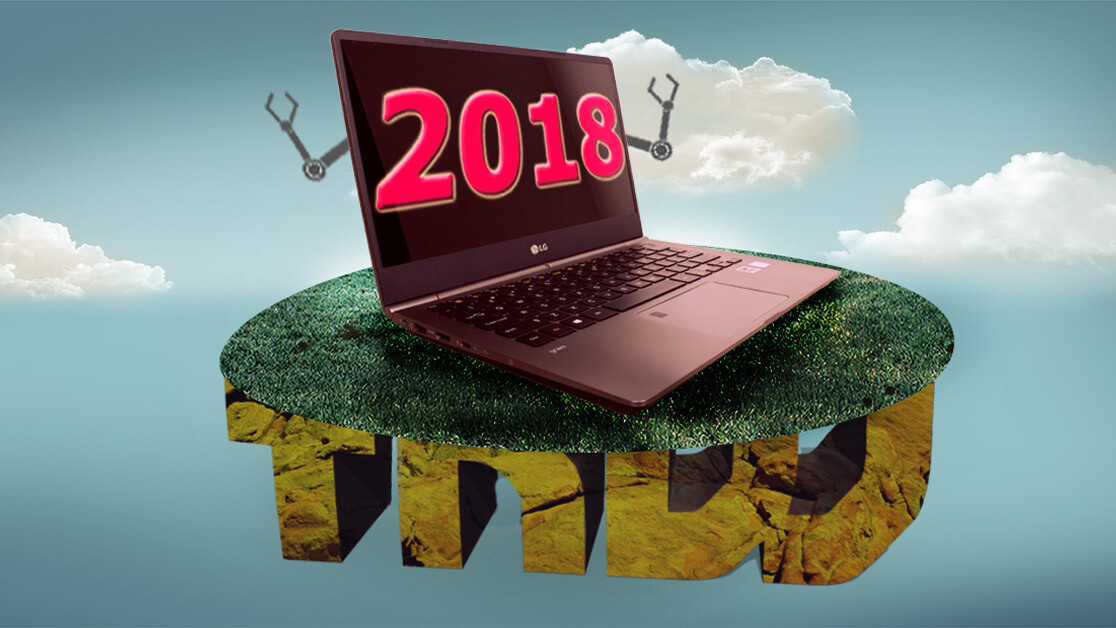 Story by
Editor, Neural by TNW
Tristan is a futurist covering human-centric artificial intelligence advances, quantum computing, STEM, physics, and space stuff. Pronouns: Tristan is a futurist covering human-centric artificial intelligence advances, quantum computing, STEM, physics, and space stuff. Pronouns: He/him
We undertook a 12 month quest in a mystical land to seek the oracle of enlightenment in order to determine what would happen in the world of technology circa 2018. When that didn't work, we started guessing.
Here's what happens next.
AI should continue to make waves
With improvements to image processing and voice-recognition set to be the focus early on. It's easy to imagine that just about every gadget will have some form of AI in it. And every flagship phone in 2018 will have an AI chip.
And, while AI probably won't reach the singularity, it's going to continue to make it difficult to tell what's real from what's fake.
And Nvidia will likely continue its meteoric rise to prominence, with dedicated AI hardware becoming an industry mainstay. When 2017 started we all thought of the company as a manufacturer of premium GPU cards, and while it still is, it may be more known for AI by the end of 2018.
VR and AR will almost be mainstream, but not really
Microsoft will finally unveil its new take on the Hololens, as VR and AR tech begins to merge (with AI). We've been hearing the screaming voices of  marketers declaring VR to be "the next big thing" for years, but it's about as popular as a flip-phone now.
Here's hoping 2018 finds a killer VR or AR app for headsets in the way Pokemon Go was for handsets. If nothing else, we'll all be declaring our Hogwart's House loyalty and casting spells in AR, once Niantic releases it's Harry Potter game in 2018.
Amazon will unveil the location of its HQ2 in 2018
The retail giant's new location will provide "high paying" jobs for as many as 50,000 people and the company will invest up to 5 billion dollars building it.
Whichever lucky city wins the site will likely recieve an economic boom from it. We're still hoping Bezos shocks the world and chooses Puerto Rico.
The internet will push back against Ajit Pai
2017 may be the year former Verizon lawyer, and current ISP shill Ajit Pai tried to destroy the internet, but his plan might not account for the millions of people he's just pissed off.
AT&T, Verizon, and Comcast might stand to make a few more billions, but at what cost? If Pai, the FCC, and the ISPs think the citizens of the world and the tech media are just going to shrug and roll over – they're stupid. Here's a list of which members of congress sold the internet out, and how much they made.
In 2018 TNW will continue to make sure you know what the slimy snakes trying to destroy the free and open internet are doing. Our apologies to slimy snakes in our readership who feel they're better than the chairman of the FCC.
Hyperloop becomes real
In 2018 it seems imminent that we're going to be riding in underground pods which travel at speeds surpassing Boeing Jetliners. The first ones might open up in Dubai, Washington DC, or Chicago, but hopefully they end up everywhere.
If the idea of eating breakfast in New York, Lunch in Chicago, and dinner in LA without ever setting foot in an airport appeals to you, 2018 might be your year.
Driverless cars will go mainstream
We're not predicting that everyone will have a car in their garage that doesn't have a steering wheel or pedals, you'll still be able to rock the block in your PT Cruiser with one hand on the wheel and the other waving to all your haters.
But Uber, Waymo, Apple, Ford, and a dozen other companies will likely offer driverless ride services, in truly autonomous vehicles, by the end of the year.
The entire cryptocurrency market will crash and burn
Just kidding, in 2018 more people will jump on the crypto hype-train than ever. We won't make any predictions about cryptocurrency values, but there's at least an even-odds chance that Bitcoin, Ethereum, and Litecoin (among others) are just getting started.
In 2018 it might be advisable for people to start taking crypto seriously and consulting experts before investing.
Here at TNW we know that technology is a field of infinite returns. If you thought 2017 was a cool year for technology breakthroughs, you haven't seen anything yet.
Here's hoping you have a safe, happy, and technologically advanced 2018!
Get the TNW newsletter
Get the most important tech news in your inbox each week.