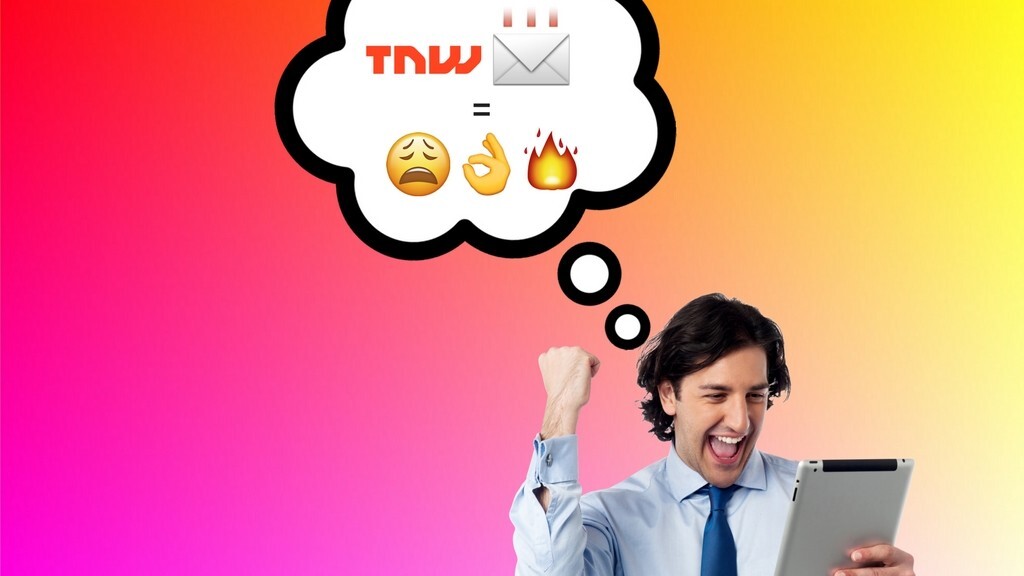 Story by
Former TNW editor and creative
Georgina created Big Spam, and wants to see more inclusion in tech. Georgina created Big Spam, and wants to see more inclusion in tech.
Today we're going to try something out, so bear with us. We have a new daily newsletter, that's a lot sassier and snarkier than our old automated one, and we want to show it off. We really enjoy writing it, and it gives you guys an idea of what goes on in our newsroom. If you like it and want it delivered straight to your inbox every day, we've added a subscribe link at the bottom. Welcome to:
Did you check out today's TNW Answers session with AI Specialist Judith Redi yet?
Top trending tech news:
? An animated Mario movie is in the works (Engadget)
? Telegram and Telegram X vanished from the App Store (TNW)
? Elon Musk sold all 20k of his flamethrowers (TechCrunch)
---
Tweet of the day:
Ever heard of the  Twitter account, Mugshot Baes? We'll just leave this here… 
accidentally biting off husbands penis pic.twitter.com/tWLJduBtbs

— Mugshot Baes (@mugshotbaes) January 31, 2018
---
What we're talking about:
Meet the archivists saving alt news from permanent deletion.
The Human Uber has arrived. ChameleonMask is the human surrogate we never asked for. (Vice)
"Human Uber," developed in Japan, provides a way to attend events remotely using another person's body. "It's surprisingly natural" says its inventor, Jin Rekimoto of Sony #emtechasia pic.twitter.com/WZHPVcZ6M0

— will knight (@willknight) January 30, 2018
To the 1 million Americans who ditched Facebook last quarter, we salute you. Now take us with you.
Taxi rivalries, internet shutdowns, and ICOs — oh my! Here's what happened in Africa in January.
Scientists want to treat anxiety with mind-control. That's stressful.
Radiohead's website has a less than OK Computer — their website has been leaking user data for years.
The Oxford-English Dictionary added 1,100 new entries last month, including Ransomware, EULA, and mansplaining.
Drum roll please…
Yesterday we asked you how you read our newsletter. 86.1% of you love your computers, and 6.8% of you are confused.
Do you like us? We like you. Subscribe down here: