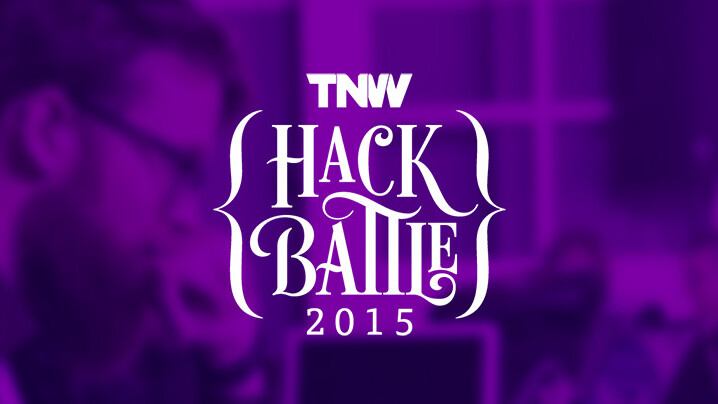 Story by
Marketing Manager, TNW Events
For the code-savvy amongst us, The Next Web Conference is just as famous for its Hack Battle as it is for its stellar speakers and unique networking opportunities. It was only a matter of time before we announce the 10th anniversary edition of TNW Europe. You can sign up by completing an application here, or read on for why it's worth your time.
Many aspects of The Next Web Conference are receiving an overhaul for our 10th birthday, but our Hack Battle at TNW Europe will be staying the same. Why? We proudly believe our 36-hour hackathons have always been pretty on-point.
Firstly, thanks to our awesome API Partners each year, we've always got some great platforms for you to work with and learn from (as well as some cool prizes). At last year's #TNWUSA Hack Battle, we bundled up at AlleyNYC and were joined by Sendgrid, Deezer, Intel Mashery, Sinch!, Spotify and PayPal.
As always, at #TNWEurope 2015, our API Partners will also form part of our Hack Battle jury. Each team will get to present their hacks to the expert panel (as well as a crowd of 1,000+) during the grand finale of the Hack Battle – on stage at The Next Web Conference.
The API Partners for #TNWUSA 2014.
Aside from the awesome opportunity to present your hacks on stage, we also do our best to keep you well-fueled up until the final minutes. You'll find finger-licking free food and drinks available around the (36-hour) clock, comfortable spaces to catch a few minutes of shut-eye in between integrating APIs and fixing inevitable bugs, and the chance to slip away for an inspirational talk or two over at our conference stages.
However, the real reason our Hack Battle is staying the same is that we're always lucky enough to attract some really awesome people to take part. We loved some of the hacks you came up with last year (take a look at 15 of our favorites here), and that you always seem to have a ton of fun at every moment.
If you think that you'll enjoy yourself as much as this guy, we'd love to have you. Simply fill out our short application form to get started. Entrance to the Hack Battle is by invitation only and due to level of demand we can't guarantee places – but we'll be in contact in the coming weeks to confirm if your application was successful and to send you your free pass!
Sign up for the #TNWEurope Hack Battle
To sign up for the The Next Web Europe Hack Battle from April 23–24 in Amsterdam, click here to complete your application.
Get the TNW newsletter
Get the most important tech news in your inbox each week.