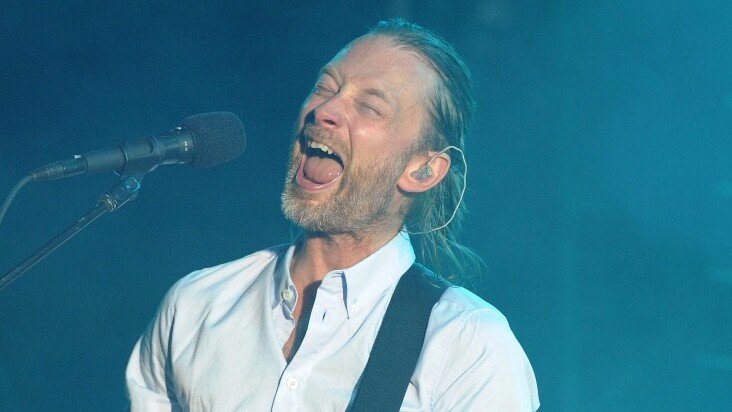 Story by
Paul Sawers was a reporter with The Next Web in various roles from May 2011 to November 2014. Follow Paul on Twitter: @psawers or check h Paul Sawers was a reporter with The Next Web in various roles from May 2011 to November 2014. Follow Paul on Twitter: @psawers or check him out on Google+.
Hot on the heels of Atoms for Peace announcing it was quitting Spotify because it's bad for new music, the experimental rock and electronic supergroup is now teaming up with another music platform that will let fans around the world access songs immediately after they're performed.
Soundhalo has previously worked with Alt-J for a Brixton Academy show in London back in May. In a nutshell, Soundhalo's technology lets fans download videos of the songs directly to their smartphones shortly after. It's ultimately designed to encourage fans to keep their own usually-amateur recording equipment in their pockets, and steer eyes towards the stage and ensuing live performance. Oh, and make a little bit of money too.
Now, with Atoms for Peace on board – a band consisting of Radiohead's Thom Yorke and producer Nigel Godrich, as well a Red Hot Chili Peppers' Flea – this represents Soundhalo's biggest-name artists to date. And given the band's stint at London's Roundhouse is totally sold-out, well, it will be interesting to see what kind of uptake it gets from fans around the world.
Soundhalo's platform records both video and audio of live performances direct to smartphones and desktops, with fans able to access just the audio element if they wish. It costs £0.99 ($1.50) for each track, or £9.99 ($15) for the whole gig.
Technology and live music
We've previously written how technology is transforming concert bootlegging, and with consumer technology getting increasingly more sophisticated in recording quality, we're starting to see more initiatives come to the fore to encourage fans to watch the stage rather than the screen on their smartphone.
In addition to Soundhalo, Lively is a similar service that was recently debuted at a gig by The Lonely Forest in Seattle. Gig-goers download an app to their mobile phone, and buy an audio-only recording of the gig sourced directly from the mixing desk, for $4.99. Alternatively, they could pay $9.99 to include video, which was delivered (online) the next day.
"Part of the reason Soundhalo was interesting to me was that I found myself wondering why, whenever you go to a gig, the next day there are a million shaky, horrible sounding YouTube videos already online," explains Godrich.
"But you go and look because you want to see something of your experience. Soundhalo provides something really functional – an experience that you want to remember in front of you as soon as the concert has happened," he continues. "To be able to relive that is a really great thing."
Atoms for Peace recently announced via a series of tweets that it was no longer going to make its music available on Spotify and other streaming platforms, because they felt that it didn't work in the favor of new and emerging artists.
The debate has sparked many defenders into action, and one argument in favor of Spotify is that it aids discovery and encourages fans to see bands play live. Given the big-name members of Atoms for Peace, Spotify won't have had too much to do with helping the band sell-out its London show next week, but at least those who were unable to procure a ticket can see them almost-live shortly after.
Meanwhile, here's a promo video for the upcoming concert using Soundhalo.
Feature Image Credit – SYLVAIN THOMAS/AFP/GettyImages