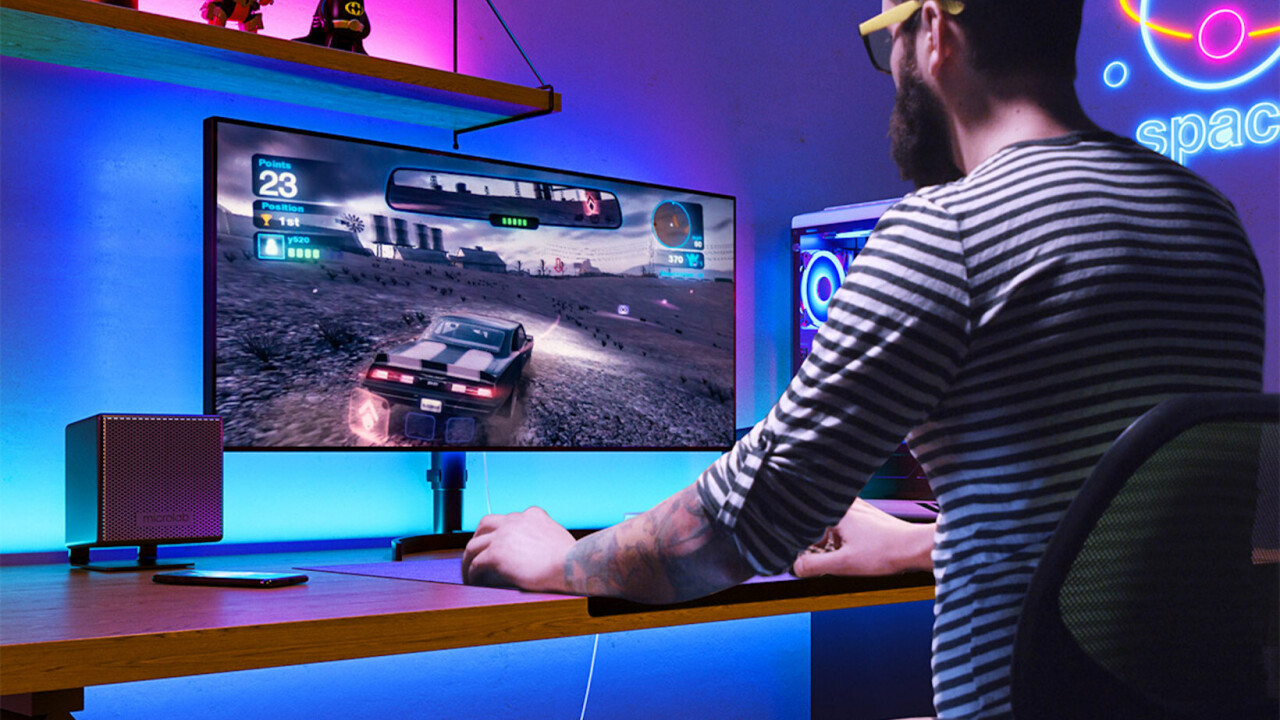 Story by
Hot deals courtesy of The Next Web. Hot deals courtesy of The Next Web.
TLDR: This Smart TV LED Backlight casts a cool light halo around your TV screen, offering fun lighting options as well as helping alleviate eye strain during extended viewing.
Sometimes, that home theater you've assembled isn't all it's cracked up to be. Sure, having a glorious giant screen display with ultra-vivid resolution and color makes settling in for movie night in your darkened living room a true theater-esque experience.  
But while it might feel like a movie theater to you, the smaller screen as compared to the one in your neighborhood movie palace stands out to one viewer in particular — your eye.
Rather than being enveloped in light from the screen in a large moviehouse, your home screen is often perceived by your eye as a light point against a dark wall. That forces your eye to focus on the light point, which means your eye never properly dilutes, causing potential eyestrain.
The Smart TV LED Backlight ($8,49 after code ANNUAL15; originally $13)  is an answer to that eye fatigue, creating a bias light effect around your television that better balances what your eye sees, while also casting a cool new lighting vibe in your viewing space.
This 9-foot LED lighting strip actually goes along the back of your TV monitor. Once the adhesive tape is affixed and you power it up, the strip directs light against the wall supporting your TV, reflecting back to produce a broad halo effect around the edges of your screen. That subtle shift widens your eyes focus and can help alleviate the eye strain after those movie marathons.
This strip is more than just boring white light too. It's fully equipped to cast up to 16 million different color shades, all with just the brightness and saturation levels you want. Once synched to the Gosund app on your phone or tablet, you can not only control all those lighting variables, but also set schedules and timers so your backlight comes on automatically every night to support all your viewing adventures.
There's even a tiny microphone on the strip itself, allowing the lights to sync with the sound it hears to create a customized lighting scheme that coordinates with your movie or television sound. It'll also sync to any music you play, offering a fun, cool lighting possibility for any party situations. This backlight can also be controlled via voice commands to your Amazon Alexa, Google Assistant, or any other home-based smart speaker.
The Smart TV LED Backlight retails for $13, but between the usual TNW Deals discount and the current Semi-Annual Sale, you can enjoy double savings on this item. Just use the code ANNUAL15 to take an additional 15 percent off the already discounted price, dropping your total to just $8.49.
Prices are subject to change
Get the TNW newsletter
Get the most important tech news in your inbox each week.