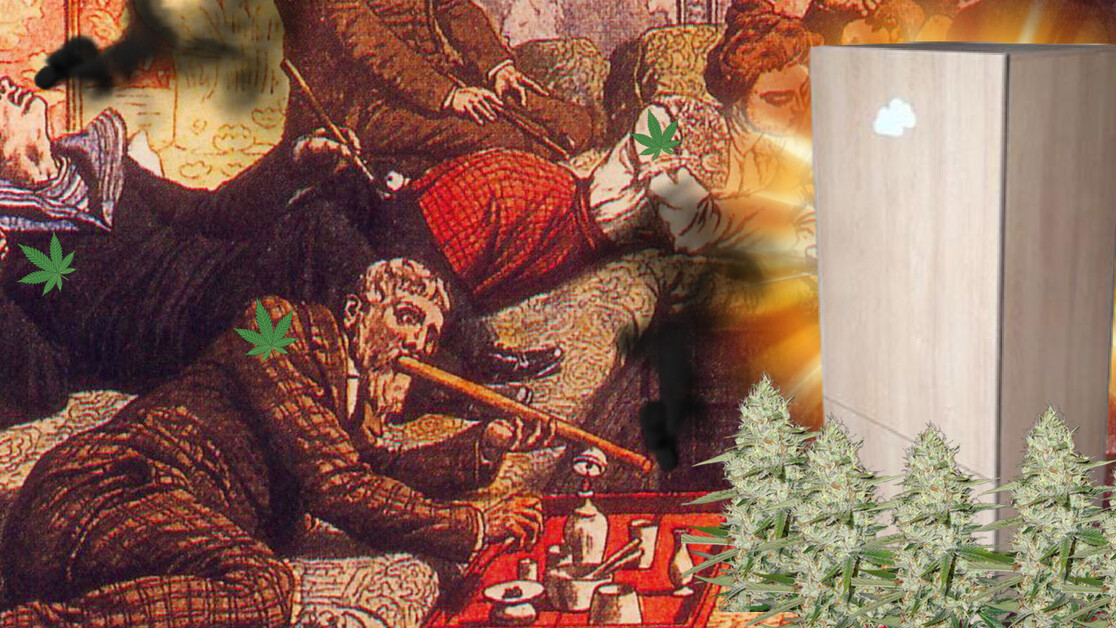 Story by
Managing Editor
Callum is the Managing Editor of TNW. He covers the full spectrum of technology, looks after editorial newsletters, and makes the occasional Callum is the Managing Editor of TNW. He covers the full spectrum of technology, looks after editorial newsletters, and makes the occasional odd video.
Ever wanted to grow some of that sweet devil's lettuce in your own home? Well, thanks to Cloudponics' GroBox, you can start cultivating your own crop while barely lifting a finger.
The GroBox is the first fully-automated, uh, grow box on the market. According to Cloudponics, at least. This is one of those claims that it's hard to judge, as automated growing systems – such as Click And Grow's Smart Garden 9 or Niwa – already exist, but not to the same level of sophistication as the GroBox.
The device lets a complete novice grow fully developed marijuana plants with close to no input. All you have to do is plant the seed, select the strain on the companion app (can't wait until we get the Apple iHigh device), fill the GroBox with water and nutrients, and the device does the rest.
Other interesting features include a drying mode for when the buds are ready to be harvested grown, and an anti-odor feature, so your house doesn't stink. It also includes a water reserve large enough to water the six plants the GroBox can simultaneously grow for up to three weeks.
There's more info in this video:
Unlike its other major competitors in the automated weed growing space, Seedo and Leaf, you can actually buy a GroBox now. The company also claims that the device can produce eight ounces per cycle (which is three to four months), compared with four from Leaf and two from Seedo.
You should take this with a pinch of salt though.
The Seedo Homelab is substantially smaller, so the disparity makes sense in that instance. The Leaf can only grow one plant at a time – its FAQ page saying this is for easy management – rather than the six the GroBox handles.
Only time will tell which one of these approaches work best.
Still, sounds cool to me – what's the catch?
Well, for one, the GroBox looks fucking huge:
"The box fits perfectly in a home," Pepijn van der Krogt, CEO of Cloudponics, told me "Most users have these in their living room/laundry room or spare bedroom. It has low energy consumption, is odor free, and [produces] no noise."
Hmmm.
Hmmm, indeed. I struggle to believe that this device is both silent and smell-free.
Another issue question I had regarding the GroBox was around the target market. While it might make sense to a weed enthusiast from a place where the plant wasn't legal, in this world of increasing decriminalization, why folks would buy this, rather than visit a dispensary, coffee shop, or order from the dark web?
"What we've seen in Colorado and California is that instead of prices going down, [they actually] go up due to additional production, transportation and sales taxes," van der Krogt said.
Other reasons he cited for using this tech included the use of pesticides in large grow operations and the fact you can nurture whatever specific strain you want, which could be beneficial for people with health issues.
There's also the price to consider. The GroBox costs $2,490, while the nutrients – which need replacing every six months – will set you back $200. If you say the average street price of a gram of weed is $10, then the potential six ounces the GroBox produces over three or four months will be worth $1,680.
The maths looks good, but for most people, that's an awful lot of the stinky stuff. Van der Krogt said the device was aimed at those "who consume cannabis daily," but it's going to take a long old while to get your $2,490 investment back if you're not a heroically heavy smoker.
Still, I'm intrigued to not only see how these devices work in the real world, but also who ends up using them. Whether automated devices like the GroBox can find a niche of people who are rich, have wanted to grow weed, but were too lazy to remains to be seen.
For more information, you can head over to the GroBox site here.
Get the TNW newsletter
Get the most important tech news in your inbox each week.
Follow @thenextweb
Also tagged with