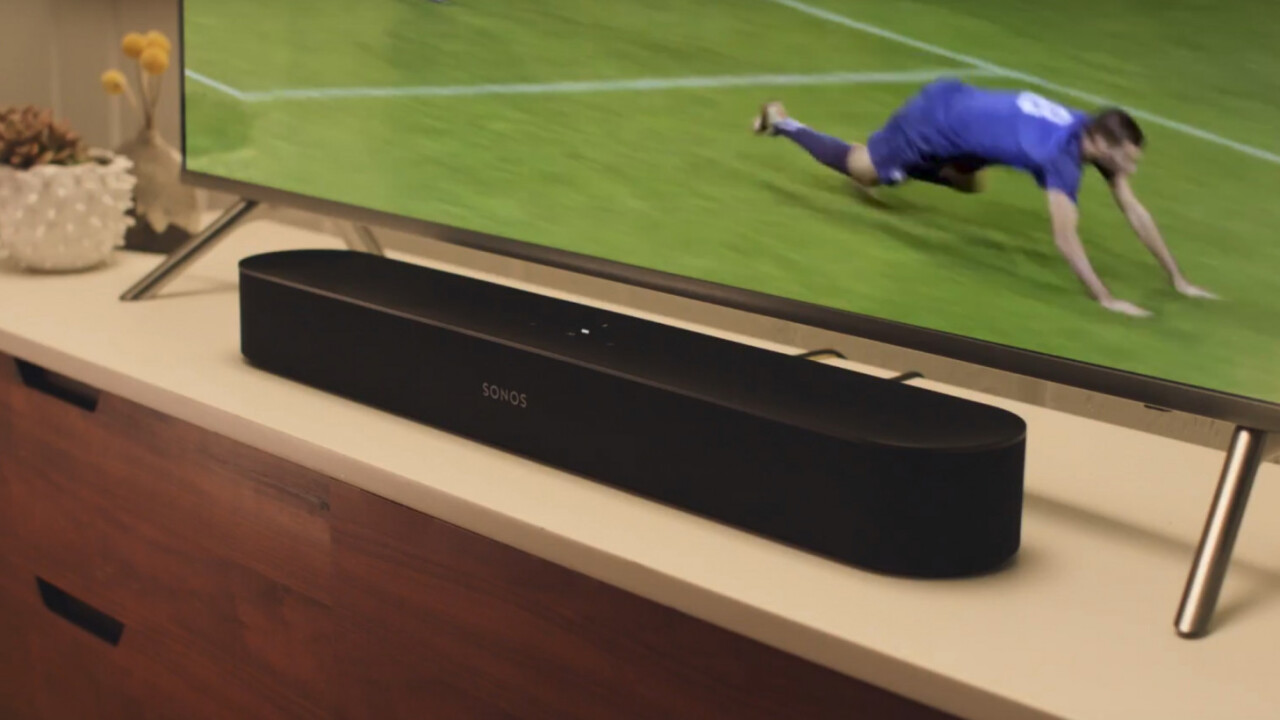 Story by
Reporter
Napier Lopez is a writer based in New York City. He's interested in all things tech, science, and photography related, and likes to yo-yo in Napier Lopez is a writer based in New York City. He's interested in all things tech, science, and photography related, and likes to yo-yo in his free time. Follow him on Twitter.
At an event today, Sonos announced its newest speaker, the Sonos Beam. It's a smart speaker and soundbar powered by Alexa and, someday soon, Google Assistant. It'll retail for $399 and be available on July 17, but pre-orders begin today.
Sonos claims most smart speakers are designed for the kitchen, but the Beam is meant to handle everything you need in your living room. It works as a soundbar and a smart speaker – currently powered by Alexa, but Google is on the way – and it can even control your TV, which it does via an HDMI port.
See, HDMI technology includes an underrated feature called Audio Return Channel (ARC). This allows you to send digital audio to your speaker, but it also allows your speaker to control your TV via another specification called HDMI CEC.
Most modern TV's support both ARC and CEC, but it's usually only people using high-end audio receivers that ever use it. The Sonos Beam could change that. That said, if your TV doesn't support HDMI ARC, Sonos includes an adapter so you can use optical audio instead.
It's also not clear how extensive Sonos' HDMI CEC control is; the company showed off turning your  TV on and off and adjusting the volume – but chances are you'll still have to reach for your remote for other functions. That said, the company is claiming deeper integration with Amazon's Fire TVs.
I still wish Sonos would include more ports for added flexibility. You can't connect the Sonos One to non-Sonos speakers in your home without a Sonos Connect. There's no aux or line-in for me to connect my music equipment to it. On the other hand, I appreciate the simplicity behind the Beam, which could theoretically do away with the mess of cables behind your TV.
It's also worth noting another key feature is the ability to support multiple voice assistants – something Sonos has been teasing since it announced the Sonos One last year. Unfortunately, the company still isn't providing a firm launch date for Google Assistant other than "later this year."
That said, the Beam will be the first Sonos speaker to ship with Apple's AirPlay 2. Better yet and the company says the Sonos One, Playbase, and second gen Play:5 will gain support for AirPlay 2 in July as well.
We haven't had the chance to try it out ourselves, so we can't say how it sounds. For its part, Sonos says the speaker "produces a surprisingly wide soundstage" for its size, and that it's focused on delivering crisp dialogue. So, don't expect it to match up to a Play:5 or Playbase for audio performance but you can complement it with a Sonos Sub for more bass, or some Sonos Ones for surround sound.
We'll have to spend some time with the device to see how it measures up, but so far it's an intriguing solution for improving home audio with some smart speaker chops. Now if only Sonos could get Google Assistant running…
Get the TNW newsletter
Get the most important tech news in your inbox each week.
Also tagged with