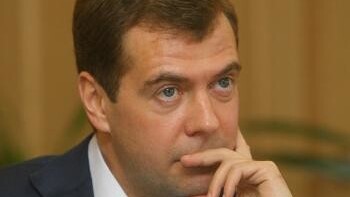 Story by
Alex Wilhelm is a San Francisco-based writer. You can find Alex on Twitter, and on Facebook. You can reach Alex via email at [email protected] Alex Wilhelm is a San Francisco-based writer. You can find Alex on Twitter, and on Facebook. You can reach Alex via email at [email protected]
The Russian President Dmitry Medvedev at Twitter HQ this morning just published his very first tweet. While it is in Russian, we feel that this event is of large enough magnitude to share his message:
That translates to (roughly): "Hello! I'm on Twitter and this is my first message!" While we cannot award President any points for style, at least he was on topic. He has now racked up a total of three tweets, none of which we can read without racing to Google Translate for help.
Is Twitter mainstream? To get the head of Russia to not only join the service and begin to tweet, but to stop at Twitter headquarters to speak demonstrates strong  momentum in the company apart from the tech sector. Twitter may now be unequivocally middle of the road.
We will leave that to your judgement. If you want to follow the Russian premier you can do that here. He only has 265 followers, let's change that.