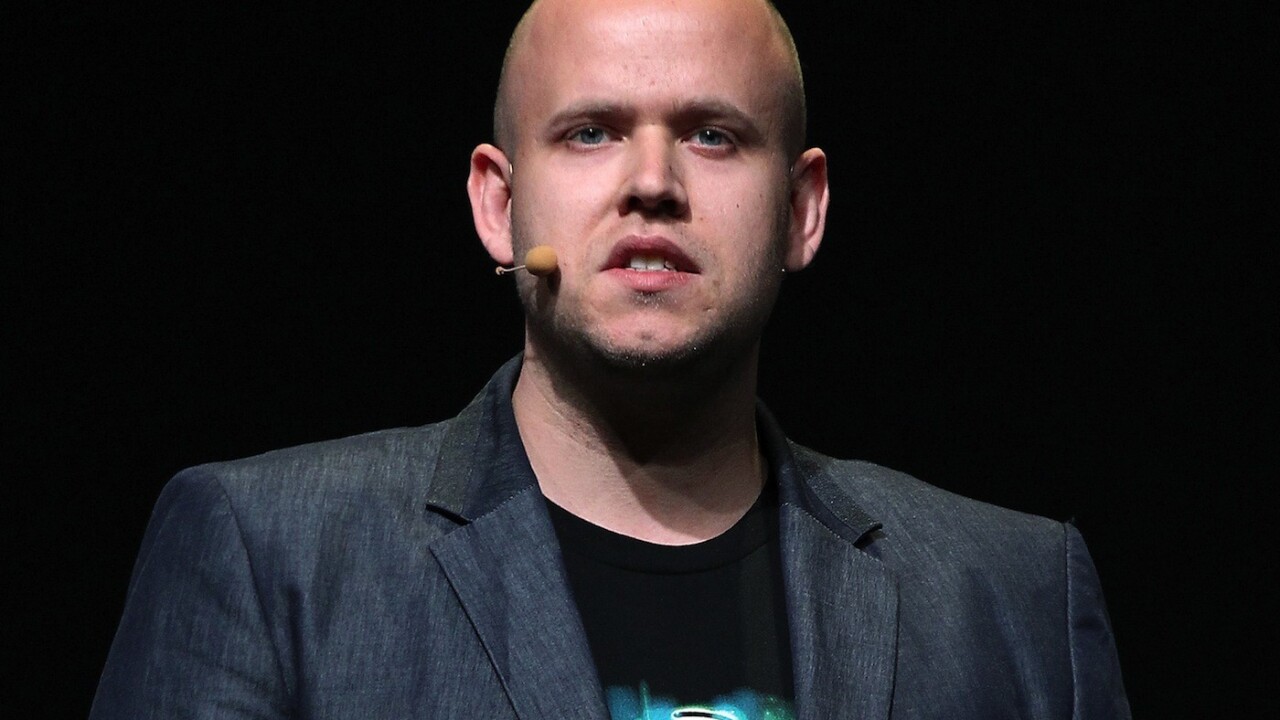 Story by
Robin Wauters is the European Editor of The Next Web. He describes himself as a hopeless cyberflâneur, a lover of startups, his family a Robin Wauters is the European Editor of The Next Web. He describes himself as a hopeless cyberflâneur, a lover of startups, his family and Belgian beer. If you'd like to know more about Robin, head on over to robinwauters.com or follow him on Twitter.
Subscription-based online music streaming and discovery giant Spotify is suffering mounting losses as it grows bigger and aggressively eyes new markets.
That's not necessarily news, nor should it be a surprise: the company's public accounts have in the past already revealed that Spotify manages to rake in quite a lot of cash from its subscribers and advertisers, but that nearly every new dollar of revenue goes straight out the door on the other end thanks to royalty fees owed to music right holders and, ultimately, artists.
The privately-held company uses 'free' music as a marketing tool to attract paying subscribers, but its balance sheet should be cause for worrying about the sustainability of its freemium business model as licensing costs mount.
PrivCo, a research firm that specializes in business and financial research on private companies, today published a very interesting report about Spotify.
The firm claims it has exclusively obtained the company's just-closed full year financials for 2011, when it reportedly ended the year with a total of 32.8 million registered users. FYI: Spotify recently announced that it currently boasts over 15 million monthly active users, with 4 million paying subscribers.
PrivCo's data shows that Spotify has experienced tremendous revenue growth, jumping 151 percent from 2010 to 2011 to reach $244.5 million in total sales.
However, the digital music company's net losses have also swollen significantly.
PrivCo claims Spotify's "cost of sales" (which includes royalty fees, distribution costs and other expenses) have grown 98 percent in 2011, compared to the year before, as net losses ballooned 60 percent to a little over $59 million.
In addition, Spotify's 311 employees grew salary costs 173 percent year-over-year in 2011, outpacing revenue growth, according to PrivCo.
The revenue and net loss figures cited by the research firm are slightly higher than a recent report from The New York Times based on Spotify's public accounts.
In a look at Spotify's business, the NYT wrote that:
"it had about $236 million in revenue, 83 percent of which was from subscriptions, and the company paid $229 million in "costs of sales," including royalties, distribution costs and other unspecified expenses. After salaries and other costs, its net loss for the year was $57 million."
Either way, it's clear that Spotify is doing a solid job scaling its business in terms of members, geographies, subscriptions and generating revenue from providing its online music services, but it's also clear that it needs to examine its business model. The billion dollar question: will Spotify's freemium business model prove solid enough to help the company transition from a promising, fast-growing startup to a mature – and eventually profitable – company down the road?
It is of course always possible that Spotify's licensing costs will go down in the future, but that remains to be seen. And let's not forget the company continues to compete head to head with industry giants like Apple, Google, Amazon and, soon, Microsoft, as well as a growing number of nimbler rivals.
We've contacted Spotify to verify the figures published by PrivCo, but the company would only go on the record with the following canned statement:
"In 2011 we continued our focus on bringing an unrivalled music experience to a global audience. We're building for the long-term."
And we'll be watching it closely as it progresses, as ever.
Update: Spotify has confirmed the numbers. Actually, they did that earlier this year, so they aren't necessarily new. Although PrivCo's numbers are new. Kind of. But Spotify is not confirming their numbers, only the ones reported earlier.
Still with us? :) Also read:
Spotify be damned: 1 billion digital songs already sold in the US this year, up 15% over 2011
Deutsche Telekom's Spotify bundles launch in Germany on October 2, starting at €29.95 per month
How much does an artist make from a single stream of a song on iTunes Match and Spotify?
As Spotify gears up for global expansion, Deezer will be watching its plans for Asia and Latin America
Streaming music revenues forecast to grow almost five times faster than downloads in 2012 (The Verge)
Image credit: Justin Sullivan / Getty Images
Get the TNW newsletter
Get the most important tech news in your inbox each week.
Also tagged with