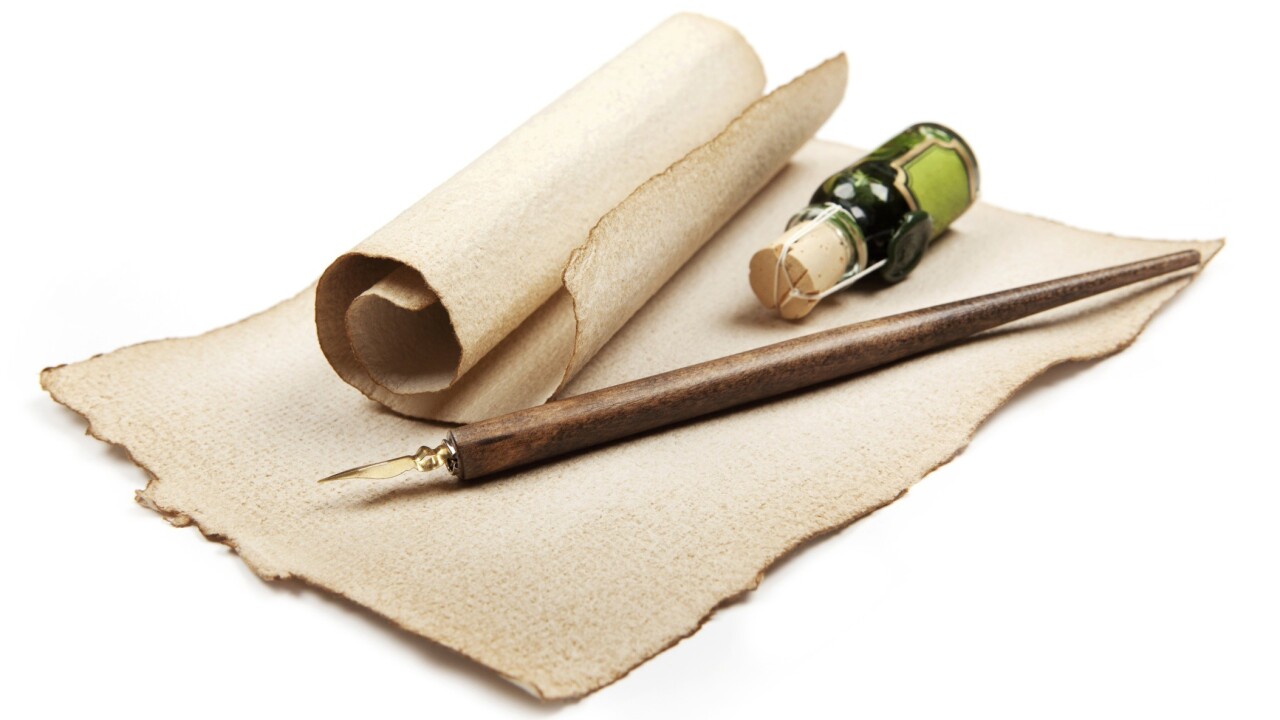 Story by
Josh Ong is the US Editor at The Next Web. He previously worked as TNW's China Editor and LA Reporter. Follow him on Twitter or email him a Josh Ong is the US Editor at The Next Web. He previously worked as TNW's China Editor and LA Reporter. Follow him on Twitter or email him at [email protected].
Brazilian entrepreneur extraordinaire Marco Vanossi has released GeoPapyrus, a new iPhone app that uses augmented reality (AR) to attach content like links, photos and video to real-world objects.
At its core, GeoPapyrus is an AR tagger and reader. You start the app in a surface detection view that locks on to rectangular objects in the world around you. Paintings, screens and papers are all fair game for the app. Once you've identified a shape, you can then tag it with content from your photo library, Facebook, Instagram or Flickr. You can also upload videos, audio, post links and draw a picture.
The concept is that when other users of GeoPapyrus come upon the same object, they can view and interact with what you posted. The app needs some work, though, as I found it to be frustratingly slow.
The startup isn't the only one to attempt to use AR in this way. In fact, augmented reality was a hot theme at this year's South by Southwest. MARS (Mobile Augmented Reality System), for example, identifies real-world objects like buildings and overlays photos with information like video and text.
At launch, with just a handful of users, GeoPapyrus isn't particularly interesting. It does have plenty of potential, though I disliked that it wouldn't let me test it out without authorizing it to post to my Facebook account. Assuming that it went mainstream, this would be a fun app to try out in a museum, where lots of users could tag and interact with paintings of exhibits. Visitors could carry on conversations about the art and also add their own photos and other multimedia.
Vanossi said he is planning to add "ownership rights" in the future for popular public objects like the screen on Wall Street or paintings in a popular bar. In that respect, it could easily become an augmented advertising system that turns physical spaces into digital ads.
Private and exclusivity modes are also planned as future in-app purchases that would let users share more intimately without posting public tags. Down the road, the app will also get some of the facial recognition technology that Vanossi has worked on.
With the new app, Vanossi is drawing on his experience in the image recognition field. He founded ClickPic and Pé2, both startups that focused on mobile visual search. He sees this technology as being particularly applicable to the coming wearable device market, even going so far as to call it "Twitter for Google Glass."
Imagining the firehose of Twitter invading my eyes on Glass gives me a bit of a headache, as it would get so noisy that people would be tripping over themselves, but a user-friendly implementation of AR would be a strong selling point for Google's highly-anticipated heads-up display.
I was particularly interested to see how GeoPapyrus would share across social networks, since most people won't have the app. Sharing to Twitter or Facebook creates a custom webpage that includes a link to GeoPapyrus on the App Store, an image of your content overlaid on the photo of the real world and a Google Maps panes with the location of the tag.
Vanossi also hopes that other developers will work with the GeoPapyrus team to build the platform into their own apps.
"We designed GeoPapyrus to be a platform that any app could use through an API, either to implement the tech only or to share our database. Right now, we are starting with our own app," he said in an email.
AR could be the future, but if we're not careful, it'll turn into a creepy, annoying, and invasive future. GeoPapyrus is one to look out for, as it's a powerful platform for interacting with physical objects and surfaces. Let's just hope it lives up to the responsibility that comes with all that power.
Disclosure: This article contains an affiliate link. While we only ever write about products we think deserve to be on the pages of our site, The Next Web may earn a small commission if you click through and buy the product in question. For more information, please see our Terms of Service.
Header image credit: iStockphoto
Get the TNW newsletter
Get the most important tech news in your inbox each week.
Also tagged with