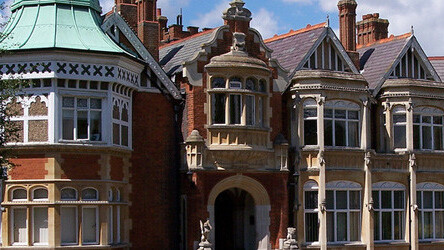 Story by
Jamillah is the UK Editor for The Next Web. She's based in London. You can hear her on BBC Radio 5Live's Outriders. Follow on Twitter @jemi Jamillah is the UK Editor for The Next Web. She's based in London. You can hear her on BBC Radio 5Live's Outriders. Follow on Twitter @jemimah_knight or drop a line to [email protected]
The fifth annual Over The Air event took place at Bletchley Park this weekend and around 600 hackers, speakers and attendees came to the British historical home of code-breaking to make cool things and learn more about mobile hacks.
This year also honours the contributions of mathematician and code-breaker Alan Turing who worked at this location during World War II.
Coders camped overnight on location to work through a 36 hour hackday at the event and the amazing Ariel Waldman of Spacehack.org gave the main keynote speech to inspire coders to hack space and take on science data to make cool new things.
There was plenty of food for thought at Over the Air with speakers including Mo McRoberts of The Space, Nicholas Herriot of Vodafone, Hadley Beeman, founder of @LinkedGov and many more. Facebook, Google, Lego, Nokia, Mozilla and lots of other large tech companies turned up to share information, give talks and meet the crowd.
Simon Cross and Piyush Mangalick, engineers at Facebook, were at the event to guide hackers through working with the company's Open Graph. Cross notes that it is events like this that can shine a light on unexpected results. "We love doing this, the hackers put things together in different ways that we wouldn't have expected. It's as easy to get started on our platform as clicking three buttons and you've begun to develop. That promotes people with ideas to start something really quickly."
The Facebook engineers were also guiding the coders around making an application that users would be happy with, this included acceptable levels of privacy and explaining better UI.
Mangalick says, "We tell the developers it's their choice to say what they should have as the default privacy but the user can always override anything that we do. We put the user in the forefront but at the end of the day we say, 'How would you like to use this?'"
Hacks and corporates
Dan Appelquist hosted the hack presentations, though he is more usually found working as the head of product management for BlueVia, Telefonica's developer platform.
Appelquist says that working on events like Over the Air is a benefit to his own work, "It keeps me sane. Personally it's a way to stay engaged with the developer community. I get involved and encourage others to do the same. It's good to get out of your comfort zone and find some passion about what you do."
He notes that more companies are opening up to the idea with engaging with the developer community at events like Over the Air but that firms should approach hackdays from a slightly different point of view to other events. "I think you have to put aside achieving direct ROI benefit," he says. "One of the reasons why people come to an event like this is to work on technologies that might not be the next Instagram or make anyone a million dollars this year, but they are technologies that will develop and become products in the coming years."
HTML5 for mobile
Chris Heilmann, prinicipal evangelist for HTML5 and open web for Mozilla gave a talk about how we can bring the internet to phones in a simpler way. He was impressed by the range of speakers and attendees and also noted commented that he was pleased to see Telefonica there as Mozilla is working with the company to bring a new and cheaper phone to Brazil.
As the idea of HTML5's latency for mobile has been brought up recently, TNW asked Heilmann his thoughts on the problem. "When I hear this, I trust that people have fundamentally misunderstood what HTML5 means. HTML5 is application development. Any HTML5 app can store things offline to be used at a different time."
He continued, "When it comes to latency, the bigger issue is that when it comes to devices like iPad 3 and high resolution images, our mobile masts and infrastructure is not ready to send that much data out. So that's less the technology and more an infrastructure problem. HTML5 has the same fidelity, if you do it the right way, that native apps have. But it would actually limit them to just simulate what we do in native environments."
Heilmann also noted that many of the results of hack days can be a bit transient in nature. "If you get geeks together and give them caffeinated drinks and tell them there's going to be a prize at the end, a lot of people go for a quick win. They make something funny or something related to the event and it's short lived. I don't think products will come out of that that have a longevity to them. But that does not mean that there wasn't networking involved that might lead to better products in the future because they met here."
Code creatives
Through Saturday afternoon, 36 teams presented their hacks and the variation in the work was enormous. One presentation showed a remote monitor for unruly kids at home who had been sent to 'the naughty step' to ensure that they sat out their punishment, a 12 year old girl showed off her hack that used the light from an iphone to set off a robot to throw items (which amusingly flew into the audience and hit a few prime coders).
Other ideas included a simplification of Mozilla's Boot to Gecko interface, a game that can be played to pass the time in meetings without getting caught, a tiredness tracker that shares user data to Facebook's Open Graph, a tool for farmers to monitor the local environment and collect that data and a team who hacked Facebook's own SDK to make it neater and more accessible in many ways.
Best in show went to Terence Eden, a mobile internet consultant. He created a kind of theremin out of a phone by using Android's light and proximity sensors. The outcome was a form of musical instrument that can be played by waving your hand at it.
"It has great military and industrial applications and I will be selling it to the highest bidder," he joked. "I've invented a musical instrument that I cannot play. But the challenge is out there, I will be putting this on the Google Play store and if you can make a beautiful tune, then good luck to you!"
Sam Machin, developer, designer and architect won the audience vote for his hack which was a DNS Twitter client "I hijacked the DNS and inside the lookup is where you hide your message," he explained. "So if you're in a network that is blocking access to Twitter or controlling your web browsing, the messages get out there regardless."
He plans to polish this as an API and says he will probably publish it on Github so that others can use it to make different applications.
Over the Air was buzzing. That might have been all the coffee ingested by the sleepless hack teams, but it was also down to the enthusiasm and creativity being shared in such a picturesque location.
Of course we can never be sure, but as the original coders of Bletchley Park were known for their sense of fun as well as their tireless work to change the direction of technology and a war, it's a fair bet that Alan Turing would approve of an event like Over the Air.
Get the TNW newsletter
Get the most important tech news in your inbox each week.
Also tagged with