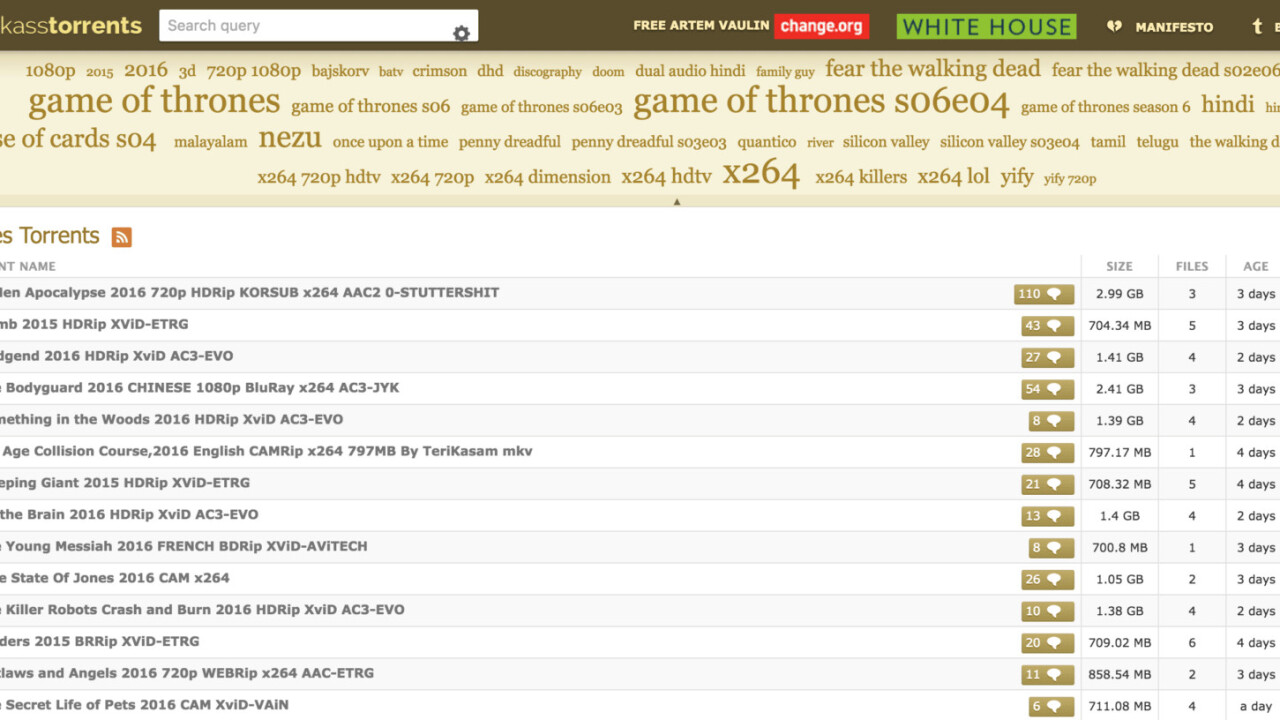 Story by
Former Managing Editor, TNW
Bryan is a freelance journalist. Bryan is a freelance journalist.
Yesterday, we reported the arrest of 30-year-old KickassTorrent (KAT) founder Artem Vaulin in Poland, and the subsequent shuttering of the popular torrent site. In less than 24 hours, a good portion of KAT has made its way back online, this time as a simple mirror of the original complete with identical design and a similar domain — kickasstorrents.website.
The mirror features everything upload from the last year, to year-and-a-half, but lacks the forums, community and support of KAT. That said, it does have most of the functionality required for the typical torrenter and certainly looks the part. Originally thought to be uploaded by the team at IsoHunt, Ernesto at TorrentFreak clued us in that this may not be the case.
IsoHunt, you may remember, was also behind the resurrection of The Pirate Bay during one of its numerous takedowns. The new mirror isn't as robust as the mission to keep The Pirate Bay functional, but it's only been a day, so additional features could be on the horizon:
"It's not perfect but if users need to save and archive something it's time," the IsoHunt team said. "We don't know how long it can last, but at least it's something."
The team also wanted to send clear support to Vaulin, and did so by linking a petition in the header to "Free Vaulin" from what it's dubbing a violation of human rights. Granted, it's not likely that the petitions will do much good, as the US made the arrest in Poland, which opens up an entire chain of custody and jurisdiction debate, but the sentiment is nice and spreading awareness of the predicament Vaulin finds himself in is never a bad thing.
Since law enforcement couldn't possibly remove all of the stored files for movies, games, software and music online, the best it can hope for is to make them harder to find — the point of shutting down torrent sites in the first place. However, as we're seeing again, the exercise is a clear-cut loser that costs money, imprisons non-violent offenders and leads to few (if any) actual benefits for the copyright holder or law enforcement.
Fighting piracy is a losing battle; it's time to find an alternative.
Edit (7/22): Originally, the mirror was through to be uploaded by IsoHunt, Ernesto from TorrentFreak clued us in that this may not actually be the case.
Update: It's gone