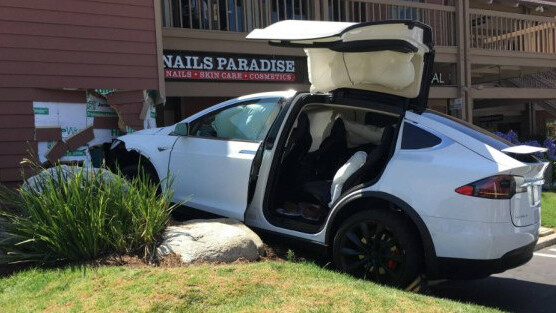 Story by
Former Managing Editor, TNW
Bryan is a freelance journalist. Bryan is a freelance journalist.
Following two other incidents involving Tesla's autonomous driving features over the past few weeks, a man claims his Model X drove itself into a building over the weekend.
Puzant Ozbag claims his week-old SUV accelerated on its own before striking a building while his wife was attempting to park at a nearby shopping center.
According to a post by Ozbag on Tesla's forums:
Our 5 day old Tesla X today while entering a parking stall suddenly and unexpectedly accelerated at high speed on its own climbing over 39 feet of planters and crashing into a building.

The airbags deployed and my wife's arms have burn marks as a consequence.

This could have easily been a fatal accident if the car's wheels were not turned slightly to the left. If they were straight, it would have gone over the planters and crashed into the store in front of the parking stall and injured or killed the patrons
In the other two recent incidents, the 'Summon' feature, which allows the car to drive short distances on its own (without a driver), and the 'TACC' (traffic aware cruise control) were to blame. In this incident, it's unclear what caused the collision, at least for now. Each Tesla sold automatically logs driving data which can be remotely downloaded to provide a detailed description of what happened leading to the crash.
While company representatives being able to keep tabs on you might seem a bit intrusive, it's a necessary evil as we move closer to fully autonomous driving.
Without the logs, companies like Tesla would face intense scrutiny and numerous legal battles over who was driving during a crash. The logs also provide valuable data featuring millions of miles driven by humans under real world conditions, a testing scenario that would take decades to complete otherwise.
Tesla has yet to respond to a request for comment, but we'll update you if we hear anything. In the mean time, it's probably not a good idea to fall asleep at the wheel of your Tesla.
Update:
Tesla has responded.
"We analyzed the vehicle logs which confirm that this Model X was operating correctly under manual control and was never in Autopilot or cruise control at the time of the incident or in the minutes before," the company told Electrek in a statement.

"Data shows that the vehicle was traveling at 6 mph when the accelerator pedal was abruptly increased to 100%. Consistent with the driver's actions, the vehicle applied torque and accelerated as instructed. Safety is the top priority at Tesla, and we engineer and build our cars with this foremost in mind. We are pleased that the driver is ok and ask our customers to exercise safe behavior when using our vehicles."
Get the TNW newsletter
Get the most important tech news in your inbox each week.
Also tagged with