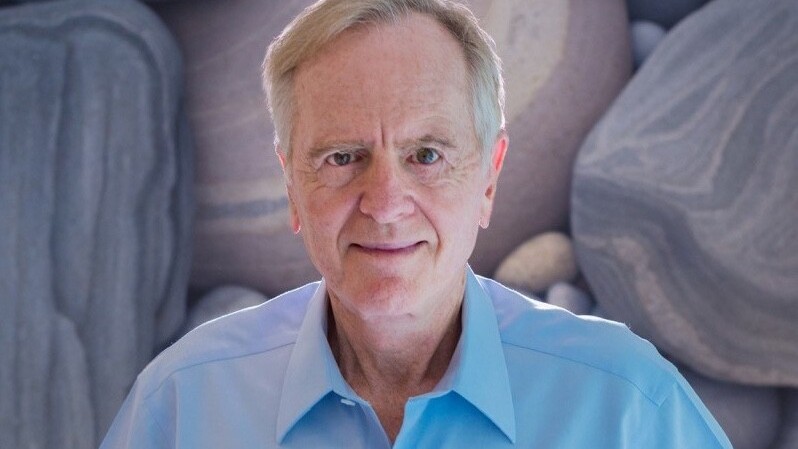 Story by
Founder & board member, TNW
Boris is a serial entrepreneur who founded not only TNW, but also V3 Redirect Services (sold), HubHop Wireless Internet Provider (sold), and Boris is a serial entrepreneur who founded not only TNW, but also V3 Redirect Services (sold), HubHop Wireless Internet Provider (sold), and pr.co. Boris is very active on Twitter as @Boris and Instagram: @Boris.
John Sculley will take part in a TNW Answers session soon. If you've got a burning question for the former Apple CEO, ask it here!
Most people have heard of John Sculley. And if they don't recognize the name, you can jog their memory by saying 'the Pepsi guy who ran Apple and threw out Steve Jobs' and they'll go 'ahhh, that guy!'.
But Sculley has done more than that, and is doing a lot more as well. Around the world. All the time. Despite being quite wealthy.
When I was offered to do an interview with Sculley, I didn't hesitate. I was 12 and was just becoming aware of computers and programming – right around the time Sculley joined Apple. Two years later, when Steve Jobs left Apple, I remember my father talking about it as if it was part of a movie he had just seen.
Over the years, as I watched all of the drama unfold, and kept an eye on all the major players, including John Sculley. So yeah, I was excited to talk to him over the telephone about his new book.
I got so excited… I sorta forgot about the meeting. To be honest, I didn't forget the interview, I just got distracted that I lost track of time. When I suddenly saw an email from John's agent saying 'have you been able to connect with John? He's awaiting your call right now,' I almost got a heart attack.
I scrambled for my headset, my copy of his book, and the list of questions I had prepared over the past three weeks.
I found two out of three.
Without my list of questions, I decided to just wing it with new question during the interview. We could start with some small talk about how many interviews he had done for the book?
Mr. Sculley assumed I meant 'interviews with people to write the book,' which led to some confusion. When I explained my original thought on that, he said it was about "hundreds," with all kinds of media companies. "See, I'm well known in certain circles and so there's a lot of interest in my opinion and my book and the things I do."
That didn't exactly help me feel more comfortable about the interview. Time for a serious question then. This one had been bugging me for a while: Why?
Why would a guy like Sculley feel the need to write a book? Was it to set the record straight? Was it to finally tell all those secrets about Steve Jobs and how awful he was?
His response:
"My goal in life is to help serial entrepreneurs build game changing companies. I've been involved with many companies in my lifetime and I have access to lots of great companies and even greater entrepreneurs. I wasn't planning on writing another book, but after my previous book (Odyssey: Pepsi to Apple : A Journey of Adventure, Ideas, and the Future) did well, my brother and my wife at one point said "John, you have so many stories that could be helpful and inspiring for other people, why don't you sit down and write another book" and eventually I gave in and got started.

Moonshot! is the result of that. I think it turned into a great book and that's because I have a different mindset when it comes to writing books. I'm not a journalist who needs to get famous and I also don't need this book to make a living off. I just wanted to share what I've learned as an entrepreneur and investor with other entrepreneurs.'
I figured I'd keep my first questions simple, and asked my second, obvious, question: What is the book about?
His answer, in full:
As an investor in biotech, fintech but mostly cloud computing, I see a power shift from the incumbent companies to smaller and more agile companies. Technology is enabling and increasing that shift. This shift is a derivative effect from cloud computing and other technological developments. I see that it helps new companies focus on the customer more, and that companies (historically) who have had their main focus on their customers tend to do better.

Customers have been relying on other customers opinions over the opinions and marketing of businesses, and that creates an opportunity for companies that have a focus on their customers, and a threat for those who don't.
Now that I established why Sculley wrote the book and what the book is about I decided to get a more personal question in. I used a lot more words when I asked the question, and no doubt mumbled a bit, but in short I asked: Are you rich?
"I've been very lucky…" he starts off humbly. It's something only a rich guy would say, of course.
But he continues, "…because I have been an entrepreneur for a long time. I was a founding investor in MetroPCS and helped them out with their marketing and grow them into $9 billion company, until they sold to T-Mobile. I also helped launch Hotwire.com, Intralinks and a bunch of other companies that reached billion dollar valuations. That allowed me to invest in more companies and do what I do best. Boris, I'm living the dream!"
Here I felt a wave of relief wash over me. John Sculley is getting excited and sharing his enthusiasm with me and even knows my name!
I was getting more confident and decided to ask my next question, a tiny bit more personal than the last one: Does it bother you that people remember you as the 'pepsi guy who ran Apple and threw out Steve Jobs' instead of a successful entrepreneur and investor?
"Well, no, Boris, that was all so long ago. It was only 10 years in my life and I have done so many other things, I'm not bothered with it much."
Hmm, I hoped for a longer answer, but the silence on the other side of the line signaled it was time for the next question. I continued and asked another question about the book: What is the most important part in the book that will make people buy it. The 'killer app' of the book, so to speak.
'The good news is that I'm not a journalist so I have access to a lot of people who trust me more than they would trust a journalist," he said. "That means I got a lot more great information than someone else would get…"
Here I had to interrupt: 'Wait, so you are saying you can't trust a journalist and you can trust an investor and/or John Sculley?'
He responded with a laugh. "Of course, Boris! A journalist wants to sell his stories, he might do it for the byline! He doesn't care much about the story itself, but about reach and selling the story…"
At this point I thought of saying 'But I'm a journalist!' but decided not to push my luck.
"I don't care much about selling books. I wrote this book out of curiosity. I see change coming. I've learned a lot. I talked to a lot of people. That is what produced the book. That is why it is a good book! I don't need deal flow or extra attention. I just want to simulate curiosity," he said.
'Surely your publisher is hoping to sell a lot of books?' I meagerly replied, but decided not to get into that discussion. I didn't wait for a reply and quickly turned to my next question: 'John, you've said earlier that you did hundreds of interviews, what is the single question that nobody asks and that surprises you?'
"…"
I waited patiently…
"Hmm yeah, good question," he replied with a pause. "It is kinda surprising that people don't know I'm an entrepreneur. I built all of these companies, and invested in lots of them, and still most people think of me as the Pepsi guy and my 10 years at Apple. That keeps surprising me. I travel all around the world to do talks. I did hundreds of interviews, spoken to thousands of students and but people keep coming back to Pepsi and Apple."
And with that we came to the end of the interview. Sculley was super nice and polite and at no point lost his enthusiasm. He genuinely seemed excited and curious and has a goal of helping entrepreneurs.
At the end of the interview I did get the impression he's eager to tell the world to get over the Pepsi/Apple/Steve Jobs thing and see him for what he also is: a successful investor, entrepreneur and now author.
I also don't think he'll ever achieve that goal. No matter what else he does, it will always be easier to fall back to the big thing he did. I could say 'Sculley! The guy who helped build billion dollar companies, wrote successful books, inspired many entrepreneurs and gave lectures all around the world!' a million times and you'd still not know what I'm talking about until I said 'Okay,the pepsi guy who ran Apple and threw out Steve Jobs'.
That doesn't mean you shouldn't read his book.
You totally should. It is great fun.
I've bought his book.
Go buy this book already:
Moonshot!: Game-Changing Strategies to Build Billion-Dollar Businesses (Kindle/iBooks)
Also tagged with