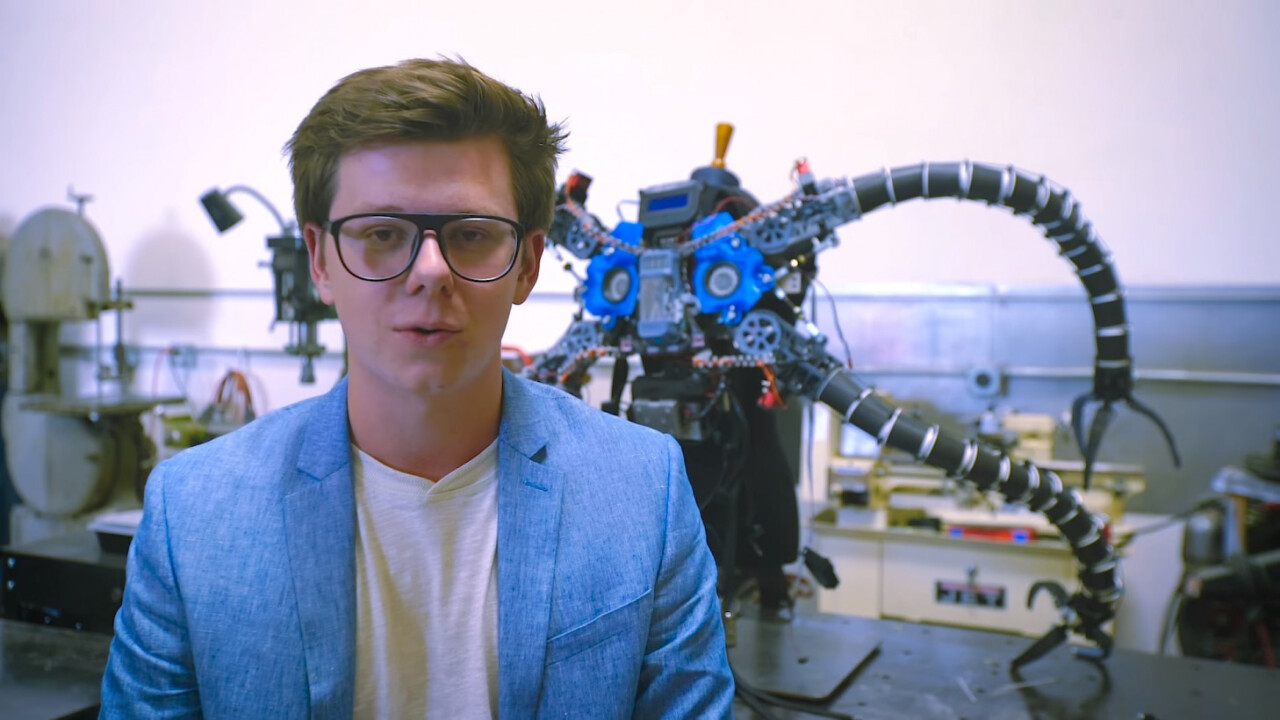 Story by
Editor, Neural by TNW
Tristan is a futurist covering human-centric artificial intelligence advances, quantum computing, STEM, physics, and space stuff. Pronouns: Tristan is a futurist covering human-centric artificial intelligence advances, quantum computing, STEM, physics, and space stuff. Pronouns: He/him
When a teenage Bitcoin millionaire tells the world he intends to use a portion of his money to build a robotic exoskeleton in the vein of a famous Marvel super villain, it sounds like something we should worry about. Luckily the teen in question, Erik Finman, has chosen to use his resources for good.
Finman, a man Time called one of the most influental teens of 2014, recently helped finance and develop a robotic prosthetic suit resembling the one created by the fictional Spiderman nemesis Doctor Octopus.
It's actually pretty easy to imagine this as the genesis of a plot to rule the world or visit revenge on all the people who've wronged him, but that's certainly not the case here – despite the fact his backstory is just a 'terrible accident' away from being grade-A super villain material.
Finman began investing his money in cryptocurrency when he was 12. He spun a $1,000 dollar gift from his grandmother into a wallet clutching millions of dollars worth of Bitcoin. Now, at the age of 19, he says he wants to make the world a better place.
We caught up with Finman to find out, first of all, why he thought it was a good idea to spend a bunch of money making a four-armed robot suit. He says:
I was super into robotics growing up. Got my first kit when I was 3. Loved it! But when I went to school I had all these terrible experiences. Teachers were incredibly cruel to me. Made fun of me for being so deeply into robotics.

I dropped out of HS and worked on a lot of cool projects. Made some money. And I found this kid, Aristou, whose Dad is a family friend. He said it would be his dream to build a real life Dr Octopus because of his own situation. He's an incredibly smart kid, next Albert Einstein, and I saw a kindred spirit.

So I wanted to help because no one helped me growing up. It's Important to encourage this type of thinking at a young age. So I decided to use my robotics expertise, get a rag tag team of engineers together, and build a real life Dr. Octopus suit.
Aristou, who is only 10, suffers from hypermobility issues according to a report from Digital Trends. The suit, which was made for him, is equal parts cosplay gadget and early prosthetic prototype. It's not ready to be declared a medical device just yet, but Finman is considering further development.
He told Hard Fork:
Yeah, I'm thinking about it. Currently deciding. With just another 20K in improvements we can get it to lift a car. We've done the math. But it's just a hobby for now. A lot of investors have reached out wanting me to start a business off of it.

But right now I'm really focused on education. It's my number one interest and problem to solve. So unless an investor writes me a huge check to turn [robotics] into more than a hobby. It'll probably remain that way for now. I'm dedicating every cent I have to working on a new education project. But when that's going smoothly I'll turn my attention back to robotics. I want to make a real life Iron Man suit next!
Finman, when he was 15, bet his parents he'd be a millionaire by the time he was 18. The stakes were whether he'd go to college or not, with him on the "or not" side – he won that bet. At the time, he'd just cashed out $100k in Bitcoin to start his own tech business – a company called Botangle focused on education.
Now he's worth a few million dollars, thanks to his vision to invest in Bitcoin when it was worth a mere $12 per coin – yet he's still too young to buy a beer in the US. And he plans on unveiling a "big thing" in the educational space soon, something he eluded to Hard Fork he may eventually announce on his Twitter page.
It's impossible to predict the future, especially when it comes to cryptocurrency investments, but people like Finman, whether you call them genius or lucky, seem to find a way to accomplish anything they set out to do. And, as long as he uses his powers for good, the sky's the limit for this would-be superhero.
Get the TNW newsletter
Get the most important tech news in your inbox each week.
Follow @thenextweb