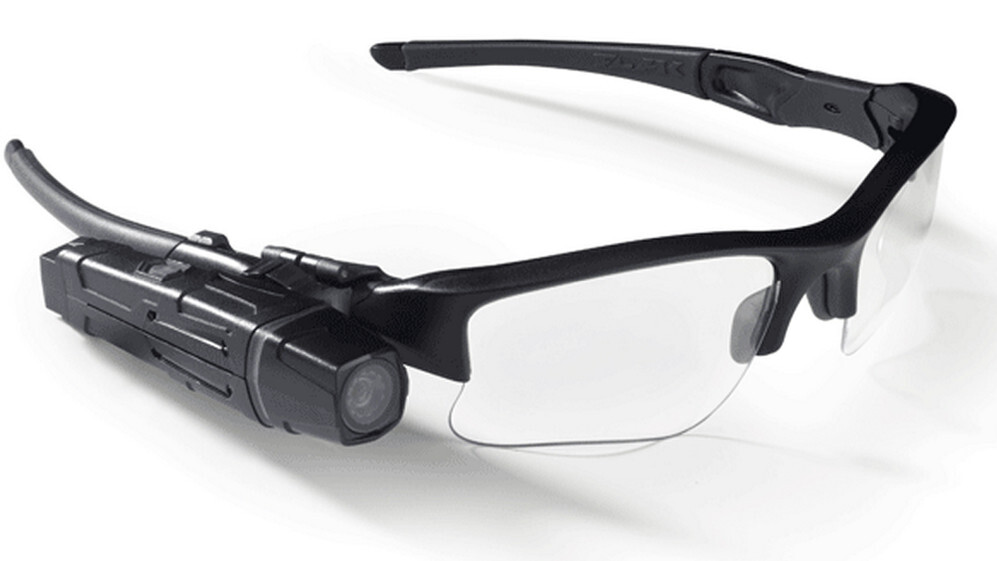 Story by
Founder
Martin Bryant is founder of Big Revolution, where he helps tech companies refine their proposition and positioning, and develops high-qualit Martin Bryant is founder of Big Revolution, where he helps tech companies refine their proposition and positioning, and develops high-quality, compelling content for them. He previously served in several roles at TNW, including Editor-in-Chief. He left the company in April 2016 for pastures new.
Taser International, the company that popularized the use of stun guns in everyday police work, is set to experiment with where Google Glass might take law enforcement. The company's co-founder and CEO, Rick Smith tells us that Taser has been accepted onto the Glass Explorer program and is excited about digging into the technology.
In our recent piece looking at how wearable camera technology like Google Glass might transform society, I mentioned how first-person perspective cameras could be useful for citizen eyewitnesses to crimes. However, the flipside of that is how police use the technology.
Taser got in touch following that article to tell us about its AXON Flex camera, the latest iteration of which launched last year and is worn by police officers to record evidence from incidents as they work their patrols. As the camera captures evidence, the video is sent by Bluetooth to an iPhone or Android device and streamed over 3G to Taser's cloud platform, Evidence.com. From here, officers can later watch back and download anything important.
Here's Taser's promo video for AXON Flex:
For more background on AXON Flex and Evidence.com, and the privacy issues they raise, it's worth checking out The Verge's look at the technology published earlier today. However, what's particularly interesting is where the technology is going next, and Google Glass could well be an important part of that.
Glass for cops
Talking to us earlier this week, Smith suggested that automated vehicle number plate recognition and driving license recognition were obvious quick wins, with face recognition of wanted criminals and missing persons a possibility further down the road. "We see this shifting to more real-time applications over the next decade," he said, adding that Taser is working towards a future in which police records are gathered in real-time, using technology like voice-to-text conversion to capture statements and other spoken evidence. The company plans to roll such tech into Evidence.com.
While using a third-party cloud solution may seem like an odd step for police forces to take with such sensitive data, Smith says that it allows the technology to be introduced much more easily, quickly and cheaply than if it had to be integrated on-site with existing IT systems at each force's HQ. He says that 90-95% of the police forces using AXON Flex opt for using Evidence.com over integrating the cameras with their own systems. Data is protected with two-factor authentication logins (using Google Authenticator, SMS or email) and 256-bit SSL encryption.
While Smith says that Glass-style technologies will become part of everyday police work over the coming ten years, the next development Taser is working on is allowing officers to redact sections of videos recorded with AXON Flex so that they can be released for public consumption. Surprisingly, there has been less demand from police for live-streaming video. While you may think that allowing staff back at base to watch a live feed of what police in the field are seeing and doing would be a hotly demanded feature, the redaction capability is far higher up the list of what they want and are prepared to pay for.
Google Glass in its current form wouldn't be good enough for police use. Smith notes that a police-ready version would need strong low-light performance for nighttime encounters and a battery that can last throughout an officer's shift. The AXON Flex comes with a 12-hour battery for this reason – it's critical to officers' jobs, not just a mild inconvenience like if your smartphone battery dies in the middle of the afternoon while you're at work.
A decade from now, the average police officer could be a lot more like Robocop than you might think.
Also read: Watch Google's full rundown of Project Glass and the Mirror API from SXSW
Keep up with the latest Google news at TNW Google