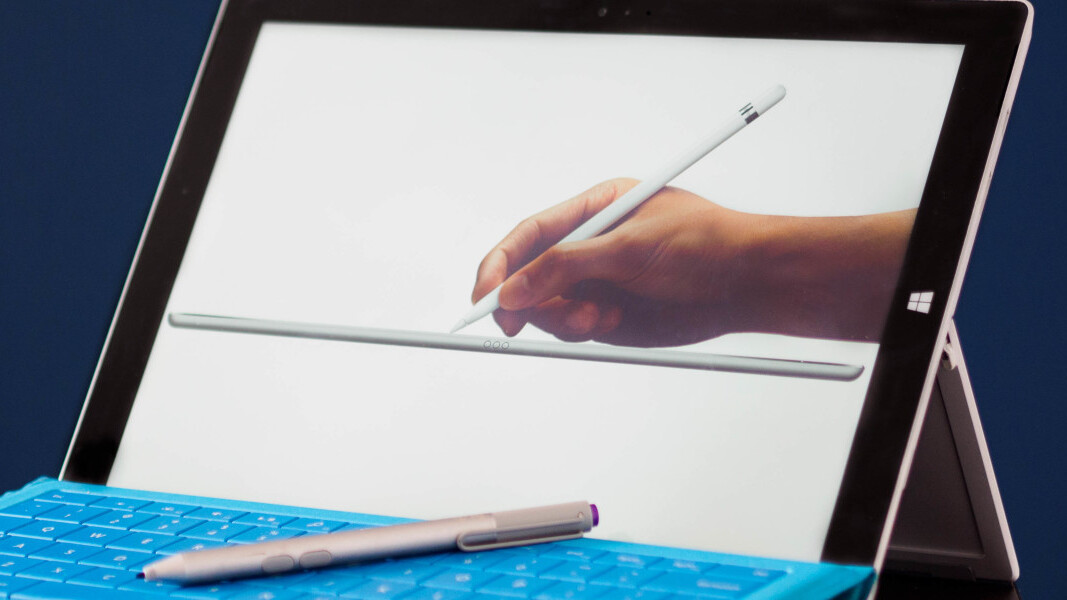 Story by
Reporter
Napier Lopez is a writer based in New York City. He's interested in all things tech, science, and photography related, and likes to yo-yo in Napier Lopez is a writer based in New York City. He's interested in all things tech, science, and photography related, and likes to yo-yo in his free time. Follow him on Twitter.
Yes, you read that right: Microsoft just beat Apple in a customer satisfaction survey.
According to a study performed by J.D. Power, one of the most prominent marketing research firms around, Microsoft's Surface tablets edged out Apple's iPads for the first time ever this year. On a 1,000 point scale, Microsoft scored 855, Apple scored 849, and Samsung 847. The average score for the all brands surveyed was 841.
Some of the reasons Microsoft won this year, according to J.D. Power:
It has the highest incidence of accessory use among tablets. 48 percent of users use a stylus, compared to the 27 percent industry average, and 51 percent vs 14 percent for the physical keyboard. J.D. Power also suggests customers are more satisfied with Microsoft's accessories than with competitors.
Surface tablets received the highest ratings for variety of I/O connectivity and internal storage.
Microsoft scored highest on the 'attractiveness of tablet design' category. It also edged out the competition on 'quality of materials used,' and 'size of tablet' categories.
A few of these victories can be explained by the different sorts of consumers Microsoft attracts. Surface buyers are more likely to be using their tablets for productivity, for instance, which is no surprise:
Microsoft owners have the highest incidence of saying "very important" for jobs related to productivity. These include browsing the internet (90% vs. 75% industry average); emailing (76% vs. 61%); word processing (63% vs. 30%); and mobile payments/banking (53% vs. 40%).
Interestingly, Surface buyers also tend to be younger than others, which goes against the classic Mac vs. PC stereotype (Macs are for young, hip people, PCs are for boring old suits). The study also notes that Microsoft customers are also more likely to be early adopters, and that early adopters tend to have higher overall satisfaction than other folks.
Granted, the Surface and iPad series are very different; Microsoft sees the Surface as a full-fledged productivity device, while Apple has never quite suggested the iPad is as productive as a MacBook. Apple also has a greater variety of tablet sizes; I'd like to see how the Surface Pro 4 compares specifically to the 13-inch iPad Pro.
Still, it's a definite victory for Microsoft. Apple has always liked to tout its customer satisfaction numbers during press conferences, and I can't imagine Jony Ive will be happy to hear people think Surfaces are prettier than iPads. But then, I've always long that iPad Pro's very existence proves Microsoft was right all along.
There's a bright side for everyone though: J.D Power says users are happier with tablets of all kinds than they were just six months ago.
Also tagged with