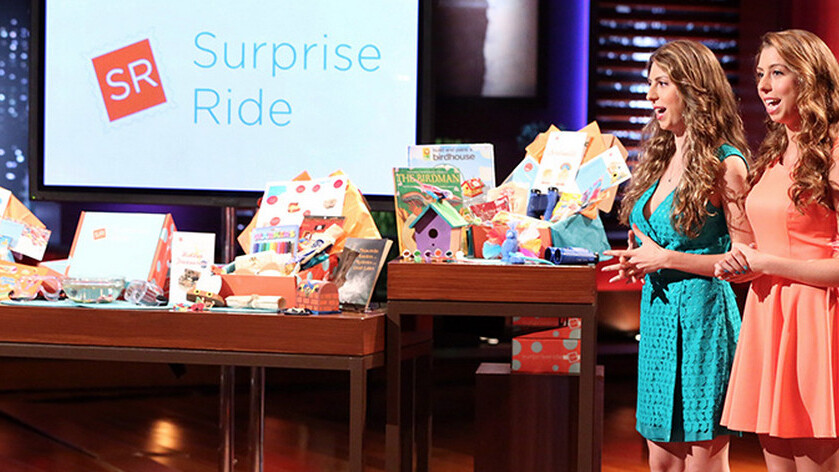 Story by
Lauren Maffeo oversees content strategy at Aha! -- the world's #1 product roadmap software. Her work utilizes digital channels to engage the Lauren Maffeo oversees content strategy at Aha! -- the world's #1 product roadmap software. Her work utilizes digital channels to engage their audience of product managers. She has been a contributing writer to titles including TNW, The Guardian, Mic, and more. She also served as Media Advisor to Zapnito, a London-based SaaS startup, in 2014. Follow her on Twitter @LaurenMaffeo.
As child refugees from Lebanon, Donna and Rosy Khalife knew how to get creative. Growing up in Canada, then Massachusetts, their dad taught the sisters how to engrave plastic, recycle metal and create art using global stamps and coins.
That sense of inspiration through organic play became the value proposition for Surprise Ride, a monthly subscription service which offers thematic play for kids ages 6 to 11. Thanks to an appearance on Shark Tank last year, the Washington, D.C.-based startup has smashed yearly targets and will launch an e-commerce site next month.
In less than two years, Surprise Ride has grown from a startup founded with $5k into a full-fledged business. But long before they swam with the sharks, the Khalife's found their resolve tested.
After their acceptance to the Betaspring accelerator program, they heard through the grapevine that Shark Tank's producers were looking for startups. They chose to apply on a whim  – and once the producers showed interest, the sisters had to prove themselves.
"The process consisted of long applications, legal agreements, submitting a video audition, and then working with producers to get ready for filming," Donna explains. "You could get cut at any point, even after you've landed in Hollywood to pitch in front of the sharks. The producers create a high quality – and addictive! – show because they are extremely selective in the products and teams they feature."
"They asked us to submit an audition video by Monday on the Friday of Memorial Day weekend," adds Rosy. "I was away, and Donna called me to come back and film! It all felt a little crazy, but we just had to try."
For Surprise Ride, the products involved were more than just their own. Products from several brands appear in each Surprise Ride box. Normally, Shark Tank's producers get legal clearance for products to appear on the show. But the Khalife's had to get clearance themselves – a process that involved calling each vendor to confirm that their products could feature on Shark Tank to be at the mercy of Cuban and Co.
"We knew that our relationships with vendors would make it easier to get the process done in time," Donna says. "After dozens and dozens of calls and emails, we got all the clearances. When we walked into the studio the first time, one of the producers got up from her seat and surprised us with a huge hug."
Despite sticking their necks out for Shark Tank, Donna and Rosy would repeat it in a heartbeat. But they also feel strongly that it's not for everyone.
So, which businesses should swim with the sharks?
Startups that truly need capital.
"The show is one big investment meeting," Donna says. "If you're not really scared by what would happen to your business if you couldn't raise capital, then you should focus on growing your business rather than getting on Shark Tank."
B2C over B2B
"You get to share your business and story with the sharks, but also with millions of potential consumers," Donna explains…
Products that are ready for prime time
…But, like any investment meeting, Shark Tank can go sour – in front of millions.
"Your product could get torn apart on national TV," says Rosy. "If the sharks don't like a product, they're very honest and can be brutal."
In short? Founders who are up for the emotional adventure
"It's a long and highly unpredictable process, so you have to be ready for the ups and downs," Donna says. "Not all teams who film actually end up airing. If they did, it would bias investment decisions and the sharks would assume every product will get 10 minutes of prime time. You have to apply to Shark Tank knowing you might not air."
Luckily, their segment did, and Surprise Ride is reaping the rewards in spite of Robert Herjavec's rescinded investment offer. One year after their segment aired, the sisters still get stopped on the streets of D.C. More than once, they've been asked how other founders can follow in their footsteps.
Both sisters want to be honest – but also believe that if entrepreneurs have risked all for an idea, then the battle is half won.
People would often tell us, 'Surprise Ride is such a cool concept! You should pitch it on Shark Tank', Donna reflects. "We would usually laugh and not think twice about it. Looking back, it makes me realize that no dream is too big."
This post is part of
Web Summit
's Global Blogger's Network, a series of articles on startups in the Washington, D.C. Metro area. The 4th annual Web Summit kicks off in Dublin on November 4.
Get the TNW newsletter
Get the most important tech news in your inbox each week.