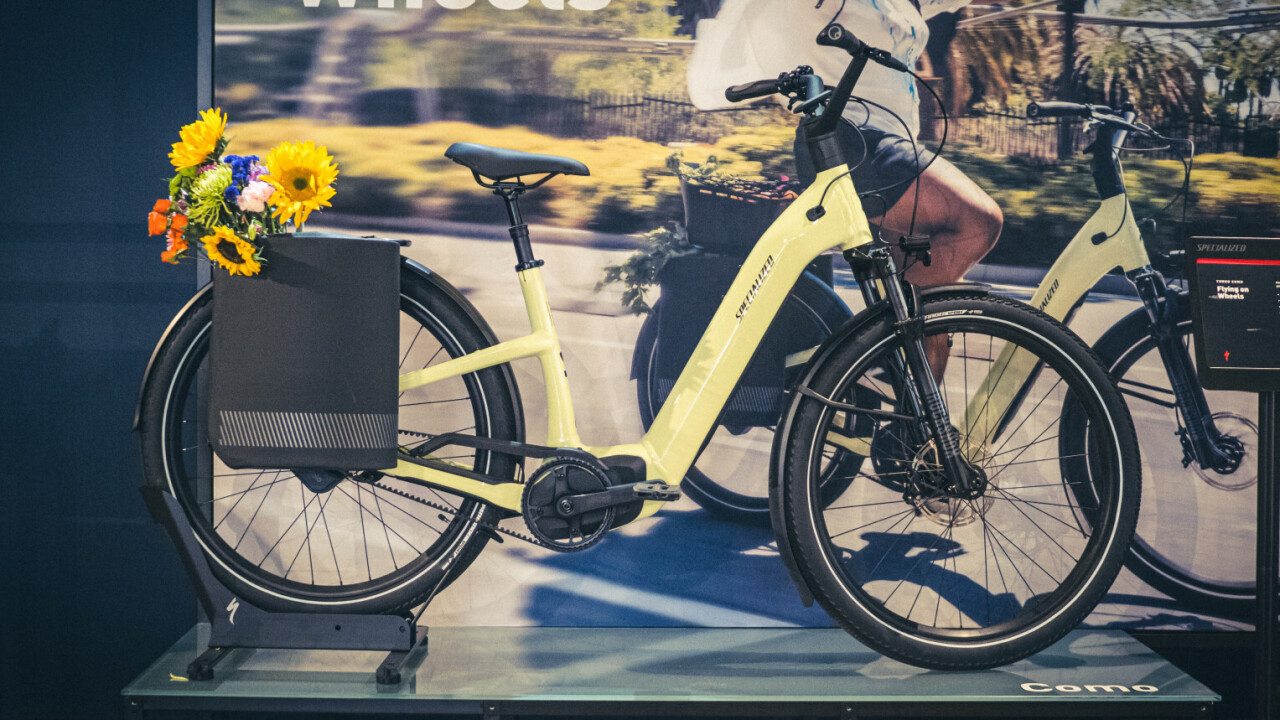 Story by
Reporter
Napier Lopez is a writer based in New York City. He's interested in all things tech, science, and photography related, and likes to yo-yo in Napier Lopez is a writer based in New York City. He's interested in all things tech, science, and photography related, and likes to yo-yo in his free time. Follow him on Twitter.
The Specialized Turbo Vado SL is one of the best ebikes I've reviewed, but that unit was meant to provide a gentle assist over a regular bike, rather than helping you blaze up the steepest hills without breaking a sweat. I've been curious what the company's heavier, more powerful models were capable of, and I got to see just that prior to the launch of the new 2021 Turbo Vado and Como models.
Long story short: they offer all the smoothness I loved from the Vado SL, but with oodles of torque to spare.
The Vado and Como are getting major redesigns with improved aesthetics, a more powerful motor, and some welcome quality of life improvements such as theft prevention and rear vehicle detection.
The Como is Specialized's upright commuter ebike, meant to give you a great view of the road ahead of you in the most comfortable position. It's the one I spent the most time with.
The Vado, like the Vado SL, is Specialized's hybrid ebike, offering a nice balance between an aggressive road frame and an upright bike like the Como. It's a good choice for those who want a zippier feel to their ride, even though the motor will make aerodynamics and power delivery largely moot.
There's also a new Tero, which has a look akin to the Vado, except it has more mountain bike-oriented components. Unfortunately, I didn't get to try this one out, but you can read more about it here.
Here are some of the key highlights on Vado and Como:
The Specialized Turbo Full Powe motor has 560W peak power and a massive 90Nm of torque on the top-end configuration.
A new MasterMind color display shows plenty of ride statistics, and can even use Garmin's Radar technology to detect vehicles approaching from your rear. You'll see a little dot on the screen that tracks their proximity.
The rear rack is rated to support 27kg (59 lbs).
Suspension forks.
Motor output is customizable in 10% increments via the Specialized App. You can also set your desired range and have the bike automatically adjust power accordingly.
A larger-than-usual 710 Wh removeable Battery on the 5.0 and 4.0 configuration, and a decent 530Wh option on the cheaper 3.0 model.
A natural pedaling experience when the motor turns off (other than the heavy bike).
A built-in alarm and motor locking function.
Range rated for up to 90 miles.
High-quality Lezyne lighting.
Optional Gates Carbon Belt drive.
Optional stepless automatic shifting (also customizable via an app) with the Enviolo Hub on the 5.0 configurations.
Fenders.
A 28mph speed limit (in the US)
I got the chance to ride the Vado and Como around Brooklyn a bit, and my experience largely reflected my earlier experience with the Vado SL — except these bikes were much more powerful.
This, of course, comes at the expense of some extra bulk and weight; the Vado and Como weigh in at roughly 60 lbs, depending on the size and components you choose. Not the heaviest ebikes around, but you won't get the ease of carrying the bike up and down stairs or hanging it up on a rack like you do with the 33lb Vado SL.
But what a glorious riding experience they offer.
My ride started off with the Como in its 5.0 configuration with the Enviolo stepless automatic shifting system.
It was like riding on a cloud. The Como puts you in a very upright position that feels extremely comfortable with its plush saddle and swept-back handlebars. I tend to ride in a slightly more aggressive position, but I was definitely spoiled riding the Como around town.
Meanwhile, the Vado provides a hybrid riding position — not quite as low as a road bike, while still being a little more aerodynamic and sporty than the Como.
Power output changes noticeably between assist levels, but in all cases, you feel the motor is providing smooth torque delivery; the ride never feels jerky and power kicks in gradually the instant you move the pedals. The motor was also remarkably quiet for most of the ride. It flew up the few grades I tackled, although Brooklyn is mostly flat terrain. Getting the bikes to 20mph and beyond in its Turbo Power mode felt quite easy.
The stepless automatic shifting was interesting, and something you'll either love or hate. Start pedaling, and the bike automatically figures out which 'gear' you should be in (the Enviolo Hub is a continuous transmission, so there aren't really gears). It's kind of awesome and kinda freaky to feel the bike automatically adjust its gear ratio depending on your speed and cadence.
I personally prefer to put in a bit more power at a lower cadence than what my test unit offered, but Specialized tells me this is customizable in the app.
Once I started to get used to it, I could definitely see the value of the system — especially for people who haven't ridden bikes often before and want a hassle-free system.
On some configurations, Specialized also lets you pick an Enviolo internally geared hub with a belt drive, but without the automatic shifting. Meanwhile, for those who prefer the more definitive steps of a good old derailleur, this is of course an option too. I'd probably choose one of these two configurations myself, but I could see myself recommending the stepless system to newbies.
Unsurprisingly, the bikes are expensive. Prices range from $3,250 to $5,500, but you're paying for the custom electronics, proprietary designs, and a wide dealer network and support that come with a premium bicycle. The new Como and Vado strike an excellent balance of smoothness and Power, and it's hard to find much else on the market with quite this combination of power, smoothness, features, and reliability.
Get the Shift newsletter
Get the most important mobility news in your inbox each week.
Follow @shift_tnw
Also tagged with