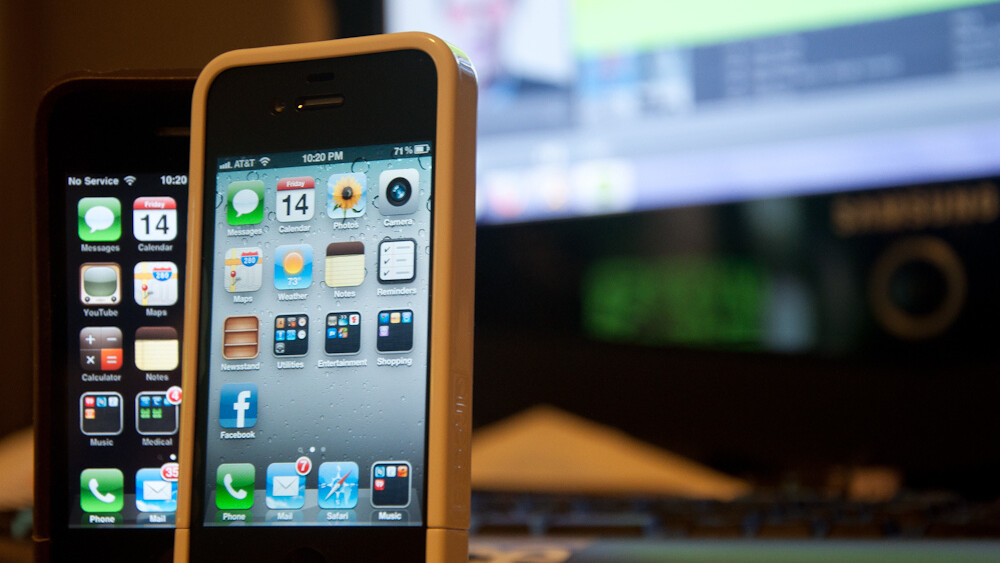 Story by
Josh Ong is the US Editor at The Next Web. He previously worked as TNW's China Editor and LA Reporter. Follow him on Twitter or email him a Josh Ong is the US Editor at The Next Web. He previously worked as TNW's China Editor and LA Reporter. Follow him on Twitter or email him at [email protected].
Ever wondered how much it would cost you to replicate the functionality of today's smartphones with a collection of standalone gadgets? I picked out the main functions and apps of my iPhone 4S and tried to find approximate replacements for each of them on Amazon. The total bill came to $1,228.11, and the devices collectively weighed more than eight pounds.
Today's smartphone, be it an iPhone, Android or Windows Phone, is arguably the most versatile and functional tool we've ever used. The "There's an app for that" slogan has become a reality. Meanwhile, most of my other devices are left collecting dust, as I'm usually content just going out with a phone, keys and a wallet.
You should know this is a completely un-scientific process, but it's meant to be a rough approximation of how an average consumer would shop if looking for each of these gadgets. Of course, some functionalities will be duplicated across multiple devices, but that's kind of the point here.
Phone
iPhone – free
Samsung A107– $34.95, 2.6 ounces
What's a smartphone without its phone functionality? "AT&T circa 2009". I kid, I kid. Anyway, I picked out a no-fuss Samsung flip-phone, though it does get bonus points for coming with a color display, SMS and Organizer.
Music
iPhone – free
16GB iPod nano – $139, 1 ounce
Sure, you could go with the shuffle, but the controls are infuriating, so I chose the iPod nano. It's $149 if you buy it from Apple, but you can save $10 over at Amazon.
Camera
iPhone – free (8mp, 1080p video)
Canon PowerShot ELPH 510 HS – $162.92, 7 ounces
This Canon point-and-shoot actually has 12.1 megapixels, and I'm told that it would perform better in low-light, but this is a close match. My phone's camera is now my main camera, though I will switch to a DLSR if I'm shooting for print or in tricky lighting. The fact that I always have my phone on me is one reason for the switch, the other is that I can email off shots right away. If you want Wi-Fi on your standalone camera, you could buy the 10.1-megapixel Canon PowerShot ELPH 530 HS, but it'll set you back $266.
Maps
iPhone – free, Maps
Garmin nüvi 1350LMT – $115.68, 1 pound
This matchup isn't completely fair since Garmin offers its GPS service, but you have to pull down Maps info over Wi-Fi and cellular data.
Alarm
iPhone – free, Clock
Advance Time Technology LED 6-Inch Alarm Clock – $9.49, 6.4 ounces
Technically, Apple's built-in Clock app also has a stopwatch, but I use the alarm feature everyday.
Flashlight
iPhone – free, Flashlight Ⓞ by Handysoft
3 Watt LED Flashlight – $6.75, 3 ounces
I actually use this Flashlight app quite frequently. I also take comfort in the SOS feature which will flash the morse code emergency signal. You never know when that might be of use.
Calculator / Spreadsheets
iPhone – $9.99, Numbers
Texas Instruments TI-84 Plus Graphing Calculator – $108.25, 13 ounces
This feature was tough to match up. Apple's Numbers app still needs some work, but it's quite advanced, so I decided to pair it up against this graphing calculator.
Games
iPhone – $20, assorted
Nintendo DSi – $124 (+ cost of games), 7.5 ounces
App-based gaming has developed enough that I leave my Nintendo DS and PSP at home. There are enough free games out there to keep you occupied, but I estimate that a $20 investment in some of the best paid games is enough to compete with dedicated gaming devices. Of course, you'll still want the latest handhelds if you're a heavy gamer, since you still can't get some of the most popular franchises on smartphones. You'll definitely be paying a premium for it though.
Ebooks
iPhone – free, iBooks or Kindle for iPhone
Kindle Wi-Fi with Special Offers – $79, 6 ounces
I'm not trying to weigh in here on the e-ink debate, I just chose the cheapest Kindle device. People who do a lot of traveling, reading outside, or just read a lot will probably prefer having a separate e-reader, or a book, but I'm happy just reading on my iPhone most of the time.
Tuner
iPhone – $9.99, Guitar Toolkit
Korg CA-40 Chromatic Tuner – $17.82, 3 ounces
This is kind of specialized, since not all of you play guitar. I had to mention this, though, because always having a guitar tuner on hand is very convenient.
Voice recorder
iPhone – $4.99, Garage Band
Olympus VN-702PC– $41.27, 2.6 ounces
The free Voice Memo feature on the iPhone is handy enough as is, but I also use GarageBand for quick song ideas or noodling around.
Dictionary
iPhone, free (or $14.99 for optical character recognition), Pleco
AM103 English Chinese Dictionary Translator – $129.99, 4 ounces
Electronic dictionaries are in danger of being rendered obsolete by our phones. When I need help reading Chinese while out in the real world, Pleco's $14.99 optical character recognition add-on is a lifesaver. The dictionaries on the free version work for most of my needs, though diligent language students might want to spring for a bundle.
Remote
iPhone – free, Remote
Apple Remote– $19.00, 2 ounces
Can't say that I use the Remote app a lot, but it's a nifty feature to have on hand.
VOIP / Video calls
iPhone – free, Skype and FaceTime

VoSKY Touch Videophone – $239.99, 4 pounds
The VoSKY videophone supports Skype calls. It's a bit overkill here, since it has a 7-inch screen and weighs 4 pounds, but it was one of the few devices I could find on Amazon that had Skype and video integration.
Images via Flickr / chippycheeky, Amazon, Apple
Further reading:
8 Things Your Phone Will (Probably) Replace
Get the TNW newsletter
Get the most important tech news in your inbox each week.
Also tagged with