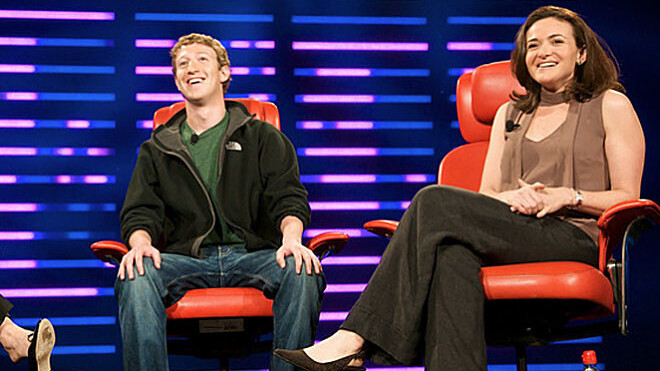 Story by
Sherilynn "Cheri" Macale is based in San Francisco, CA. You'll probably find her tucked away in her apartment blogging, playing video games, Sherilynn "Cheri" Macale is based in San Francisco, CA. You'll probably find her tucked away in her apartment blogging, playing video games, or immersing herself in geek culture. You can follow her on Twitter, Facebook, Google+
With Google+ on the rise and Facebook making rapid changes to the platform, it's only natural that media's curiosity has peaked a bit in terms of what exactly separates the two competitors from one another. Charlie Rose in particular seemed very interested in the subject during his interview with Facebook's CEO and COO just yesterday.
Rose asked, how does [Facebook's] culture differ from Google? And what exactly is Facebook culture?
Facebook COO, Sheryl Sandberg (once the Vice President of Global Online Sales and Operations at Google), notes that although Facebook and Google might be similar in a lot of ways — they are both founder-led, based in Silicon Valley and driven by engineers — they are still fundamentally different.
According to Sandberg, Google is all about "algorithms and machine learning", a process that she notes is very important and that Google just so happens to be very good at. Facebook, on the other hand, begins with and focuses on the individual. That is: "who are you, what do you want to do and what do you want to share, rather than on what machine-based data can offer."
"For us, our vision of the world is that we are like a hacking culture… We build things quickly and ship them. We're not aiming for perfection that comes from years before we ship a product. We work on things, we ship them, we get feedback from the people who use it, we get feedback from the world, we iterate, we iterate, we iterate… We're very much a culture of rapid innovation."
To add to this, Mark Zuckerberg, Facebook's CEO, states that Facebook weighs heavily on being able to ship products quickly. Zuckerberg believes that all big technology companies tend to slow down dramatically as they grow, admitting Facebook's plans to speed things up as it goes along regardless of how large it becomes.
This supposed ability to build things quicker is what Zuckerberg believes will be a huge advantage for Facebook over Google. In this way, he hopes that the product turnover speed will help the company build better and more successful products in the longterm.
Zuckerberg believes Facebook will continue to focus on "one thing", social, and partner with other companies for anything else (e.g. music, video, TV). In comparison to Google, which appears to be attempting to do everything. Zuckerberg's decision to partner rather than build in-house stems from his belief that "an independent entrepreneur will always beat a division of a company."
Want to see more? Check out our favorite highlights and breakdowns in the following posts:
Get the TNW newsletter
Get the most important tech news in your inbox each week.
Also tagged with