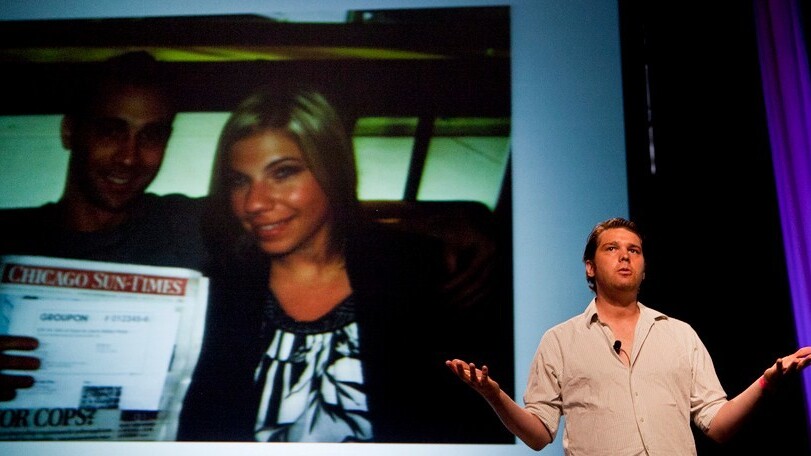 Story by
Alex Wilhelm is a San Francisco-based writer. You can find Alex on Twitter, and on Facebook. You can reach Alex via email at [email protected] Alex Wilhelm is a San Francisco-based writer. You can find Alex on Twitter, and on Facebook. You can reach Alex via email at [email protected]
Yesterday after the bell, Groupon reported its quarterly earnings. The company, losing a mere $3 million during the quarter, had earnings per share of $0.00, and revenue of $568.6 million.
Both of those numbers were underneath what investors had expected. Groupon put on a brave face, and TNW noted that its core business appeared to have righted itself. However, after two periods of all but flat quarterly growth, the stock market dropped the floor on the company.
Here's a graph of the carnage:
On a percentage basis, Groupon fell by -29.59% today, or $1.16. Yes, we rounded the figure in our title, I do trust that you will forgive us. In after hours trading, the company has recovered a mere 2%.
Groupon is now worth a mere $1.8 billion, a figure that is a shadow of a fraction of the $6 billion offer that the company spurned from Google; that offer did include a substantial earn out. At its peak, Groupon was worth $26.90 a share. It closed the week at $2.76.
Those figures indicate a very hard truth: Groupon is a whisker away from having lost 90% of market capitalization.
Causes
If Groupon has managed to stabilize its losses, is forecasting a fourth quarter profit, and has grown heftily on a year over year basis, why is the market spurning Groupon with such vigor? The answer is simple: revenue growth.
Groupon went public on the strength of its growing revenue, lack of profits be damned. Now, its revenue growth has stalled and its profits decelerated on a non-GAAP basis, a disappointing combination. Here's its own chart that well explains the firms growth problem:
The chart shouts: We're up 32% compared to last year! However, the company has managed a paltry $10 million growth in its top line in two full quarters.
To highlight this issue, the market expected revenues of $591 million for the third quarter. Groupon missed by $22 million, or more than twice the figure it has managed to grow by in a full six months. For now, Groupon needs to land a firm quarter of either revenue growth or profitability to regain its footing in the public markets.
If Groupon slips below 10% of its high, we'll bring you the news.
Top Image Credit: TechCrunch
Get the TNW newsletter
Get the most important tech news in your inbox each week.
Also tagged with