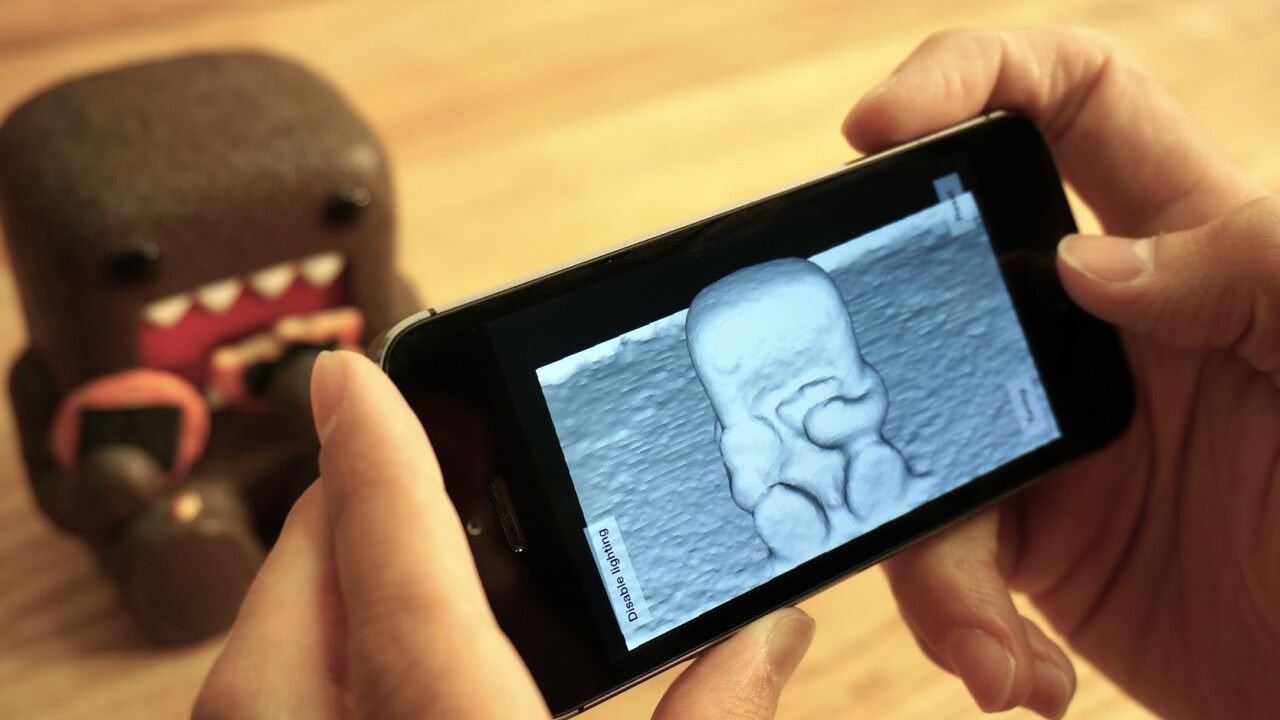 Story by
Josh Ong is the US Editor at The Next Web. He previously worked as TNW's China Editor and LA Reporter. Follow him on Twitter or email him a Josh Ong is the US Editor at The Next Web. He previously worked as TNW's China Editor and LA Reporter. Follow him on Twitter or email him at [email protected].
Obvious Engineering, the computer vision startup behind the 3D photo app Seene, is showing off an upcoming feature to the service that will let you capture a full 360-degree model of a subject and even export it for 3D printing.
The video itself only shows a 180-degree capture of a subject (Domo-kun, for the win!), but Obvious Engineering CTO Sam Hare said the feature is currently capable of tracking all the way around.
Seene launched last October with a new kind of photo that lets you capture and view the subject from multiple angles by rotating your phone. Since launch, the app has seen over a million downloads.
While the initial version of the service feels futuristic in its current form, Obvious Engineering has been applying its computer vision R&D expertise to take its proprietary format to the next level. The company has yet to provide a definite timeline for when it will release the 3D capture mode, but the feature should be coming soon. Looking ahead, Seene plans to add more texture information to the process so that to make it even more realistic.
3D scanning has been around with dedicated hardware, but Seene's solution offers an impressive full software solution for your phone. As seen in the demo, the resulting 3D model is printable. Obvious Engineering CEO Andrew McPhee confirmed that the printout shown in the video came directly from Seene's scanning feature without any tweaks.
"We think we're starting to achieve results with software that are in the league of much more specialist devices," MacPhee said.
The 3D printing and scanning space is growing at a rapid pace, but it has yet to reach mainstream adoption. At least for now, 3D printing is perceived as more for tinkerers, hackers and makers than for  everyday consumers.
However, Obvious Engineering is trying to alter that assumption with Seene by making it feel like Instagram with some easy-to-use 3D effects.
"The main thing where we think Seene is interesting is it gets people out of the mindset that they're doing a 3D scan…That's the benefit of doing it on a smartphone. We want 3D capture to become a much more natural, spontaneous activity," Hare said.
If the startup accomplishes its goal, you might someday find yourself casual printing off 3D replicas of your snaps the same way you'd use an inkjet photo printer today. That's still a ways off, though, and Hare and MacPhee acknowledged that there are plenty of steps in between before scanning and printing reach mass popularity.
Seene's latest scanning preview highlights just how big the company's ambition is. As the technology improves, the app could become more than just a unique photo sharing service. If users take to the 360-degree capture feature, Seene could quickly become the definitive repository for scans of real-world objects. We could then import those scans into virtual worlds in Oculus Rift or send them to the nearest printer on 3D Hubs to be recreated.
When I asked Obvious Engineering about upcoming hardware advancements to 3D scanning like Google's Project Tango, the team said it is focused on creating solutions with the products and devices that are available now, rather than trying to work with technologies that are still a few years off. However, the truth is that Seene is already achieving the rare technological feat of bringing the future to the present.
Get the TNW newsletter
Get the most important tech news in your inbox each week.