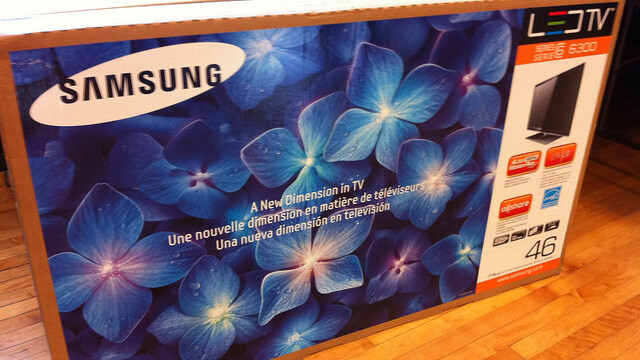 Story by
Drew Olanoff was The Next Web's West Coast Editor. He coined the phrase "Social Good" and invented the "donation by action" model for onlin Drew Olanoff was The Next Web's West Coast Editor. He coined the phrase "Social Good" and invented the "donation by action" model for online charitable movements. He founded #BlameDrewsCancer. You can follow him on Twitter, Google+, Facebook, or email [email protected]
Samsung is currently holding its press conference at CES, and is starting off by announcing that it will update its line of TVs with "smarter" ones.
The company is telling us that while we have many devices, the TV is the center. Samsung is promising to push boundaries and break down walls between the devices we already have.
Its "Smart TV" line will soon be able to update itself without you having to buy a new set every year, which is how we're used to consuming brands of televisions.
Tim Baxter, President of Samsung Electronics America, discussed the companies strategy that uses the TV as the center piece, and includes content, service, and connectivity. Baxter says:
Consumers want more content, and find it more easily, with more intuitive controls
The TV that captures that approach? The Samsung ES8000, with dual-core processor that enables multitasking.
The TV set comes in sizes up to 75 inches, and finally includes an integrated camera for video conferencing. The company also says that 3D has been big for them, with 12 Million 3D Samsung TVs being sold to date, and the company plans on half of the new smarter TVs it releases to include 3D capabilities.
Get the TNW newsletter
Get the most important tech news in your inbox each week.
Also tagged with