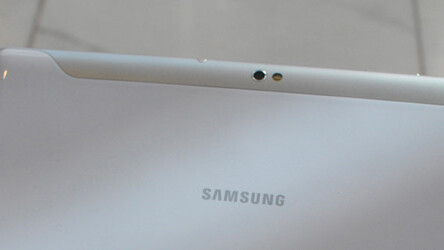 Story by
Matthew Panzarino was Managing Editor at TNW. He's no longer with the company, but you can follow him on Twitter. Matthew Panzarino was Managing Editor at TNW. He's no longer with the company, but you can follow him on Twitter.
The preliminary injunction preventing Samsung from distributing the Galaxy Tab 10.1 across Europe has been lifted, reports FOSSPatents. The ban on the sale of the devices is still active in Germany, where the injunction was granted.
The injunction was lifted because of doubts about the Düsseldorf court's ability to enact a Europe-wide ban of the device. This means that the lifting of the ban is basically a matter of doubtful jurisdiction, not any comment on the competence of Apple's arguments. Since the court does have jurisdiction in Germany, the ban currently stands there.
Apple won the preliminary injunction against the sale of the Galaxy Tab last week. Apple previously moved to have an injunction placed on Samsung's distribution of the Galaxy Tab in Australia, and subsequently, Samsung postponed its launch of the tablet in that country. A hearing is scheduled for August 29th in that case. Apple has also filed for a preliminary injunction against Samsung's distribution of the Tab and other Galaxy products in the US, although it has yet to be granted.
Apple spokesperson Kristin Huguet had this to say about the injunction, when it was granted:
It's no coincidence that Samsung's latest products look a lot like the iPhone and iPad, from the shape of the hardware to the user interface and even the packaging. This kind of blatant copying is wrong, and we need to protect Apple's intellectual property when companies steal our ideas.
We reached out to Samsung today and they gave us this statement regarding the lifting of the ban:
Samsung welcomes the Dusseldorf District Court's decision to suspend the pan-European preliminary injunction against the Samsung GALAXY Tab 10.1.

Samsung is fully committed to providing our innovative mobile devices to the market without disruption, and ensuring that consumers have a wider selection of innovative products to choose from.

We look forward to the opportunity to reassert our intellectual property rights at the hearing scheduled on August 25.
The German courts will have an official hearing to determine a permanent ban of the Galaxy Tab on August 25th. In the meantime, the overturn of this preliminary injunction should help Samsung's business in Europe as it can continue to sell its Galaxy Tab hardware. The case between the two companies is undergoing a separate review in the Netherlands, where the intellectual property laws differ significantly from the rest of Europe.
Get the TNW newsletter
Get the most important tech news in your inbox each week.
Also tagged with