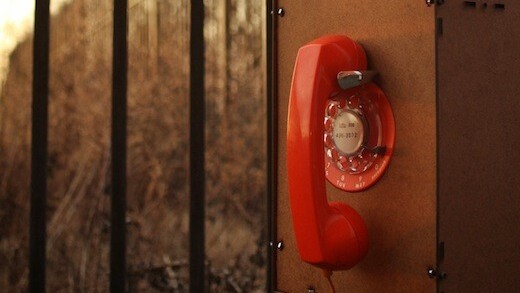 Story by
Harrison Weber is TNW's Features Editor in NYC. Part writer, part designer. Stay in touch: Twitter @harrisonweber, Google+ and Email. Harrison Weber is TNW's Features Editor in NYC. Part writer, part designer. Stay in touch: Twitter @harrisonweber, Google+ and Email.
Not long ago we wrote about Photo Hack Day 2, the world's largest photo hackathon held in NYC by Aviary and General Assembly (one of the 5 coolest coworking spaces in New York City). And from that awesome event came tons of projects, one of the most impressive being Rotobooth.
Rotobooth is a photo booth controlled by an embedded rotary telephone, and there are two ways to use it. You can dial '0' to take a photo, which is automatically uploaded to Flickr. Or, you can simply dial your mobile number and the booth takes 5 photos and sends you the links via text message.
TNW talked the creators to find out more about this intriguing machine:
HW: How does Rotobooth work?
Mike: We used an Arduino to interpret the rotary dial and trigger the digital camera. The photos are transferred to a Mac mini and uploaded to Flickr. Finally, an SMS is sent through Twilio.
HW: Why did you build it?
Mike: The Rotobooth began as a class project to turn a New York City pay-phone into a photo booth. Having never built a photo booth, I had to start somewhere.  Keeping with my inspiration, I built one to look like a pay-phone. The rotary dial was simply an elaboration of the metaphor. It makes the booth charming and very addictive. If you can make an interaction addictive, you're onto something.
HW: What are the future plans for Rotobooth?
Mike: For the near future we're looking to showcase it in festivals and local events.As the third photo booth we've built, we're happy with the progress we made on case design and new software features. The next step is to further play into the phone booth aspect of the device. I'd love to set up a second booth at a remote location and allow distant people to take photos together. Maybe they pose together, maybe they photo-bomb each other. Maybe we'll make the right contacts and start adapting working payphones into a photo booths.
One enticing aspect of the project is the idea of making simpler objects around us smarter. The Rotobooth keeps the classic "you get what you get" aspect of film and uploads everything automatically, which totals to little actual work for users. It would be interesting to see that concept applied to other things, such as music and video.
For me, this hack is entirely refreshing, especially because hardware experiments aren't as common as they should be. The team worked together overnight to create the project, and not only does it look awesome, it works, feels viral-worthy and is somehow, strangely, incredibly useful.
If you want to stay up to date on the future of Rotobooth, follow the project on Twitter & Facebook!
Get the TNW newsletter
Get the most important tech news in your inbox each week.