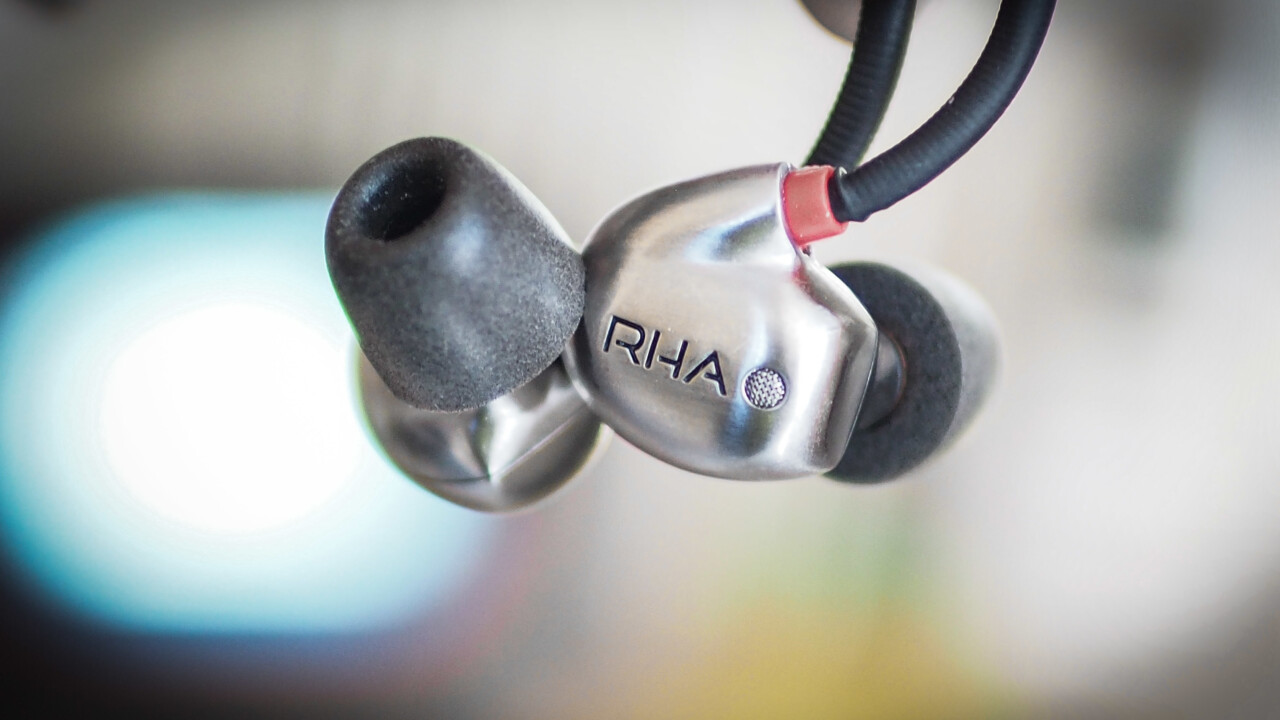 Story by
Reporter
Napier Lopez is a writer based in New York City. He's interested in all things tech, science, and photography related, and likes to yo-yo in Napier Lopez is a writer based in New York City. He's interested in all things tech, science, and photography related, and likes to yo-yo in his free time. Follow him on Twitter.
About six months ago, I reviewed the T10i IEMs (in-ear monitors) by Reid Heath Acoustics, a scottish audio company. It was one of my favorite headphones, with top-notch build quality, a comfortable and elegant design and powerful sound.
Some people found the sound a bit too powerful though, with a strong bass that sometimes intruded on the rest of the sound frequency and bright treble that just wasn't the cup of tea for some of the persnickety audiophiles paying $200 for the set. The headphone's included tuning filters helped you modify the sound between bass, reference and treble settings, but the effect was relatively subtle.
Enter the new T20, an upcoming $260 [Update: the release price will be $240 now] set that kicks RHA's sound quality up another notch, due later this summer. While they look nearly identical to their predecessors, a newly designed 'DualCoil' driver is designed to provide a neutral sound by separating the high and low frequencies onto different mechanisms.
It delivers: The T20 competes with larger headphones as well as earphones.
Build and design
If you've read our T10i review, then you already know most of the design story here. The headphones are beautifully crafted out of polished, injection molded steel, giving them an almost handmade look. Aesthetically, the only real difference is the use of a reassuringly thick black cable instead of a grey one, which I suppose somehow makes them look a little more serious-business.
The earphones are meant to be worn around the ear instead of the usual arrangement with the cable handing straight down. This has the dual benefit of helping the buds stay in your ear while exercising and reducing microphonics (the sound of the headphone cables hitting your body).
Like the T10i, the T20 have a unique moldable ear hook design, which you can adjust to conform to your own ears' shape. As for the earpieces themselves, they are smooth and small enough that I had no issue sleeping with them on.
Notably, RHA released the T20 without a microphone to start. It's likely the people spending their cash on headphones in this price range care more about the sound quality than convenience, and some audiophiles allege that integrated microphones degrade the cable's sound signature. I personally missed the convenience of the microphone though, so I was happy to hear that a T20i model will be released in the future for a small premium (no specifics on the price yet).
As with their predecessors, isolation from the outside wold is excellent. There's no fancy noise cancellation circuitry, but the metal housings are able to block outside noise well, especially using the included foam tips. It's comparable to larger headphones using active noise cancelling such as some Beats models and the Bose QC25.
Speaking of tips, you'll be more than covered by the set included in the box. You get two sets of small, medium and large sizes, two sizes of double flanged tips, and two pairs of the aforementioned foam ones. As always with in-ear headphones, its worth experimenting with different configurations to see what best suits your tastes. In my case, it was the foam tips.
You also get the T series' trademark tuning filters, again in bass, 'reference,' and treble varieties (more on this later).
Both the tips and filters come with their own machined steel holsters – a nice touch – as well as an elegant leather carrying case for all the items so you don't damage the headphones or lose any of the accessories.
I do still wish the cables were detachable – the more expensive headphones are, the more silly this omission is – but again, RHA has a virtually unmatched three-year warranty, so it largely balances out.
Sound
Let's first discuss those sound filters. The effect is subtle, but they definitely work to nudge sound slightly towards your preferences. Unlike with the T10i, this time I think the reference filters are probably the best option for most people, although I still personally gravitate to the brighter treble sound.
Furthermore, the bass tips are legitimately useful this time around, increasing the physicality of low notes by a substantial amount without being overwhelming. Because the default tuning is much more balanced this time around, the filters end up being more effective. As a note, most of my listening happened using the middle-ground reference filters.
Starting on the low end, the most noticeable characteristic is the relatively tame midbass. This part of the sound spectrum is very often overemphasized on headphones aimed at the masses – including previous RHA headphones – as it's an easy way to add a fun "thump" to pop and hip hop. Unfortunately, it also has the effect of distorting virtually everything else, so it's refreshing to hear that's not the case here.
The T20 instead shows its low-end chops by providing a deep and powerful rumble on the sub-bass, helping the headphones have more visceral rumble on church organs and a more realistic kick to its drums on tracks like Paramore's Ain't it Fun.
The refined laid-back mid-bass allows the midrange – where vocals and most instruments live – to shine. There's virtually no discernible bloat on voices, which is an impressive feat for sealed in ear monitors.
I'm perhaps most impressed by the treble, which addresses the sometimes harsh sound on the T10i. Here it manages to always be prominent without ever being grating. It extends high enough to give cymbals the proper sparkle in jazz tracks like Gretchen Parlato's Weak, but I caught no hint of sibilance (an annoying hissy characteristic around the letter 's' and certain instruments) either.
The balanced frequency response make the T20 something of a genre master – there wasn't a single type of music I thought sounded poor. The DualCoil drivers use separate parts of the speaker diaphragm to push out low and high tunes, and it shows how separate lower sounds are kept from the higher notes.
This also aids in giving the T20 a realistic amount of instrument separation. I've heard a wider soundstage (how far from your head instruments sound) on some earphones in the price range before, but you can still hear separate instruments clearly in orchestral tracks, and there's a surprising physical depth to the sound.
On the whole I'd still describe the T20 as being a bit more bassy than what audiophiles may consider neutral, but any less and you'd miss out on a lot of the fun sound in more mainstream music.
Conclusion
Let's be clear: the T20 are aimed at people who care about their sound quality above anything else. Few companies would consider releasing mainstream IEMs without a microphone in 2015, so RHA is making a statement that sound quality is paramount with the T20.
That's also evident with the price. At $240 (and likely more if you opt for the upcoming microphone-enabled T20i) they're not exactly an impulse purchase, though in the world of hi-fi, few things are. If this is your first foray into buying a decent set of headphones, I'd point you to RHA's MA750i, which are an excellent value at a more accessible $129.
Still, while mainstream consumers may not often consider earphones to be in the same league as larger, over the ear headphones, the T20 can easily compete with large cans like the audiophile-approved Sennheiser Momentum 2.0, which retail for $349.
They T20 fix little that was wrong with the T10i. While audio quality in this price range is inevitably subject, I have no hesitation to recommend the T20 if you can afford them. It hits all the right notes: neutral sound, looks, comfort, durability, accessories, warranty and customizability.
➤ RHA T20