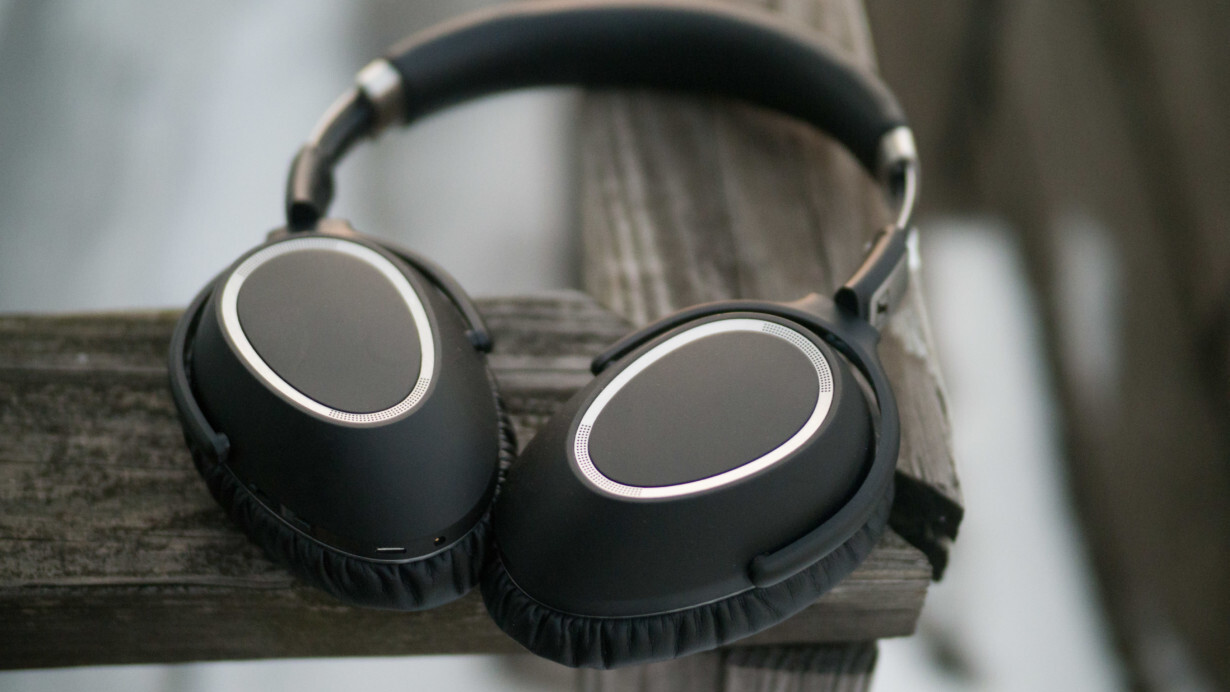 Story by
Reporter
Napier Lopez is a writer based in New York City. He's interested in all things tech, science, and photography related, and likes to yo-yo in Napier Lopez is a writer based in New York City. He's interested in all things tech, science, and photography related, and likes to yo-yo in his free time. Follow him on Twitter.
Noise cancelling headphones may be popular among travelers, but they don't exactly have the best rep among audiophiles. Given they work precisely by interfering with sound waves, they almost always sound better with the noise cancelling turned off.
Recently we've seen this trend start to change. Bose, often maligned within audio circles, made a big step forward with its QC35, and Sony's MDR-1000X has legit audio chops.
Now Sennheiser – one of the most respected names in portable audio – has crafted an excellent wireless headphone with the rather poorly-named PXC 550. Not only is it a great noise cancelling headphone, but also an excellent option for audiophiles as well.
Travel goodness
The PXC 550 are a pair of Bluetooth headphones with active noise cancelling circuitry, as well as well as an integrated equalizer and sound processing. That description doesn't make them stand out much from the motley of Bluetooth headphones out there, but the 550 shine because they do almost everything really well.
The design isn't anything to write home about, but they are classy and understated. They fold into a fairly compact shape for storage in the included carrying case, and in a clever touch, turn off as soon as the headphones are folded flat (you turn them on with the opposite motion).
The lightweight black and silver build isn't particularly fancy, but it's not ugly either, and they're comfy enough to wear for hours. If you want something fancier looking, you'd be better served by Sennheiser's Momentum Wireless, which offers a similar set of features.
Bluetooth range is solid, and I never had an issue with choppy sound. Thankfully, you can also use them even when the battery is dead with the included detachable cable, but you'll rarely run into the issue: Battery life will easily last you a couple of days day wirelessly, especially if you don't have noise cancelling on (it's rated for "up to 30 hours").
Speaking of, noise cancelling is a solid "good enough." It's not the black-out silence Bose is known to provide, and it does little to quiet other voices, but things like the rumble of an airplane or city noises are drowned out well. Sennheiser actually includes two settings which are basically 'automatic' and 'maximum' but I never noticed a difference between the two, so I generally used the former.
They're also one of the first Bluetooth headphones to surprise me with their call quality. Using some great spatial processing (more on this later), the PXC 550 have an almost eerie way of making it sound like you're talking to another person in the room. Meanwhile people on the other end of the phone line had no trouble hearing me even when chatting in crowded Brooklyn coffee shops.
My one caveat is the touch controls. They are serviceable, but I can't for the life of me figure out why headphone manufacturers feel the need to make everything controlled via touch (this article by The Verge sums up my feelings). I can't help but feel buttons would work just as well and more reliably.
But how do they sound?
I never doubted that the PXC 550 would sound good when all effects and processing were turned off, given Sennheiser's pedigree. What's surprising is how good it sounds even with all the bells and whistles activated.
First off Bluetooth does not degrade sound quality in any perceivable way. The headphones maybe sounded a tiny bit better playing out of an LG V20, but they generally sounded worse played out of other phones or my laptop. The only time there was an appreciable improvement when wired was when I connected them to a dedicated amplifier.
The sound signature is what I like to call party-neutral; a fairly flat response with just enough of an extra bass kick and treble sparkle to be fun. It's an extremely pleasant sound signature that will hardly offend anyone. My biggest complaint is that I wish there were a greater sense of dynamics – crescendos don't swell as powerfully as I'd like. A bit more volume wouldn't hurt either.
If the noise-cancelling isn't spectacular, that might be in part because it's carefully tuned not to affect the sound. Where other manufacturers seem content to sacrifice some sound quality for the extra bit of noise reduction, the PXC 550 never lost any appreciable detail even on the maximum noise cancelling setting.
But really, the most impressive part of the PXC 550 is Sennheiser's processing effects.
The headphone comes with three sound presets built into the hardware – Club, Movie, Speech, and a custom slot called Director which you can program using Sennheiser's CapTune App.
Now, I normally scoff at DSPs (Digital Signal Processors) that claim to improve a headphone's soundstage because they almost universally degrade the sound quality into a mush of reverberation.
But the PXC 550 do not suffer from this issue. In fact, the sound effects are quite convincing. It's the first time I've opted to almost always keep integrated sound effects on, even after a couple of months with the 550s.
No, it's not going to make you think you're listening through speakers all of a sudden, but it makes the relately small 550 sound like a pair of much larger open-back headphones. Also, kudos for having physical button for the presets – it make it really easy to switch them on or off depending on what you're listening to.
Moreover, it does this with nary a sacrifice to the accuracy of spatial positioning of instruments. 'Movie' mode legitimately makes film scores sound more, well, cinematic, while adding a fair bit more sub-bass rumble. Club mode adds both bass and treble presence while expanding the soundstage without sounding cavernous (it's my favorite setting). Speech is only really useful for audiobooks and podcasts, but I would have rather taken another custom slot.
That custom slot does provide a fair bit of customization though, CapTune offering a robust equalizer and a higher degree of control over which effects and processing are applied to the headphones. These are saved onto the headphones even when pair with other devices.
Should you buy them?
At $399, you have better options in the price range. In my experience both the Bose QC35 and the Sony MDR-1000X cancel noise better than the Sennheiser, and I personally find in-ear monitors like the NuForce HEM8 to block out noise better than any fancy noise cancelling circuitry anyway.
But if you prioritize sound quality over noise-cancelling or looks, then the PXC 550 should be around the top of your list; they're the most well-rounded headphones I've heard in a while. Even compared to non-noise cancelling headphones, they are fairly competitive for their price, and they feature the best set of DSP's I've heard yet.
As always, audio quality is subjective, but the PXC 550's tasteful tuning and DSPs are versatile enough to make them feel like multiple headphones in one.
---
We like some products. We don't like others. Either way, if you buy something through our affiliate links, we get a small cut of the revenue. This isn't a sponsored post, but for the sake of transparency, you deserve to know what's up.
Get the TNW newsletter
Get the most important tech news in your inbox each week.
Follow @thenextweb