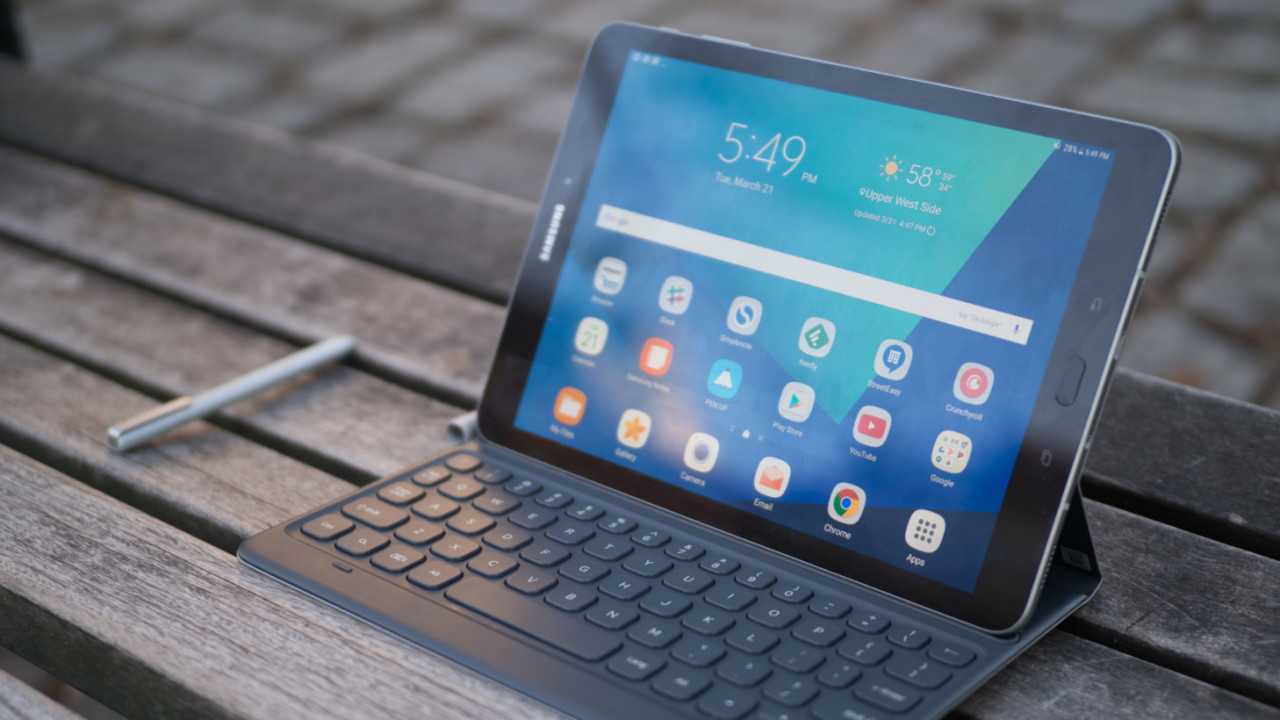 Story by
Reporter
Napier Lopez is a writer based in New York City. He's interested in all things tech, science, and photography related, and likes to yo-yo in Napier Lopez is a writer based in New York City. He's interested in all things tech, science, and photography related, and likes to yo-yo in his free time. Follow him on Twitter.
As potent and popular as Android phones may be, Android tablets have never quite captured the simplicity, power, and design chops of the iPad.
That's not for lack of trying. Google's Pixel C arguably came closest, but was hampered by an OS poorly optimized for a larger screen (Nougat helped, though it was too late by then ). But no one has tried harder than Samsung has with its Galaxy Tab series.
This time around the company is approaching its tablet line a little bit differently with the new Tab S3, aiming for a more premium design and productivity instead of just being a giant, more plasticky Galaxy S. There's now a glass panel on the back as well as the front, and it's the first in the series to be bundled with an S-Pen (an improved chunky variety, at that). Samsung's even built an optional keyboard cover too.
Unfortunately, those upgrades come with a price hike from $499 to $599, putting it right in line with Apple's 9.7-inch iPad Pro. Let's see if Samsung can back that up.
Specs and key features
9.7-inch AMOLED display
2048 x 1536 resolution
HDR video support
6mm thickness, 429g weight
AKG-tuned quad speakers
USB-C port with USB 3.1 speeds
6,000 mAh battery
Android Nougat
S-Pen support with 4096 pressure levels
4 GB RAM
32 GB storage (expandable via Micro SD)
Black and SIlver color options
Refined (if slightly questionable) design
Why does a tablet need a glass back?
I kept on wondering that as I used the Tab S3. A tablet isn't really a device you show off the way you do a phone, and after using Amazon's plastic-fantastic (but quite durable) Fire tablets, the Tab S3's glass back makes it seem particularly fragile.
Still, it's purdy. The Tab S3 is both the best-looking and most solid-feeling Samsung tablet I've used to date, right up there with Apple's iPads. But the Pixel C still looks better, and I'm not as wary of dropping it.
That design mostly becomes moot if you buy the $129 keyboard cover though, which envelops the entire device. Much like Apple's Smart Keyboard cover for the iPad Pro, Samsung seems to have picked out the most drab shade of grey possible. It would've been nice to see something a bit more colorful, a la Surface Pro.
At least it's a pretty great keyboard. The keys have a hefty amount of travel, unlike Apple's terribad version for the iPad Pro (I really can't stand Apple's current shallow-key trend), right up there with the Pixel C's or some laptops. It's a tiny bit cramped, but I was typing away at near full speed in the a manner of minutes. There's no backlighting, however, and the keyboard can only be set to one angle.
A top-notch media experience
The Tab S3's display is bar one the best I've seen on a tablet of any kind. The AMOLED panel is gorgeous, with vibrant colors and pitch blacks. It's also capable of getting very bright – somewhere in the realm of 500 nits (about on par with iPad Pro) – which comes in handy for HDR video. Currently, the format is only supported by Amazon Prime Video, but it's likely only a matter of time until other services are added as well (looking at you, Netflix).
All that being said, the usual AMOLED warnings apply. Colors are a bit oversaturated and contrast a little blown out in the default "Adaptive" mode, which made watching the gloomy, dimly lit Mr. Robot less than ideal. I switched to the "AMOLED Cinema" setting in the display menu for more accurate contrast. I really wish Samsung gave you more control to calibrate the display exactly to your liking.
Meanwhile, the AKG-tuned speakers didn't blow me away or anything, but are certainly better than average for a tablet. Stereo separation is good and dialogue sounded full and clear.
Last year's Smartphone guts, but that's okay (mostly)
There's nothing particularly noteworthy about the Tab S3's guts; they're basically the same as most Android flagships from early 2016. Snapdragon 820? Check. 4 GB RAM? Check. 32 GB storage? Check.
But lest you get hung up on those numbers, know that the the Tab S3 performs smoothly. I can't recall any significant slowdown during a week of heavy usage and testing, even though I spent much of it running two apps side by side. Despite all of Samsung's customizations, it felt about as smooth as the stock Android Pixel C.
Speaking of customizations, I'm pretty glad to have all of Samsung's extras, for once.
Nougat brought split-screen to the masses, but the Tab S3 is one of a handful of devices that lets you run apps as floating Windows. Coupled with a solid keyboard and the S-Pen's precision when you need it, I'd say the Tab S3 can actually be a pretty good stand-in for a laptop.
In fact, I'd argue the S-Pen actually feels a bit more at home on the Tab S3 than on the Galaxy Note series. The paper-like screen dimensions feel like the perfect size for scribbling away your thoughts, and useful features we saw on the defunct Note 5, like recording GIFs or video clips from anything on your screen, return here. The new chunky S-Pen feels wonderful too, although there's nowhere to attach it if you didn't but the keyboard cover.
Switching gears, battery life is pretty good, but I wish Samsung had sacrificed a bit of thinness for a bigger battery. In my experience (keep in mind I tend to use high brightness), the S3 never lasted more than two days on a charge, where I'm used to seeing some tablets go on for 3 or even 4. Video playback seems efficient enough (Samsung claims 12 hours), but switching between every day tasks
That seems to come down to battery size. The Pixel C has a 9,243 mAh battery. The Tab S3 has a 6,000 mAh one. For reference, that's only twice as big as the one on the Galaxy S7, despite the S3 being basically four times the size. Even the iPad Pro, running on the ultra-efficient iOS, has a 7,300 mAh battery.
Should you buy it?
I've been a bit harsh on some aspects the Tab S3, but don't get me wrong: it's one of the best Android tablets you can buy. It's only real competition is the Pixel C, and the Tab S3 still has important advantages like stylus support and a better display.
The same applies if you want to compare it to an iPad. Sure, they ostensibly cost the same, but the Tab S3 remains cheaper if you want the S-Pen, and I think it has a better keyboard to boot. Performance won't be quite as good, but that's not something you'll notice in daily use, especially considering all the productivity features baked into Samsung's skin. But then, the Tab S3 – any Android tablet, for that matter – has nothing on Apple's tablet-optimized app selection.
The Tab S3 isn't revolutionary, but it's an all around solid Android tablet effort. It's expensive, but it's also an easy recommendation if you're invested in Google's ecosystem and are looking for a new tablet, whether that's to watch Netflix or even get some real work done.
The Galaxy Tab S3 goes starts shipping on March 24 for $600, and you can snag one here.
---
We like some products. We don't like others. Either way, if you buy something through our affiliate links, we get a small cut of the revenue. This isn't a sponsored post, but for the sake of transparency, you deserve to know what's up.
Also tagged with