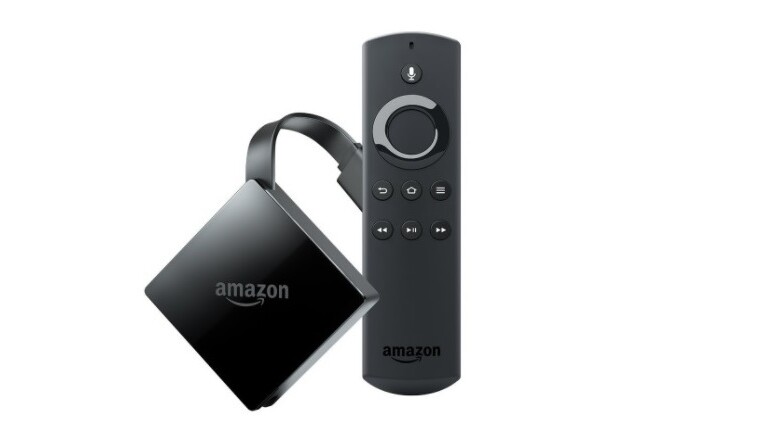 Story by
Editor, Neural by TNW
Tristan is a futurist covering human-centric artificial intelligence advances, quantum computing, STEM, physics, and space stuff. Pronouns: Tristan is a futurist covering human-centric artificial intelligence advances, quantum computing, STEM, physics, and space stuff. Pronouns: He/him
Amazon is set to release its new 4K Fire TV streaming device just in time for the holidays. I've spent the last week putting one through the paces to determine if it was a worthy challenger among streaming media gadgets. I'm happy to report it's a silky smooth operator that's perfectly priced to take its place near the head of the pack.
The Fire TV isn't a revolutionary leap ahead – if you're anything like me you'll just use it to watch Netflix and Hulu like you do with every other device. Instead of a reinvention, Amazon's engineers opted for a fine-tuning. Fire TV is fast, really fast, and it's easy enough to use that a child (or adult who doesn't understand all these new-fangled gadgets and gizmos) could use it with ease.
This owes in part to some pretty great optimization, but I think the hardware speaks for itself:
Processor – AMlogic S905z/1.5 Ghz
Supported Resolution: 2160p, 1080p, and 720p, up to 60 FPS
HDR Support: HDR-10
Memory – 2GB
Storage – 8GB
Audio – Dolby Atmos
Network – WiFi and Ethernet (requires adapter for Ethernet)
The 1.5 Ghz processor almost seems like overkill, but I'm not gonna complain. With the addition of 2GB of memory and an Ethernet adapter the Fire TV is faster than Chromecast or Roku, in my experience. Disclaimer: I haven't tried the Apple TV device, thus it's been omitted from this article for comparison purposes.
Along with speed, the Amazon offering is also robust. HDR support makes a big difference over the last model, and having Alexa built into the included remote control brings it on par with Chromecast.
If you want to ditch the "hands-on" experience entirely, you can pair an Amazon Echo device with FireTV and, in doing so, give yourself the ability to use Alexa as a way to control your streaming television. This integration works seamlessly – and that ease-of-use is a common theme throughout the Fire TV experience.
I've typically used my Xbox One as the primary entertainment hub in my home, but I don't have a console in every room that I have a television. I certainly don't want to unplug and move my console, its external hard drive, and a controller every time I switch TVs. This leaves me either using the built-in smart tv menus – which are ridiculously slow – or moving my laptop back and forth.
The new Fire TV is a bit larger than the sticks, but still small enough (and light enough) to dangle from your TV's HDMI port unnoticed. It's incredibly easy to move from screen-to-screen, and has a great picture even on older 1080p TVs.
It absolutely shines on 4K TVs thanks to HDR support, which finally brings my streaming TV in-line with my Xbox One S. The difference is noticeable when streaming 4K programming, like The Defenders on Netflix — which looks gorgeous in all its glory.
I'm not a huge Amazon Prime Video fan, and it's not because of the service itself, I just haven't fallen in love with any of it's shows just yet (sorry "Chance"). That being said, I was not even slightly bothered by the Prime-heavy user interface; it's not as bad as you might think.
Sure, Amazon's service takes up a lot of real-estate on the home screen, but that's to be expected. What's important here is that after a day's use I found Netflix and Hulu were right upfront and noticeable, and there was never a time I struggled to find what I was looking for.
I found myself searching for new shows and movies more often with the Fire TV than I did with Roku, or when I used the same streaming services on other devices. It's so fast that I never felt punished for searching – no spinning wheels or "oops, we're sorry" happened during my use. Alexa was able to find shows across multiple apps and allowed me to easily pick the one I wanted to use.
I used the new 4K Fire TV under the disclaimer it may get final updates before its actual release, and never once had an issue with it. There wasn't any slowdown or freezing, and my WiFi was more than enough to get the job done – if it wasn't, the optional Ethernet adapter worked without a hitch in my testing as well. I didn't experience any buffering whatsoever, something my Xbox and Chromecast both suffer from when using Netflix.
The device also comes with games, which I only briefly checked out, but found impressive for a streamer. Games like "Jackbox Party Pack 3" and "Crossy Road" are some pretty cool offerings for a streaming gadget, and the freebies I checked out ran as smoothly as the other apps on the device.
Amazon's 4K Fire TV is simple enough for Grandma to use, and I didn't find it lacking anywhere. I won't be going back to my old Chromecast or Roku devices – the Alexa integration and HDR support are great, but the speed of Fire TV sets it apart for me.
The new 4K Fire TV is blazing fast, has a sharp picture thanks to HDR, and at $69.99 it'll launch as one of the best values in streaming TV – and if you're a Prime subscriber it's a no-brainer.
You can get yours starting October 25th here on Amazon.
Get the TNW newsletter
Get the most important tech news in your inbox each week.
Also tagged with