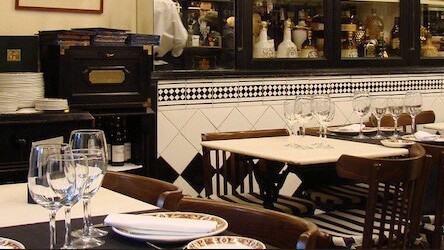 Story by
Lesotho-born and raised, Nancy Messieh, The Next Web's Middle East Editor, is an Egyptian writer and photographer based in Cairo, Egypt. Fol Lesotho-born and raised, Nancy Messieh, The Next Web's Middle East Editor, is an Egyptian writer and photographer based in Cairo, Egypt. Follow her on Twitter, her site or Google+ or get in touch at [email protected]
Haiku Review is an app, still in the making, which aims to bring a bit of poetry to the art of writing restaurant reviews. Launched as a Kickstarter project, the app is described as a "user review, local search and social networking app that inspires creative brevity."
The concept of the app fits right into the bite-size 140-character mode of communication that we have become so used to, while adding its own twist of creativity.
Haiku Review is going after heavy hitters in the industry like Yelp, bringing a different experience to the way that reviews are written. Aside from brevity, Haiku Review uses the actual traditional Haiku guidelines – reviews cannot be longer than 17 syllables. The developers say that Haiku Review sets itself apart from other similar apps with three different things it does:
1. Ensures Brevity:
 We get turned off by the length of reviews on several of the leading review sites because they leave nothing to the imagination.  Seventeen syllables and a recommendation tell you just enough, in a fun way, without spoiling the experience before you get there.

2. Creates a Shared Experience:
Haiku Review allows you to write a review on your phone at the location – creating a shared experience of writing the review, in haiku, with your friends.

3. Inspires Creativity:
While we use review apps and sites quite a bit, none of us have ever written a review.  We believe the Haiku provides a fun, creative structure that will inspire people to write a review.
If the three man team based in Dallas, Texas manage to raise the funds for Haiku Review, it should be in the app store by May 2012.
Check out the video below to find out more about the project and app:
Raising $65,000 for the app, Stu Hill, Wes Hendrix and Brad Alesi are still at the very beginning of their journey trying to raise funds to get the app off the ground. So if Haiku Review sounds like something you would want to use, you can become one of the first beta testers of the app by contributing to the project in the next 29 days.
Get the TNW newsletter
Get the most important tech news in your inbox each week.