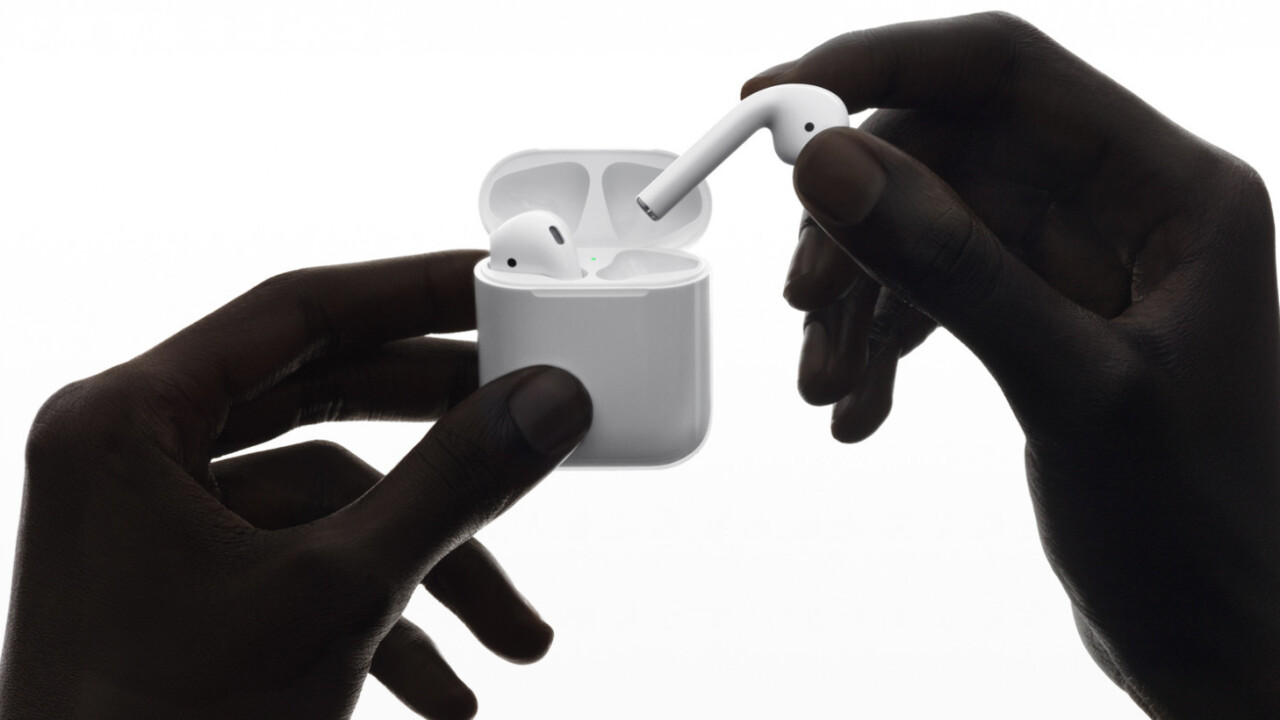 Story by
Vishwam Sankaran is a former Editorial Fellow with The Next Web, currently based in Bangalore, India. Vishwam Sankaran is a former Editorial Fellow with The Next Web, currently based in Bangalore, India.
Apple may update its truly wireless AirPods earbuds with support for wireless charging in the first quarter of 2019, according to analyst Ming-Chi Kuo.
Apple is said to have chalked out big plans for its AirPods in the near future: analyst Ming-Chi Kuo noted that the company is expected to update its truly wireless earbuds with wireless charging support in 2019, and launch an all-new version of its AirPods in 2020.
Kuo reportedly referred to the new update as a 'model with wireless charging support,' which could mean that Apple plans to finally release the wireless charging case it first announced in 2017.
However, it is unclear at this point if there is going to be an update only for the charging case that is compatible with the current-gen AirPods, or if there will be entirely new earbuds to look forward to.
Kuo said that the charging case will have a 'rigid-flex board' internal component upgrade. Its hinge will also be reportedly redesigned to support changes in internal design, and to withstand higher thermal requirements. He added that the cost of that component will rise by about 60 percent.
Kuo also said that the next AirPods model will come with upgraded Bluetooth specs. While he did not provide more details on the Bluetooth application, we know from last month's reports that the AirPods 2 received its Bluetooth 5.0 certification from the Bluetooth Special interest Group.
A Bluetooth 5.0 connectivity means that the AirPods 2 would have dual audio support, enabling users to stream audio from two different devices at once using a single pair of AirPods. The Bluetooth upgrade also allows for longer range, faster data transfer, and quicker pairing.
The Verge noted that if previous rumors turn to be true, the next AirPods could also have water resistance and noise cancellation features.
The Apple analyst also finally noted that another pair of AirPods was on track for release in early 2020, with an "all-new design," but he did not hint at what that might be. We've got an ear to the ground for more information, so stay tuned to Plugged for updates.
Get the TNW newsletter
Get the most important tech news in your inbox each week.
Also tagged with