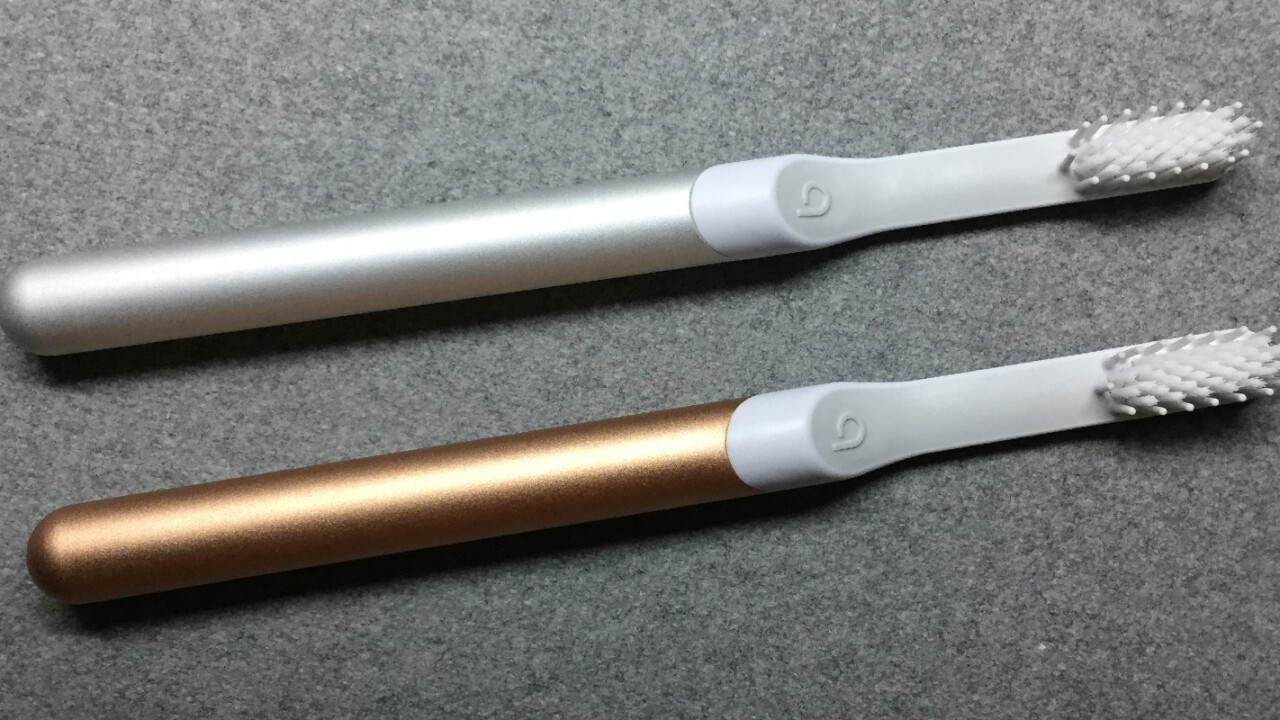 Story by
Digital Culture Reporter
Juan Buis is TNW's Digital Culture Reporter, and you should click here. Juan Buis is TNW's Digital Culture Reporter, and you should click here.
Buying an electric toothbrush was one of my best decisions of 2016. After two decades of brushing manually, it's a definite upgrade both in terms of efficiency and comfort.
However, buying into mainstream products means entering into an ecosystem of proprietary and expensive brushes that you need to swap every few months. Also, Oral B base units can run as high as $179 — not exactly a low cost of entry.
NYC-based Quip is trying to do things differently.
By focusing on only the things that matter in a toothbrush, they're trying to both deliver a better product and keep the cost down.
The starter pack costs between $25 and $40 – depending on your preference for a metal or plastic toothbrush. It comes with the main product, both large and small-sized toothpastes, and a travel cover. After that, you're charged $10 every three months for a refill set containing a fresh brush head, the two toothpastes, and a new AAA battery.
And that's it.
After the initial purchase, for $10 every three months you have one less thing to think about. But is it actually any good?
Quip definitely made a simpler toothbrush. Where the most expensive electric toothbrush advertise functions like Bluetooth coupling to an app on your phone or special tooth whitening features, Quip only has one option — turning it on.
Press the 'Q' and the brush heads starts vibrating. Every 30 seconds, it stops for half a second to indicate you have to switch to a different quadrant of teeth. It's extremely simple and works perfectly well.
One thing I found myself missing is a rotating brush head. My previous toothbrush – by Oral B – the rotation made it possible to let the product do most of the work, while with a Quip you still need to make brushing movements.
Even though I'm not a dentist, the clean feeling afterwards feels exactly the same. And my colleagues have yet to complain that my breath stinks…
Everything you receive is very well designed — the metal toothbrush itself looks stunning and would fit perfectly in any design interior. Even the toothpaste is beautifully packaged.
One thing I found myself enjoying a lot was the travel case. I travel often, and putting the brush in the clear plastic case made sure it doesn't get crushed in my luggage.
The low price and automatic refills makes it an easy way for most people to pay attention to their dental health without having to think about it — dentists recommend to swap toothbrushes every three months, so the refill has great timing.
Quip might not be the perfect electrical toothbrush for everyone, but it's an inexpensive and great-looking way to start paying better attention to your oral health.
Get the TNW newsletter
Get the most important tech news in your inbox each week.
Also tagged with