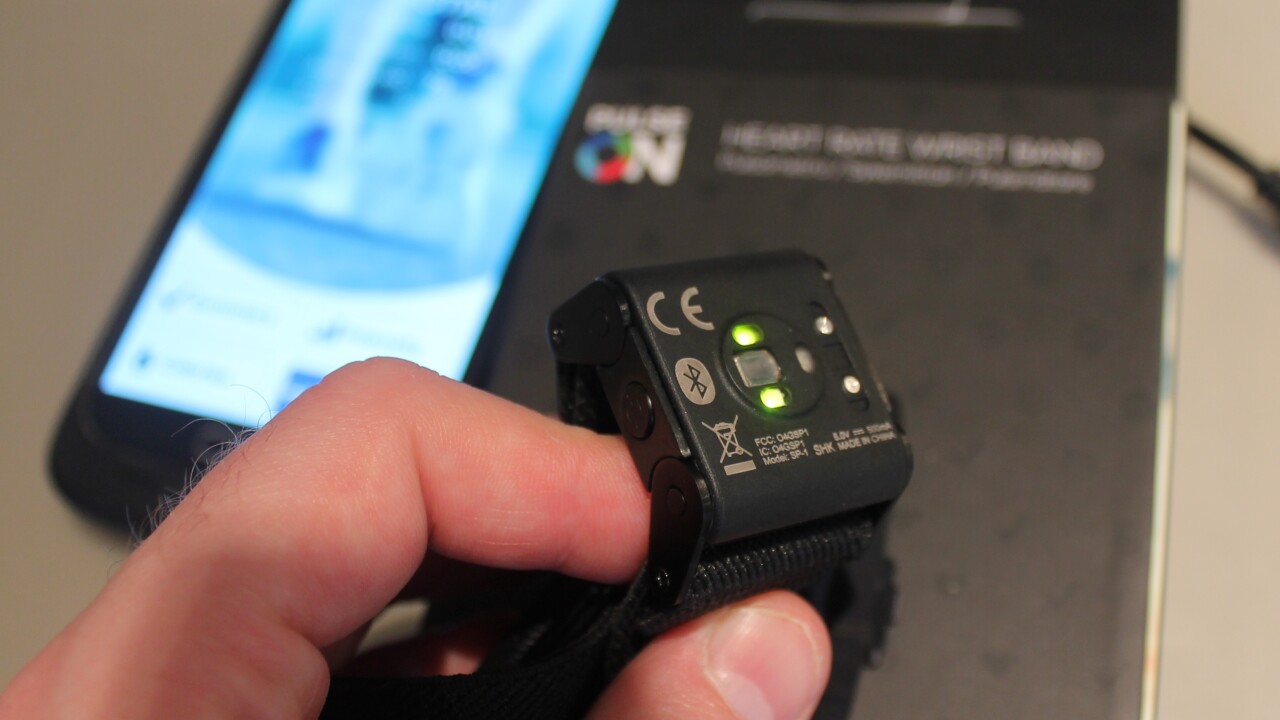 Story by
Paul Sawers was a reporter with The Next Web in various roles from May 2011 to November 2014. Follow Paul on Twitter: @psawers or check h Paul Sawers was a reporter with The Next Web in various roles from May 2011 to November 2014. Follow Paul on Twitter: @psawers or check him out on Google+.
The last 12 months may be remembered for many things, but in the tech realm, the surge of wrist-mounted activity-trackers will surely be one of them. Some might say there's been too much choice.
The latest entrant to the busy space is PulseOn, a Finnish company spun out of Nokia back in 2012. Interestingly, not only did Nokia allow the technology to leave its grasps, the company actually gave the newly-formed PulseOn a grant of "thousands of euros", while also providing a credit guarantee for a bank. This saw them good for the first 10 months before securing VC funding, and it now has 13 employees.
While a little buzz was generated around PulseOn last year off the back of a €1 million funding round, it was only last week the company opened up its wrist-band to 'pre-orders'.
Now, by 'pre-orders', what the company actually means is it's launched an Indiegogo campaign. However, we're assured this isn't a standard crowdfunding project – it's being used purely as an easy way of pre-ordering the device, which is already a 95 percent-finished product. PulseOn will ship regardless of whether its $150,000 goal is met – which is why the team has opted for the 'flexible funding' option. All funds will go to the company irrespective of how much they raise, and you will get your watch when it starts shipping in September.
The PulseOn enters the market with one, core underlying selling point: It measures your heart-rate without the need for any special equipment such as chest-belts, and translates this information into insights.
We managed to grab a hands-on with one of these devices and took it for a spin, though given this is still technically a prototype product, it's worth noting that some key features are missing.
PulseOn
At $199 ($169 on pre-order through Indiegogo), the PulseOn isn't cheap. In fact, it's around $50 more expensive than the premium  Nike+ Fuelband SE. That's perhaps an unfair comparison given that these are very different devices, however it's still a useful consideration for what we're facing here. The PulseOn isn't a budget device.
The strap is made of a stretchy material, which I actually quite like as it makes it easy to pull on and off without fastening buckles. However, I imagine the material it's made from will get a little, erm, 'smelly' the more you work-out with this on.
Before you set up the PulseOn, you will of course have to charge it. The watch ships with a rather quirky peg-style proprietary charging cable that clips onto the watch at one end, while plugging into a standard USB port at the other.
Next, you will have to install the associated app for Android or iOS – these aren't yet publicly available, but they will be in time for the watch shipping later this year.
During the set up, the instructions guide you through the optimum wearing position to ensure it can track your heart-rate. You have to leave an index finger's width between your wrist-bone and the device edge. And within the app itself, you indicate your age, gender, weight and height.
Given this is still a prototype – the app included – I did find myself making quite a few allowances. For example, the accompanying 'Quick Guide' makes absolutely no mention of how you're supposed to pair-up the PulseOn with your phone. For the record, it transpires that you have to hold both the start/stop button (left) and the scrolling button (right) simultaneously for three seconds, which sends it into Bluetooth pairing mode.
Though the PulseOn will offer many of the features you expect from an activity-tracker, such as distance and calories, the core selling point is its integrated heart-rate (HR) tracker. While the Withings Pulse also features a baked-in HR monitor, it requires that you remove the device from your wrist and place your finger on the back, which is only really practical for pre- and post-exercise tracking.
With the PulseOn, it tracks your heart-rate without having to remove the band.
The PulseOn has two modes. In Standard Mode, you'll see the time, your current heart-rate and a snapshot of your previous recorded stats. However, to beam your data to the mobile app (and thus record it), you must enter Sport Mode, which you do by hitting the Start button on the watch (left). Here, you'll have access to a timer, heart-rate, distance, time (clock) and training effect.
Based on my tests, the heart-rate monitor worked, and it worked well. It always displayed roughly what I thought my vital stat should be for the level of activity I was doing, and I verified this on a Withings Pulse monitor too.
Over time, you'll start to see a bigger picture of your activities and fitness start to form, with weekly, monthly and yearly overviews delivered through the app.
Now, to track your heart-rate, you can do so without your phone to hand. It's all stored within the PulseOn itself, and will be synced up when you're next using the app. The PulseOn's on-board memory should be good enough for "tens of hours" of exercise.
However, for speed and distance, you will need to have your phone with you. As things stand, you cannot view the distance and speed metric from the PulseOn itself, it's only available in the app – but this will be remedied with an update later this year.
Acknowledging the price, $200 isn't cheap – this will really be for those with money to burn and who are hell-bent on procuring a wrist-based heart-rate monitor. Moreover, there are already other wrist-worn HR monitors on the market.
Just a few months back, the $269 Tom Tom Runner Cardio and $299 Tom Tom Multi-Sport Cardio hit the market – these may not be as 'slight' as the PulseOn, but they're more watch-like, more 'rugged', offer GPS (no phone needed), and display more data simultaneously (including remaining battery). They're more expensive, sure, but if you have $200 to spare for a PulseOn, would an extra $69 make that big a difference?
Ignoring the price, the PulseOn could prove to be a popular watch/wrist-band for fitness freaks. It's more unobtrusive than the similarly-priced Samsung Gear Fit (which also has a heart-rate monitor), and is pretty accurate in terms of tracking your heart-rate. This is what it professes to do, and it does it well. But for many, this will need to be used in conjunction with other third-party apps – for example, if you like to properly track your runs, record your routes, analyze splits and other key metrics afterwards, you will still need Runtastic or RunKeeper for that.
Though this is designed to be worn as a watch too, for when you're not busting a sweat, the charge lasted less than a day for me, which isn't ideal. My Pebble lasts up to a week on a single charge, and I still frequently find myself sans watch when I least expect it.  Based on my initial tests with the prototype, the PulseOn will be best used as a dedicated heart-rate monitor for when you know you're going to be doing some exercise.
The PulseOn is open for pre-orders on Indiegogo now. Meanwhile, check out the official promo video below.
➤ PulseOn