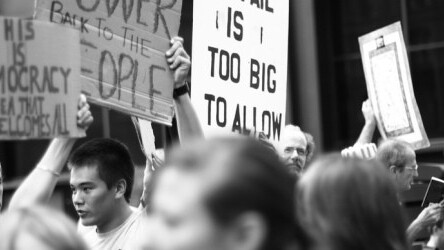 Story by
Lesotho-born and raised, Nancy Messieh, The Next Web's Middle East Editor, is an Egyptian writer and photographer based in Cairo, Egypt. Fol Lesotho-born and raised, Nancy Messieh, The Next Web's Middle East Editor, is an Egyptian writer and photographer based in Cairo, Egypt. Follow her on Twitter, her site or Google+ or get in touch at [email protected]
Protest4 is a brand new Android/iPhone app developed specifically with the Middle East uprisings, as well as Occupy Wall Street (OWS), in mind.
While we have seen Facebook used for campaigning, Twitter to coordinate and inform, and YouTube and live-streaming to broadcast, Protest4 offers an additional tool, giving protesters a virtual place to connect, mobilize and more.
So how does it work? When you first launch the app, you can sign up for a new account or use Facebook Connect to sign on. The homepage features a few options including searching for or creating a protest, a link to your protests, the protest feed, as well as a way to search for protesters. It also displays some of the recently created protests including events in Greece, Egypt, Spain, as well as several US cities including LA, Chicago and Miami.
Each protest or space consists of a 'wall' where protesters can post messages and photographs, and in addition, users can communicate privately with one another.
Each of the protests have active users, with the most active by far being the protest in Egypt with almost 200 users connected, and over 1,000 followers, at the time of writing.
The quality of the content however is certainly lacking, but to be fair the app has only been available for 3 days. Even in the OWS protests, quiet at the moment probably because I'm writing from a different time-zone, the content posted is minimal. Most of the posts are far from informative, and the fact that users are able to access and post to any protest regardless of their location could turn Protest4 into another rumour mill just like Twitter.
On the one hand, having users check-in, without having to share their location publicly is a much needed feature to verify information, but on the other, the very idea of incorporating a location-based aspect to the mobile app may very well stop activists from using the app.
If used correctly, Protest4 could easily become yet another essential tool that activists can arm themselves with for quick and easy communication, earning itself a place alongside other standout apps like Bambuser and Tor.
Speaking to Jim Kent, one of the Luxembourg-based programmers behind the app, he told The Next Web about the inspiration behind creating the app:
We created this free app because we love to communicate and we believe in freedom of expression. We had already been working on an app, called Zapon, that is able to identify interests that were trending in the mobile environment but after tracking social media usage by protesters in the Arab Spring and more recently with #OWS, we realised the functionality was perfect for protests and dedicated the app for the mobilisation of protesters around the world.
Within 1 day of launching, the app gained over 2,000 registered users from around the world. Protests were created in Greece and the US, and a campaign was launching calling for the release of Egyptian blogger Alaa Abdel Fattah, who was sentenced to 15 days in military prison, pending investigation.
Abdel Fattah, one of the pioneering bloggers and activists in Egypt is no stranger to incarceration, as he was jailed under former Egyptian president Mubarak's regime, and now finds himself once again the object of the authorities' attention.
Explaining how registered members can use the app, Kent said,
We expect protesters to create an event and chat about the issue upon which they are protesting. Most protests are centred around a physical gathering whereupon they can use Protest4 as a crowd management tool, because firstly, all members of the group have equal publishing access to an "interest wall" allowing real time instructions to be given and received by any member and secondly even when the app is not open they receive push notifications instantly.

At the moment we are seeing more debate and discussion by protestors with some intriguing interaction including; US military personal in Pakistan berating locals on their inability to keep order, the Philippine middle classes debating the cost of power and both the pro and anti-government groups voicing their views in our Indonesian channel.
Twitter and Facebook have already proven their worth in contributing in one way or another to the uprisings in the Middle East, so much so that many were more than happy to slap the convenient, and exasperating, Facebook Revolution label on Egypt's protests. So the question remains, are activists going to ditch their tried and tested tools like Twitter and Facebook, in favour of a brand new app? Jim thinks so, and he explains why:
The virtually closed community of Facebook pages reinforces the question of "when was the last time you met anyone new on Facebook?" There are also some events you are involved in but do not want to automatically involve or inform all of your Facebook friends. Twitter hash tags and Twitter trending were influential in our development process, but similarly they do not build any sense of connection with other followers and the trending always seemed broad and unfocused to the point of irrelevance with real issues happening locally to us.

Protest4 is different in that although anyone can join an interest the topic of discussion is focused and the community connected around this theme. The mobile application reinforces this connection by sending users a notification if there is activity in an interest encouraging users to return. The groups also contain some innovative tech that can facilitate fragmentation, meaning that if any one group becomes too active with too many members it can divide into small geo-located groups allowing protesters to choose if they wish to stay with the broader group or connect with other protesters who are located close to them.
As far as privacy and security is concerned, users will not have to sign up using their real names, although many of them seem not to be worried about this issue, with many users using their full names on the app:
We were concerned that the authorities could use the app themselves to identify protesters. Therefore we decided to ask for no personal data at all of protesters, merely their name, gender and email. If they wish they can also use an alias. (Nevertheless we allowed Facebook connect because people expect it nowadays, but we prefer protesters to use our regular signup option where we do not require a full name).
Not requiring users to use their real names is a double-edged sword, and just as we've seen on Twitter and Facebook, Protest4 has got itself a few trolls, most noticeably in the Egypt protest, who are obviously there to cause problems. The team behind Protest4 have already taken this into consideration:
Our vision for the app is to employ a native speaker to act as moderator for each channel. Of course we wish for all of our users to have fulfilling, informative and engaging experience and if any problem user comes to our attention we effectively communicate with them! We are working on a tech solution for permanently banning accounts and allowing the community to actively report and ban problematic users on their own.
So what else can we expect from Protest4 in the future? Jim tells us:
Protest4 is just in its infancy, and the topic of protests is here to stay. We will keep protest4 free and all users' data private. Our vision is to actively support and mobilize protesters all over the world. Any user can create any protest and we invite anyone with a cause to join us. The technology could also be used for other interest groups and we welcome any group that could benefit from a worldwide trending network allowing users to freely communicate to get in touch.