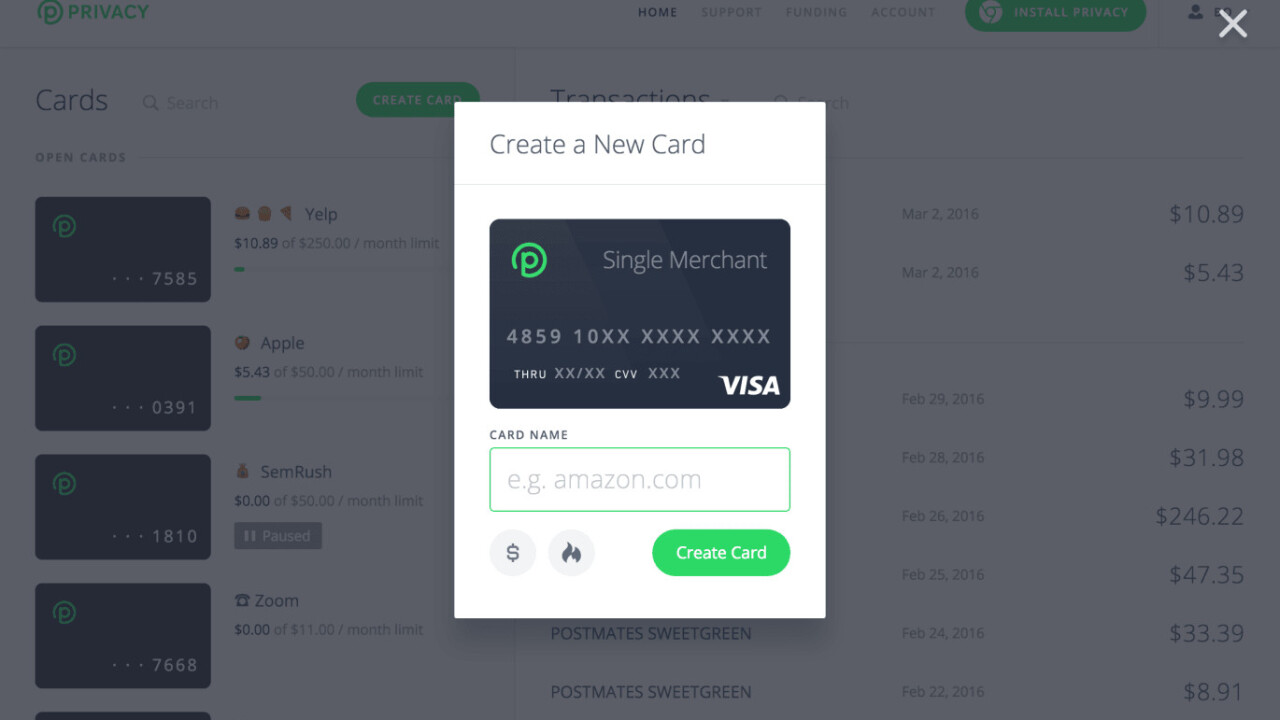 Story by
Former Managing Editor, TNW
Bryan is a freelance journalist. Bryan is a freelance journalist.
With nearly 70 percent of American's shopping online at least once monthly, it's safe to say that our online Amazon binges are officially a "thing."
Unfortunately, another "thing" that's quickly pervading the online shopping world is the fear and uncertainty that comes with entering your credit card number to pay for these purchases.
Privacy.com aims to ease consumer fears with its first consumer product, 'Pay with Privacy' — a solution that allows for the creation of "burner" digital Visa cards.
The card, in this case, actually isn't a card at all. Instead, it's a randomly generated credit card number from the Privacy.com website, a simple browser plugin (Firefox or Chrome), or on your iPhone. Once you use the digital card, it self-destructs and you're no longer at risk for bad actors that could use it again for additional purchases.
To sign up, you'll need to create an account and then link your bank to the site. From there, you can set off on creating an unlimited number of single- or recurring-use cards for any and all of your online shopping needs. You can even create merchant-specific cards, such as a card just for your Netflix subscription, or for your Amazon purchases.
To create a new unique card number all you have to do is hit a button on the payment form.
In a security sense, there's a lot to like about a single-use solution. Aside from the ability to kill a card and quickly move on to another, you'll also have two factor authentication and the same fraud guarantee as using a physical Visa card.
Plus, the service, and additional cards, are always free.
➤ Privacy