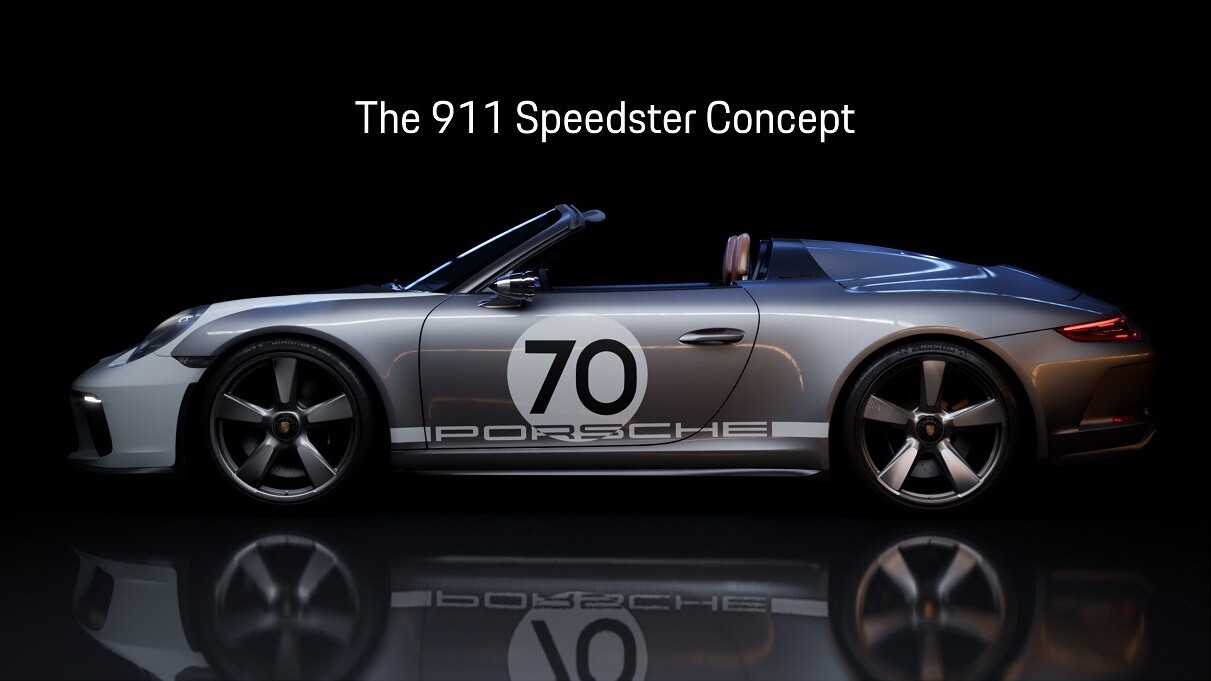 Story by
Editor, Neural by TNW
Tristan is a futurist covering human-centric artificial intelligence advances, quantum computing, STEM, physics, and space stuff. Pronouns: Tristan is a futurist covering human-centric artificial intelligence advances, quantum computing, STEM, physics, and space stuff. Pronouns: He/him
Epic Games today showed off an amazing real-time lighting demo in Unreal Engine 4 featuring the new Porsche 911 Speedster concept car. Best of all, the demo ran on a pair of Nvidia's just-revealed Turing RTX graphics cards, showcasing the hardware's real-time ray tracing capabilities.
The Porsche 911 Speedster concept car is the first vehicle to be visualized with real-time ray tracing, a graphics feature that renders photo-realistic lighting and reflections.
Christian Braun, Manager of Virtual Design at Porsche, said :
Porsche's collaboration with Epic and NVIDIA has exceeded all expectations from both a creative and technological perspective. The achieved results are proof that real-time technology is revolutionizing how we design and market our vehicles.
Braun told TNW that Porsche planned on working with the Epic Games team over the course of the next year to further realize the 911 Speedster concept vision. He said the virtual design team at Porsche appreciated how robust the Unreal Engine was saying it "gives us a chance to have everything out of one software package."
Just a few months ago, Epic Games showed off its Unreal Engine's real-time ray tracing capabilities with a mind-blowing Star Wars demo called "Reflections." In it, we see some First Order troopers riding in an elevator, their shiny plastic and chrome uniforms reflecting the various lights around them.
It's jaw-dropping, to say the least. More than one commenter on social media quipped they were surprised to learn the demonstration was entirely computer-generated graphics, and not live action.
In the universe of computer graphics however, a few months can bring a significant amount of change. Thanks to Nvidia's insanely powerful new graphics cards, the team at Epic Games was able to show off effects that've never been pulled off in real time before.
If you watch that Star Wars clip again you'll notice there aren't any reflected shadows or transparency in surfaces with reflections. But, if you take another peak at the above Porsche video you'll see shadows and light moving across transparent glass and glossy paint, and the reflections of both light and shadow playing so spectacularly that it's hard to believe none of it was pre-rendered.
Francois Antoine, Director of HMI at Epic Games, and creative director and VFX supervisor on the Porsche project, told TNW the new Nvidia cards were wonderful to work with. He said it took only two of the Turing cards to do what would have taken eight of the previous generation. On the process itself, Antoine says:
When you see the quality of the cinematic, it's remarkable to note that no baking or lightmaps were required. There is no precomputed lighting—it's all fully dynamic for both objects and light. When we're designing cars, we have to explore every option from every angle, and having the ability to review fully visualized renders in real time has completely transformed the way we ideate.
We can't wait to see what the team at Epic Games can come up with now that the veil of secrecy surrounding the new Nvidia RTX chips has been lifted. But it's going to be hard to top the gorgeous piece of German engineering that Porsche calls the 911 Speedster concept car.
Get the TNW newsletter
Get the most important tech news in your inbox each week.