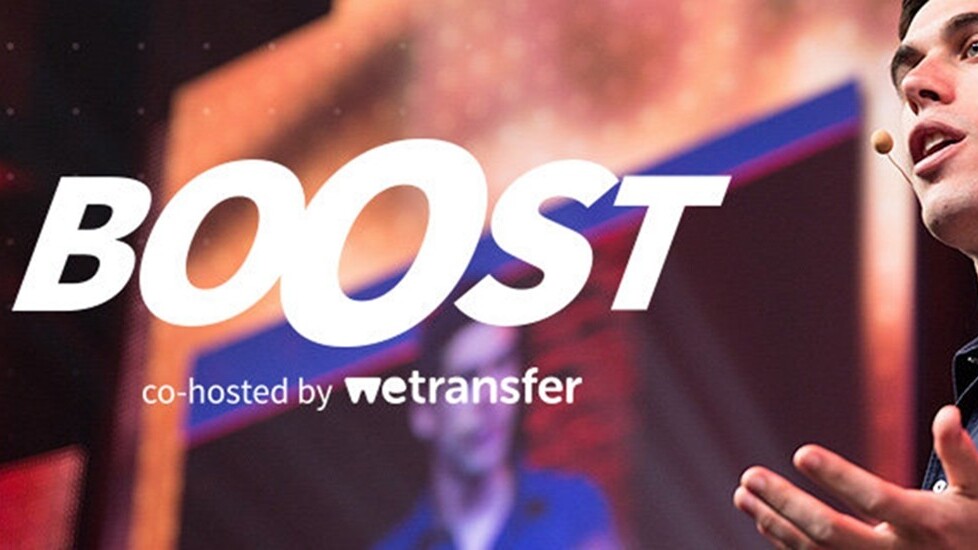 Story by
Jon Russell was Asia Editor for The Next Web from 2011 to 2014. Originally from the UK, he lives in Bangkok, Thailand. You can find him on T Jon Russell was Asia Editor for The Next Web from 2011 to 2014. Originally from the UK, he lives in Bangkok, Thailand. You can find him on Twitter, Angel List, LinkedIn.
We whittled down the 99 startups selected for the Boost event at TNW Europe 2014 down to 10 earlier this month, and today each of the companies took to the stage to pitch our judging committee.
Pocket Anatomy, an Ireland-based startup that developed an app that allows patients to understand more about healthcare, won the competition. We previously wrote about each of the companies who pitched — you can read about them here — but here's a recap of the highlights from all of the entrants.
Usertalk
Usertalk aims to make the line of communication between businesses and customers smoother with an embedded button that delivers voice and text-based communication between the two.
The service has launched its public beta today, and it is offering two months of registration for free. The Egypt-based company also announced that it is raising a round of funding now, as it looks to expand out of the Middle East.
More details: Getusertalk.com
Crate
Crate offers data storage for the connected world, and it recently got a huge boost in visibility when it was featured prominently on Hacker News.
The startup is aiming to use SQL to give developers the opportunity to use big data to store all kinds of records, and create new services thanks to significantly cheaper storage.
More details: Crate.io
Via
Via has created an app in response to the difficulties of managing energy efficiency for buildings and sites today. The company uses a range of data points and focuses on "micro-savings" rather than "unrealistic" big aims to help make managing energy efficiency really easy.
Via has opened the waiting list for three month trials of its service today, anyone who attended TNW Europe 2014 can skip the queue and start piloting it right away.
More details: Via-app.com
Discovered
Discovered is aiming to build a marketplace that connects artisans in emerging markets with customers worldwide. The service is available on feature phones, to help adoption in regions like Asia, with the aim of helping emerging market artists and creators find a higher price for their goods than they would locally.
The company showcased what's possible by demonstrating a gold kettle, which was made in India but shipped out to Europe using the service.
More details: Discovered.us
UseClark
A service for perusing and summarizing data in digital documents on screens, Useclark is primarily targeted at professional audiences who work with large numbers of documents — such as lawyers — but it also offers a consumer service for helping read websites like The Next Web.
The service only covers English for now, but it has plans to expand to cover Chinese, Japanese, Arabic and other languages too.
More details: Useclark.com
30MHz
In a presentation that started with the question 'Who is monitoring your cows?' — 30MHz explained its service that monitors a wide range of services to provide notifications and warnings when things aren't as they should be.
"Everything fails, eventually, but what sucks even more if you don't knowing it fails," the company said when it concluded its pitch.
More details: 30mhz.com
Agrivi
Agrivi is a startup with a very noble cause — it's working to solve the global food problem using an intelligent farm management service.
The company explained in its pitch that it aims to offer a complete solution for farmers who are seeking better distribution, while it brings knowledge and technology to those that don't have it and also looks to offer localized solutions that matter to farmers on the ground.
More details: Agrivi.com
Pocket Anatomy
The company impressed the judges the most with its pitch as the 'Google Earth of the human body.' In a nutshell, it aims to helps people understand and visualize their health using an app that provides a virtual look at patient's bodies and their medical care solutions.
It began as a consumer product but has since pivoted its target audience to hospitals and insurers, both of whom can whitelabel its devices and provide them to customers.
"Our technology helps better patient understanding of healthcare, shorter hospitals stays, and it lowers litigation costs — that means it's no longer nice to have, but a need to have product for 21st Century world," it said during its pitch.
More details: Pocketanatomy.com
Docido
Docido's founders created the company after growing frustrated that there was no single service to help them look up and find information across Internet services.
The product is essentially 'search for your cloud,' and it works with a range of services including Dropbox, Twitter and others. The company explained in its pitch that it is seeing the most growth with B2B audiences. It has opened a private beta today, and is planning a full launch in September.
More details: Docido.com
Cubic.fm
Music discovery service Cubic.fm is using big data to help music lovers get more from the Internet. Users "build their music ID" by hooking up a range of services and letting the service's algorithm and user classification build their library and help them discover new music that they'll like.
Right now the service is available within Deezer and Rdio, but it will integrate with Spotify, Xbox, Rhapsody and Xbox soon. The team is currently based in Istanbul, Turkey, but it is raising a round of funding in order to relocate to San Francisco.
More details: Cubic.fm