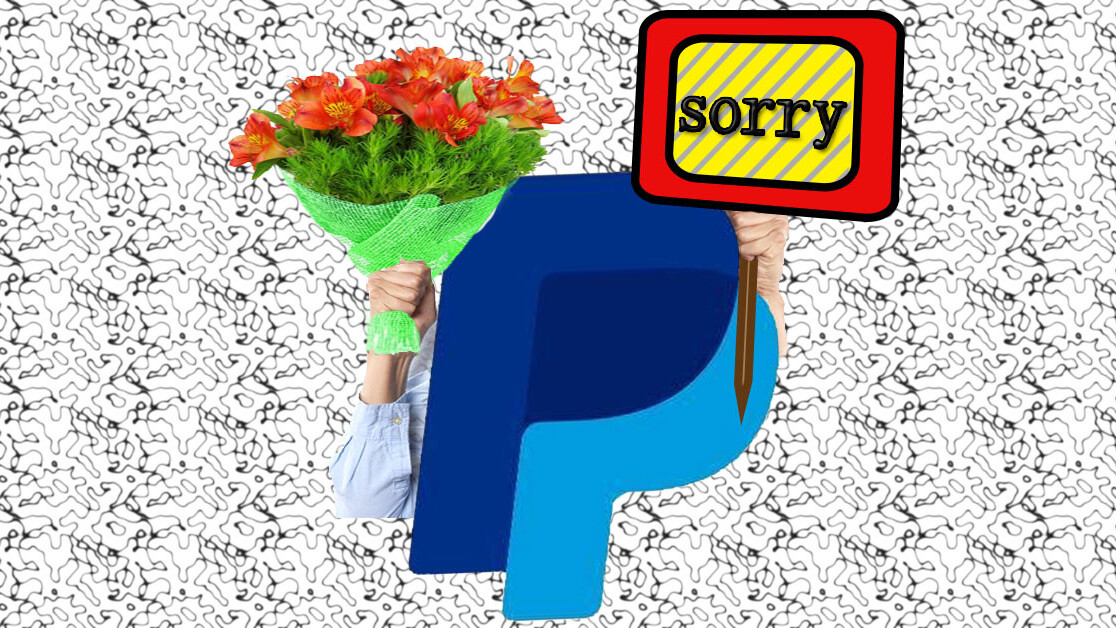 Story by
Editor, Neural by TNW
Tristan is a futurist covering human-centric artificial intelligence advances, quantum computing, STEM, physics, and space stuff. Pronouns: Tristan is a futurist covering human-centric artificial intelligence advances, quantum computing, STEM, physics, and space stuff. Pronouns: He/him
PayPal recently sent a woman a letter explaining that her death violated its account holder policies. When her grieving husband shared a copy on his social media accounts, it was hard to believe it was actually real. And just as shocking has been PayPal's response, the company seems to be taking the matter seriously and doing something about it.
Word of the incident began making the social media rounds early Tuesday morning as Howard Durdle, the bereaved husband, posted his horrific account on Facebook and Twitter.
Excuse the language but this is beyond the fucking pale. @AskPayPal @PayPalUK – who were informed of Lindsay's death 3 weeks ago – have sent HER a letter claiming breach of contract due to her being deceased. What the hell? ? pic.twitter.com/4zelBLGszc

— ?????? ?????? (@hdurdle) July 10, 2018
PayPal sent the letter to Mrs. Durdle, the deceased, explaining that she was "in breach of condition 15.4(c)" of her agreement. That particular policy states "We may close the Credit Account and demand repayment of the full amount you owe us if you die or become of unsound mind." 
The letter continues:
… as we have received notice that you are deceased. In accordance with condition 15.4(c), we are entitled to close your account, terminate your agreement and demand repayment of the full amount.
It's hard to defend the company that would send a letter like this, but one has to realize that business is business, and PayPal likely has legal reasons for sending out letters before they close an account. However, as the letter continues, it goes from tone-deaf to offensive.
Explaining that her rules violation is "not capable of remedy" the document goes on to state that PayPal will be forced to take action.
We are not required to give any further notice before taking such action, however we do understand that you may be experiencing financial difficulties and are eager to help.
Whether a computer system spit out the letter because software conditions were triggered, or a person banged it out on a keyboard (or by filling in blanks in a program), it seems like a horrific thing for someone who recently lost a loved one to have to read.
Mr. Durdle reached out to the media, and the BBC wrote an article about his ordeal. At the time, PayPal representatives expressed their apologies that such an incident occurred, and stated they were working to find out how it happened. For his part, Durdle simply wanted to make sure other people didn't have to go through a similar experience during such a difficult time.
Hi @BBCRoryCJ – the only organisation that has been this awful about my wife's death and estate is @PayPalUK. I'd like to see that this doesn't happen to other widow(er)s. https://t.co/CeArfIkyAs

— ?????? ?????? (@hdurdle) July 10, 2018
In the time since, TNW contacted PayPal and we were told by a representative that the company is taking the matter very seriously. A company spokesperson said:
We apologise unreservedly to Mr Durdle for the understandable distress this letter has caused. As soon as we became aware of this mistake, we contacted Mr Durdle directly to offer our support, cleared the outstanding debt and closed down his wife's account as he requested. We are urgently reviewing our internal processes to ensure this does not happen again.
This doesn't excuse the company from making such a miserable error, but it does seem to indicate that PayPal isn't simply offering lip service to avoid a media fiasco. Taking care of Mrs. Durdle's debt – a little over $4K – is the least the company could do. But offering a complete apology, admitting it was in the wrong, and "urgently" reviewing the process to make sure it never happens again is the best anyone could hope for.
PayPal have been in touch, have apologised sincerely and have promised to change whatever they need to internally to ensure this can't happen again. I just hope more orgs can apply empathy and common sense to avoid hurting the recently bereaved.

— ?????? ?????? (@hdurdle) July 10, 2018
It sucks when big tech screws up, and it hurts when businesses act without empathy, but mistakes are inevitable. It says a lot about PayPal that it was willing to face this head on. It could have easily told us it had no comment – we're used to hearing the old "we don't discuss ongoing investigations" line.
But, this time, PayPal screwed up and then it did the right thing. That's the key: the apology has to be followed by action. Other big tech companies should follow suit.