Story by
Former Managing Editor, TNW
Bryan is a freelance journalist. Bryan is a freelance journalist.
April Fools' Day is a time reporters have come to dread. As we sift through our inbox while drinking that morning cup of coffee we're met with excitement, disbelief, and even dread as we try to discern what's real and what's not.
It's a day that has us questioning everything. And since April 1 falls on a Saturday this year, we now have an extra day of increased skepticism to look forward to.
These are the companies and products that make us hate this time of year (in no particular order).
Google
Google Netherlands unveiled Google Wind, launching April 1. According to the promo video, the company can now control the weather using Dutch windmills in Holland.
As the video points out, The Netherlands is one of the best countries to live in. There's only one downside: it rains 145 days a year. Google Wind could be the answer. "At Google, we've solved [the rain problem] by repurposing some of Holland's old windmills, using them not to capture wind, but to generate it."
Google has offered up some of the best gags on April 1 due to the innovative nature of the company and the believability of its April Fools' jokes. This year, however, it seems the company just said fuck it, although with typical hilarious results.
Google wasn't done there, though. We also saw the Google Maps app running Ms. Pac Man, which we covered earlier.
Driver Finder by CarGurus
CarGurus has traditionally given potential buyers the chance to chat to sellers to find out more about the car, but today, the company wants to flip the script.
DriverFinder, as the feature's called is a "groundbreaking" technology that lets cars interview their potential owners. As the CarGurus points out "In this age of self-driving cars and advanced AI, cars are essentially people too. This makes it critical to take their feelings into consideration during the car shopping process."
You can try it here: DriverFinder
Lyft Mono
Mono is a cutesy wearable that resembles the shape of a hand when hitchhiking. The futuristic device allows you to keep the phone in your pocket while hailing a ride from Lyft.
"With Mono, we want to make the entire ridesharing process as seamless as possible, whether you're a bellman who can't whistle or a mom with her hands full; a nudist who needs a ride or a millennial who just can't even. Forget about screens, taps, and notifications. Just lift, request, and ride."
This one is actually quite odd for two reasons: one, it's just so ridiculous to think this could be more useful than your phone in hailing a ride, and two, Lyft actually created it! Like, for realsies.
Lexus LC: Lane Valet
Lexus this year introduced a (fake) feature for the 2018 LC that I'd actually love to see.
When cruising along in the faster left lanes, there's nothing more frustrating than a slow-moving driver who won't get over and allow you to pass. Lexus fixed the problem by allowing its car to communicate with others.
Lane Valet is "a semi-autonomous technology technology that can connect to left lane vehicles obstructing the flow of traffic and do the driver the courtesy of moving their vehicle for them." And I want it.
Tinder's 'Live Date'
Curious to see how this one plays out, but according to a Facebook promo video, Tinder is hosting a 'Live' date today at 12pm PST/3pm EST. Details aren't available yet, but we'll tune in and update this once it happens.

Update: Lame. ?
Duolingo emoji course
Duolingo today unveiled a new (and 100-percent fake) course to help parents and grandparents understand the language of choice for millennials: emoji.
According to the website:
Learn Emoji in just ? minutes a day with our game-like lessons. Whether you're a beginner starting with the basics (?, mom!) or looking to practice your ? , ✍️, and ? , Duolingo is scientifically proven to work.
Netflix Live
This one is actually semi-hilarious. Netflix today introduced a feature where Will Arnett watches some of the most mundane videos on the internet while providing commentary.
First I got to see Arnett's hilarious take monologue about office lighting while watching a live video of a printer in a dimly-lit office. "Nobody looks good in this lighting. Well, maybe Ashton Kutcher." Now, he's providing valuable analysis of a burrito being microwaved — "Minute left, we're really rounding third on this one."
I could watch this all day.
DoorDash 'M.O.M'
Today DoorDash announced a new feature that allows kids to order their own food. Called Meal Override Mode — or just M.O.M. — the app handles dinner delivery so mom and dad can continue being absentee parents.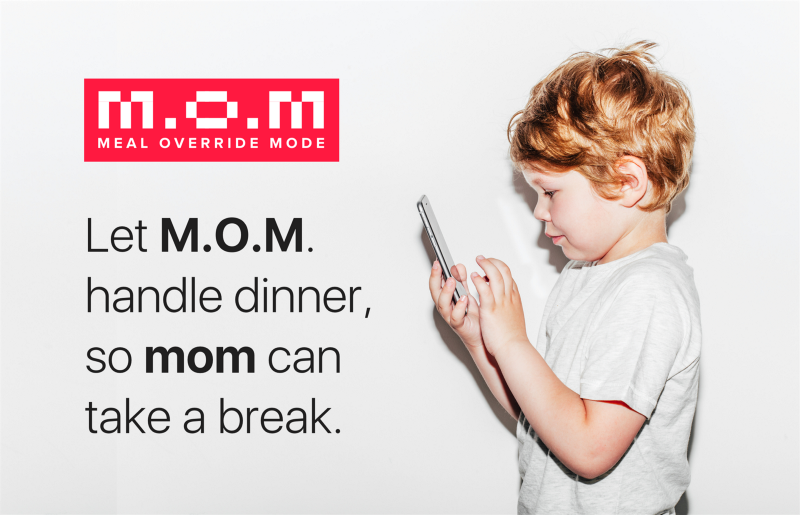 According to the announcement, there are several kid-friendly additions to the app that should make parents smile:
Do your homework: "Before they can submit their order, kids will have to solve the summation problem created by their order. More advanced students can even delve into algebra by calculating the correct tip and tax amount as percentages."
Eat your veggies: "With M.O.M. activated, your child won't be able to finish their order until there's a healthy handful of vegetables in their cart."
Finish your chores: "Since M.O.M. always knows best, it'll calculate the best character-building opportunities that span the length of your delivery times. Watch your ladd or lass light up as they learn the joys of walking the dog, practicing piano, setting the table, and more!"
Trulia
The best April Fools' Day pranks are believable, almost subtle cons that make you wonder if this could actually be true. Trulia missed the memo and today announced rental listings for pets.
"With Trulia's new listings, pets get the whole pawspective. Using Trulia, Molly the Mastif can search for the perfect doghouse to raise her new litter, and Smokey the Siamese can easily stalk his next urban rental retreat, complete with floor-to-ceiling bay windows for the best bird-watching a cat could ask for."
Shoot me.
Hinge 'Parental Controls'
Hinge, if you're unaware, is a dating app. Today, the company introduced Hinge Parental Controls, "a dashboard in your Hinge account for your mom and dad to access."
Once inside, mom and dad can set their preferences for your potential matches. They'll choose occupation (as long as its a doctor, surgeon, or other), timeframe for children (yesterday, ASAP, 9 months), distance from mom and dad (same house, around the corner, same town), and select which holidays their available for visits.
The scary part is, I think I know people that would actually use this.
Moshi 'USB-L'
According to the launch video, Moshi has tapped into the speed of light in launching its new USB connection, USB-L — "L" is for the speed of light, get it? Moshi — which makes some of the best peripherals and accessories on the market — has struck gold by creating a USB adapter that can charge your device in an instant, all while providing Gigabit internet.
The video is a bit over the top, so it removes any notion of tricking people into believing this is actually a thing, but that doesn't stop me from wishing it were.
Man Crates 'Man Freight'
Man Crates, a gift box delivery company, realizes the best way to give a gift isn't through the mail, but in person. As such, the company today announced Man Freight, a feature that — assuming you can find the way to its warehouse — ships you along with the gift so you can hand deliver it.
"We've designed 16 square feet of luxurious space to help the most medium-sized adult feel at home on the road. When you purchase a gift from Man Crates, select Man Freight as your delivery option. Then find your way to our warehouse where we'll board you up and ship you out. The ride will be anything but boring thanks to our complimentary snacks, air holes and WiFi."
2-3 days later, the recipient gets to pry open the crate containing you, and their gift.
Samuel Adams launches BREWBR
BREWBR, from one of America's favorite beer makers, today launched a transportation service that's basically the Uber for drunks, a craft beer ride-sharing service that will not only get you to your destination, but ensure you're well lubricated by the time you get there.
You can download the app and give it a spin here.
TomTom Sports Wearables and Trump's Climbing Wall
TomTom, one of the most popular GPS manufacturers in the world, is having a little fun at the expense of Trump's border wall. The relatively new division of wearables, TomTom Sports, encourages us to get of our ass, and get active. And what better way to do it than putting in work on Trump's border wall?
8/10, would climb.
Tripping.com Exclusive White House Vacation Rentals
TomTom wasn't the only company to poke some fun at Donald Trump this April Fools' day. Tripping.com, a vacation rental aggregator, noticed that Trump was spending a fair amount of time away from The White House and managed to negotiate a pretty sweet exclusive agreement to secure the unused space.
"With the President choosing to spend the majority of his weekends at either Mar-a-Lago or one of his other phenomenal, world-class properties, we saw an opportunity to offset some of the costs of his travels while also helping to contribute to balancing the country's budget by renting out the White House," said a White House spokesperson.
Double-win. Stay at the White House, and help add to the countries coffers while doing it. That's just patriotic.
Lovehoney's 'Moan Droan'
Lovehoney, an online peddler of sex toys and fine adult products, just solved the problem you didn't know you had. When the mood strikes, and you can't bear the thought of cooling the fire long enough to wait for traditional delivery — or make a visit to the adult store in the shady part of town, shudder — Lovehoney wants to keep the party going with its newly-announced drone delivery program, Moan Droan.
Now, you can shop from the comfort of your own home while knowing that, within minutes, the right tool for the job will be on its way to your door.
PornHub shares your videos on social
PornHub wins the award for cruelest April Fools' prank with this gem. Users that click a video, for uh, educational purposes, are met with a pop up that thanks them for sharing their dirty, dirty porn viewing habits on social media.
That's cold, PornHub.
Snapchat trolls Instagram
Snapchat just had a large IPO, which is a pro. On the con side, it's had to watch as Facebook-owned properties (Facebook proper, Snapchat and Whatsapp) picked apart its platform and stole the best features. On April Fools' Day, though, Snapchat struck back.
Snapchat trolling Instagram with filters on April Fool's Day ???? pic.twitter.com/gbBf1j5wZq

— Daniel Folkman (@danielfolkman) April 1, 2017
That's a Snapchat filter, in case you were wondering, that creates an Instagram-like filter with two likes: you and your mom.
Get the TNW newsletter
Get the most important tech news in your inbox each week.