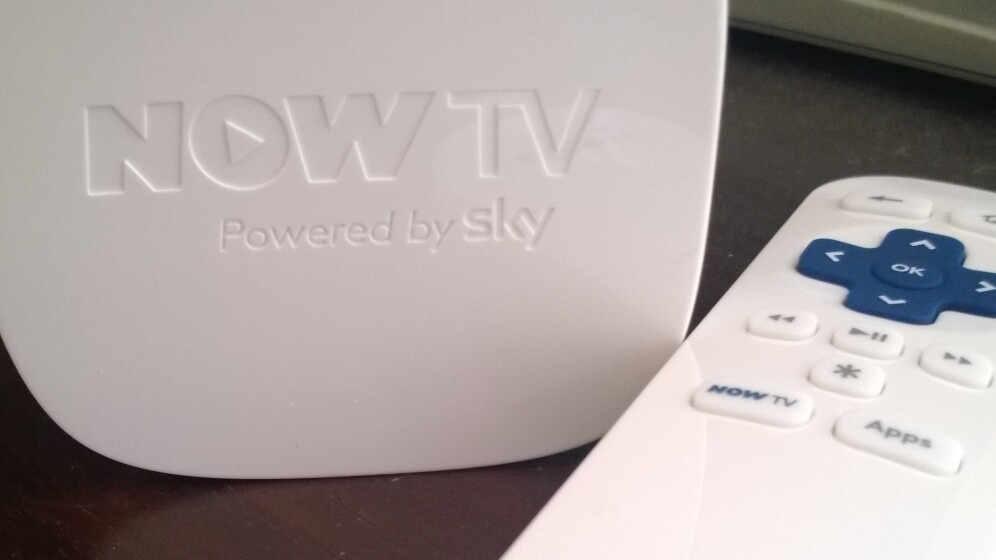 Story by
Europe Editor
Ben is a technology journalist with a specialism in mobile devices and a geeky love of mobile spectrum issues. Ben used to be a professional Ben is a technology journalist with a specialism in mobile devices and a geeky love of mobile spectrum issues. Ben used to be a professional online poker player. You can contact him via Twitter or on Google+.
Sky's NOW TV service might not be as well known as others under its auspices, such as Sky Go, for example, but at under £10 for a little white box that promises to make your boring old TV an internet-connected one, it sounds like a no-brainer. Plus it introduces the option to pay for on demand access to Sky's sport and movie channels too.
The one thing that's critical for an internet-connected TV is….yep, an internet connection. This is where my experience with NOW TV started: with a failure to connect.
Opening up the box, you'll find the unit itself (which will be very familiar if you've seen or used Roku's little streaming player), an HDMI cable for connecting it to the TV, a remote (plus batteries) and a power pack. Naturally setting it up is as easy as plugging all those things in.
Once you're ready and the unit is switched on, you'll see a welcome screen asking you to connect to a WiFi network. Despite trying several times, having double and triple checked that I'd put in the correct password, it simply wouldn't connect to my (Virgin Media) router. I tried disabling security on the router altogether, to no avail.
However, tethering it to my phone worked no problem at all. First time, in fact.
Once connected, the software will update itself and then ask you to sign in to NOW TV. If you don't have an account you'll need one, and you can't set one up from the box, so you'll need a laptop or tablet or something.
Once that hurdled has been safely cleared you finally get to the NOW TV menu screen which provides access to all installed channels (apps) and the settings menu.
Navigation is simple enough, all performed via the arrow and enter keys on the remote and it's responsive enough to keep you from being frustrated at having to wait around.
New apps can be installed by pressing the apps button on the controller and then navigating to the desired option, whether that's dedicated channels like BBC News 24 or things like Spotify or the Facebook photos and videos app.
Actual streaming performance, which will undoubtedly vary depending on your connections – tethered to 4G in this instance, was without problems and it didn't balk at the BBC iPlayer HD content, though it only supports output at up to 720p.
Obviously, Sky's hoping you'll shell out for its on-demand Sky Sport and Sky Movies. Pricing has been set at £9.99 per day for all six Sky Sports channels and subscription to the movies channel is being offered on a 30 day free trial for new customers, followed by a one month introductory price of £8.99, which then rises to £15 per month.
Essentially, the unit is a rebranded Roku unit with Sky's software on board and a few services removed. While Roku devices tend to retail for a little more than the price of the Sky branded-offering (which is around $15), Sky's not really in this for the hardware cash. To it, the value of those ad-hoc daily sports, or monthly movies are far more important.
Personally, I'm not that interested in Sky's movie or TV offerings, and with no access to services like Netflix, LOVEFiLM, ITV Player, and 4oD (for obvious reasons – as competing on-demand streaming platforms) it's slightly less smart than I'd like, but to be able to turn a normal HD TV into an at least semi-smart TV for £10 has got to be worth anyone's money. Providing it'll play nicely with your router. I'll let you know if I get it working with mine.
Update: After much wrangling the WiFi connectivity issue was eventually resolved by accessing the hidden menu (press home button 5 times followed by fast-forward, play, rewind, play and then fast-forward again) and selecting "disable network pings" in the options.
➤ NOW TV
Get the TNW newsletter
Get the most important tech news in your inbox each week.