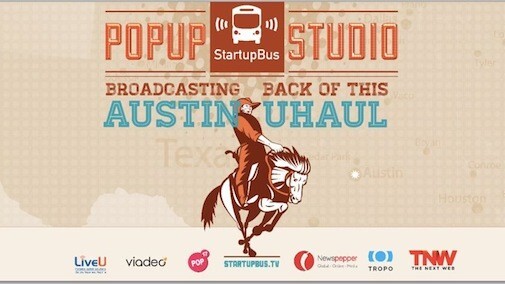 Story by
Founder Newspepper.com & Techfluff.TV. Loves social media, video on the Internet. Loves travel & pickled onions Founder Newspepper.com & Techfluff.TV. Loves social media, video on the Internet. Loves travel & pickled onions
Poor you, you don't get to attend one of the tech industry's biggest festivals– SXSW– in Austin, Texas this week. But don't despair, as a lucky reader of The Next Web, we are bringing you 8 days of live streaming content and 16 shows for you to tune into as we track the progress of one of the hottest projects to come out of Silicon Valley: StartupBus – the tech accelerator on a moving bus.
This year, 10 buses are leaving from all over the USA and thanks to Viadeo, LiveU and Tropo, we are bringing you StartupBus.tv– daily live shows tracking the progress of the eleven 'tribes' on the buses as they build and launch a web app by the time they reach Austin, Texas in time for SXSW.
Not only will we be bringing you the daily Bus Tracker show with special guests like Robert Scobel and Kara Swisher, but we will also be bringing you a nightly 'best parties' show featuring our top picks of the must attend events this year.
So who and what can we you expect to see on our shows? Below is our schedule which is packed with guests and interviews plus don't forget to tune into the StartupBus semi finals and finals to see who will be crowned StartupBus winner of 2012. All the shows will be on The Next Web, but you can also subscribe directly to the uStream channel here and you will get a reminder when we are going live.
Date/Time/Name of shows: Content/Guests (All show times are in Central Time)
Tuesday 6th March (2pm-4pm): The Bus Tracker Show, Hosts: Hermione Way/Sarah Austin: Looking into the Stanford, Miami and NY Bus: Guests: Adam Hansen on the Rackspace Startup Program
Wednesday 7th March (2pm-4pm): The Bus Tracker Show, Hosts: Hermione Way/Sarah Austin: Looking into three buses on the roll: Tour of the Rackspace HQ
Thursday 8th March (2pm-4pm): The Bus Tracker Show Hermione Way/Sarah Austin/Robert Scoble: Looking into three buses on the roll, Rackspace Fanatical Support and how it works/ Robert Scobel
Thursday 8th March (6pm-8pm): The Bus Arrival Show Hermione Way/Sarah Austin/Robert Scoble Interview with "Buspreneurs" as they arrive in San Antonio.
Friday 9th March (9am-1pm): StartupBus: Hijack'd by the Rack! Robert Scoble/Elias Bizannes
Entrepreneurs pitch to panel of expert guests:
Robert Scoble, Rackspace (Emcee)
Elias Bizannes, StartupBus Founder
Guy Kawasaki, Alltop
Dave McClure, 500 Startups
Paul Signh, 500 Startups
Luis Robles, Sequoia Capital
Friday 9th March (6pm-8pm): Best Parties Show, Hosts: Hermione Way, Sarah Austin, Anastasia Emmanuel: #1Techstars Invades #2 Startup Weekend Zaarly & Twilio SXSWi Party
Saturday 10th March (1pm-3pm): StartupBus Daily Show, Hosts: Hermione Way, Sarah Austin, Anastasia Emmanuel, Guests: Path, Matt Van Horn, VP of Business Olivier Fécherolle, Chief Strategy Officer, Viadeo, Courtney Boyd Myers, Features Editor/The Next Web and Brad McCarty, Managing Editor/The Next Web Johnny Diggz, Founder/GWOBorg and Voxeo, Chief Evangelist/Tropo,
Saturday 10th (March, 3pm -5.30pm): Startup Bus Semi-Finals, Mitch Neff, Hermione Way, Sarah Austin, Anastasia Emmanuel: Startup Battle it out in the final, Launch Rock Space, Live at the Mill
Saturday 10th March (6:30pm – 9:30pm): Best Parties Show, Hosts: Hermione Way, Sarah Austin, Anastasia Emmanuel, Dutch Happy Hour Drinks AKA, Amsterdamned, 'Red Light Distract', #1One Clipboard Deck Party, #2House Party Splash #3Decentralized Dance Party- RETURN TO AUSTIN
Sunday 11th March (1pm – 3pm): StartupBus Daily Show, Hermione Way, Sarah Austin, Anastasia Emmanuel, Jane McGonigal, speaker at SXSX, Interviews with judges, semi-finalists, sponsors and partners of StartupBus
Sunday 11th March (3pm – 5:30pm): StartupBus Grand Final, Mitch Neff, Hermione Way, Sarah Austin, Anastasia Emmanuel
Sunday 11th March (6:30pm – 9.30pm): Best Parties Show, Hermione Way, Sarah Austin, Anastasia Emmanuel #1 Best of Parties Show #2Chinwag British Tea Party – Global Grill #3 StartupBus/Rackspace Mixoff Party, VIP party #4 The Crowdtap VIP Party SXSW's ʺCan't Miss Partyʺ Returns
Monday 12th March (2pm – 4pm): StartupBus Daily Show, Elliot Tomaeno & Friends on Gaytech, Hosts: Elliot Tomaeno/Hermione Way
Guests:
Kara Swisher, AllthingsD.com
Joel Simkhai, CEO of Grindr
Cathy Brooks, Spokesperson for dot429.com
Nick Vivion, Founder of UnicornBooty.com
Monday March 12th (7pm – 10pm): Best Parties Show, Hosts: Hermione Way, Sarah Austin, Anastasia Emmanuel #1 StumbleUpon's Explore More Happy Hour, #2 Mashable House & more!
Tuesday 13th March (2pm – 4pm): StartupBus Daily Show, Hermione Way, Sarah Austin, Anastasia Emmanuel, Baratunde Thurston, editor of The Onion + Friends and the new book ''How to be Black'', Rene, Forecast 2.0, App
Tuesday 13th March (8pm – 10pm): Best Parties Show Hermione Way, Sarah Austin, Anastasia Emmanuel #1 MediaTemple SXSXi Closing Party, Stubbs, BBQ
In case you're wondering what StartupBus is, here's a video of the European tour to Le Web: