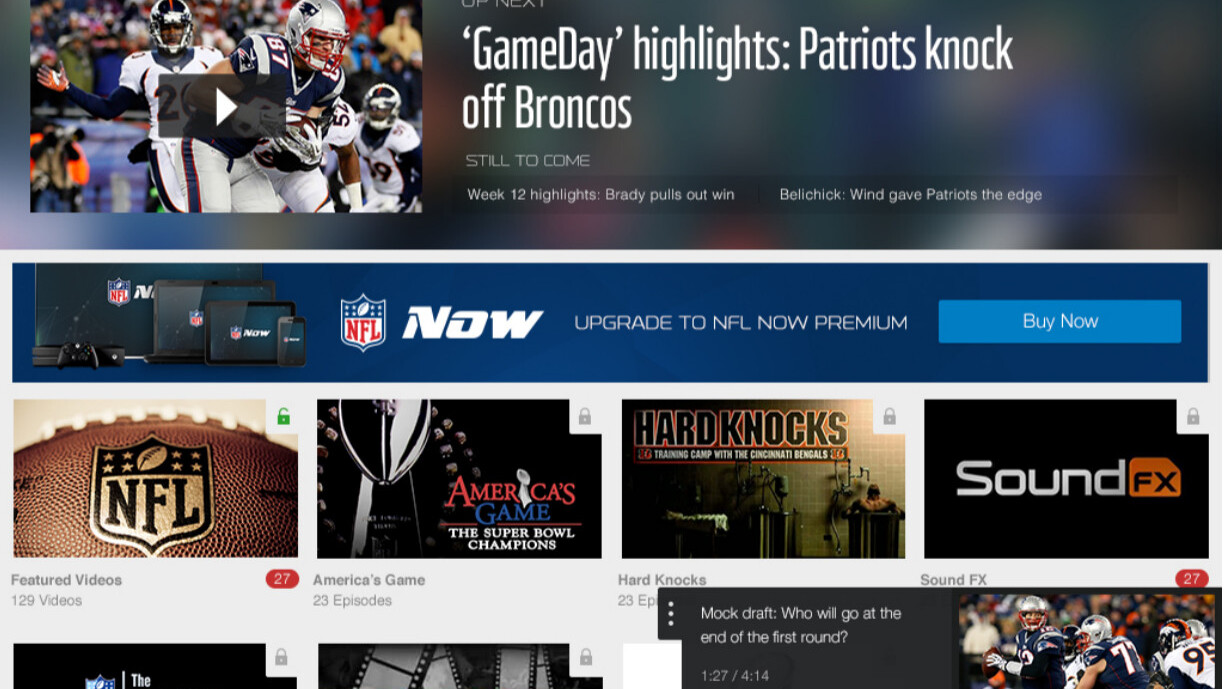 Story by
US Editor
Natt Garun is the former US Editor at The Next Web, managing the North American team on content, events, features and reviews coverage. She Natt Garun is the former US Editor at The Next Web, managing the North American team on content, events, features and reviews coverage. She previously wrote for Digital Trends, Business Insider, and Gizmodo. Facebook | Twitter | Google+
Just in time before the regular season begins, the National Football League has announced the expansion of the NFL Now app to connected set-top boxes, including the Apple TV, Roku and Amazon Fire TV. The personalized video service will also offer a premium NFL Now Plus feature for $1.99 a month to provide in-game highlights, analysis, press conferences, shows and documentaries from the NFL Films vault.
The NFL Now app allows fans to customize content based on their favorite teams, players or fantasy roster. The league boasts a Los Angeles-based studio to film original weekly content during the regular season. Viewers do not need to have a subscription to the NFL Network for access to these custom videos.
The launch of NFL Now and its Plus service is another of the league's many recent tech developments. Just last week, the NFL Mobile app for iOS got a sleek redesign, and a recent partnership with Microsoft has replaced coaches' binders with Surface tablets to streamline play-calling on the sidelines.
Both NFL Now and NFL Now Plus are available now on iOS, Android, Windows Phone, and third-party distributors such as Yahoo Screen and Yahoo Sports. The app will gradually roll out to set-top devices throughout the month and is expected to be available by the start of the regular season on September 4.
➤ NFL Now
Get the TNW newsletter
Get the most important tech news in your inbox each week.