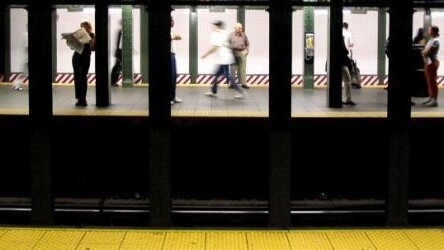 Story by
Lesotho-born and raised, Nancy Messieh, The Next Web's Middle East Editor, is an Egyptian writer and photographer based in Cairo, Egypt. Fol Lesotho-born and raised, Nancy Messieh, The Next Web's Middle East Editor, is an Egyptian writer and photographer based in Cairo, Egypt. Follow her on Twitter, her site or Google+ or get in touch at [email protected]
New York is definitely a city that's ahead of the curve as far as incorporating the latest technology into residents' daily lives is concerned. The Big Apple is home to the first restaurant to switch its entire ordering system over to the iPad, and the city's tech scene is thriving.
Another first New York can add to its list is the Metropolitan Transportation Authority's On the Go! Travel Station, a 47-inch touchscreen where subway users can access all they need to know about the subway. You can use the system to look up the subway map, find out about delays, service changes, and even discover if the escalator at your station is out of order.
The On the Go! Travel Station extends beyond the confines of the New York subway system though, and with its extensive features the Travel Station will come in handy for tourists and New Yorkers alike. You will also be able to use the system to look up maps of New York neighbourhoods, find places to eat and shop in those areas, and even get walking directions. There's also a news ticker and weather information. The first station is being unveiled today at the Bowling Green subway station, and in the coming weeks it will also be available at Penn Station, Grand Central Station, and Atlantic Ave.-Pacific St. in downtown Brooklyn and Jackson Heights-Roosevelt Ave. in Queens.
The Travel Station also provides a new advertising space for anyone who wants to catch the eye of New York's subway goers.
Already earning itself comparisons to the iPad, the Travel Station is extremely feature rich, and it's only just touching the tip of the iceberg with its potential. The only foreseeable problem is ensuring that passengers don't hog it.
Paul Fleuranges, a New York City Transit division vice president is quoted in New York Daily News as saying, "This puts at our customers' fingertips an enormous amount of information they have not had access to before."
The system was developed by the NYC Transit together with Cisco Systems, and the latter will be covering the costs of the initial 6-month pilot program.
Get the TNW newsletter
Get the most important tech news in your inbox each week.