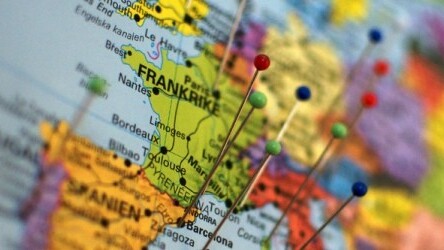 Story by
Lesotho-born and raised, Nancy Messieh, The Next Web's Middle East Editor, is an Egyptian writer and photographer based in Cairo, Egypt. Fol Lesotho-born and raised, Nancy Messieh, The Next Web's Middle East Editor, is an Egyptian writer and photographer based in Cairo, Egypt. Follow her on Twitter, her site or Google+ or get in touch at [email protected]
Nerdy Day Trips is a brand new site which caters to the travelling geek. The crowd-sourced world map is full of nerdy destinations perfect for a one day trip. Starting out with a focus on the UK, the site has quickly filled up with destinations all over the world.
The site was conceived by Ben Goldacre and Jo Bradie, and was developed by Applecado, a UK-based web development firm, and designed by Aaron Rudd.
Europe and North America are definitely sprinting ahead of the rest of the world on the site with an unbelievable amount of nerdiness which would probably fill up your calendar for a whole year. What's great about Nerdy Day Trips, is that you are the ones who get to add destinations to the map, and there's a whole lot of land that's waiting to be discovered, so to speak.
By clicking on any given pin on the map, you can check out the details about the location, as well as leave a comment, or easily share it on Twitter, Facebook and Google+.
To add your own destinations, just register for a free account, or sign in using Twitter, and you can start adding more cool museums, nature spots, historic locations, factories and abandoned buildings, to the map.
Either drop a pin on the map, or simply enter the address manually, along with a title and description. You can also add an image, website and your own comments on the venue if you choose to.
Since it's crowdsourced, we did notice a couple of locations that were mislabeled. The UK Dark Sky Park somehow ended up off the west coast of Africa, but if you spot a mistake, you can request a correction.
In their own words:
We really want to gather as many as possible of the more obscure ones, the clearing with the abandoned factory, a strange earth feature of nerd interest, the terrifying power station, the water slide park, and so on. Our fantasy is that on any given road trip, you will be able to find a nerd stop somewhere along your route, or perhaps even plot out a nerd odyssey across the UK.
Our Verdict
Anything that lets us get our nerd on is going to go down well here at The Next Web. Nerd Day Trips is an awesome collection of trips, a lot of which take you far off the beaten path. And that's the best thing about it. It really makes it easy to discover cool places to go, which you might not have heard of, whether it's in your own home town, or before you travel.
The more venues get added, however, the more unwieldy the site could get. You can currently search for venues, as well as zoom right in on any given location on the map to see exactly what's been pinned in any country or city.
There are a few ways that Nerdy Day Trips, in its current state, could be improved. Listing categories on the site and providing links to Google Maps to generate directions are two features which could make a big difference.
That said, what matters most about the site, Nerdy Day Trips does well, and that is provide you with a ton of nerdy, geeky, and unique spots to visit.