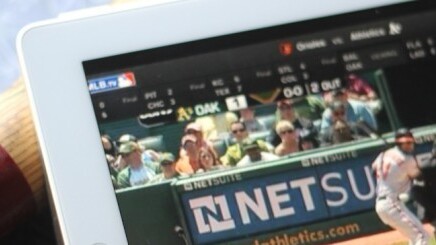 Story by
Matthew Panzarino was Managing Editor at TNW. He's no longer with the company, but you can follow him on Twitter. Matthew Panzarino was Managing Editor at TNW. He's no longer with the company, but you can follow him on Twitter.
One of our favorite sports apps on any platform, MLB At Bat 13, is getting a nice update today with the release of its spring training edition. An initial set of features is live in the app, but it will be updated with even more on the start of the regular season.
Last year there was a split because Android phones couldn't handle some of the video and subscription features of the app. Now, they'll be everywhere. MLB Advanced Media announced in January that it would also be on BlackBerry 10 on opening day. The Google Play store now supports annual subscriptions, so you can buy that right in the Android app.
Here's the way that the new, simpler, system works:
If you're an MLB.TV subscriber, you get all features bundled with your subscription, period.
If you pay the $19.99 you now get live audio across all platforms including desktop, as well as live video look-ins and the free game of the day. Your subscription also works on iOS, Android, Kindle Fire and BlackBerry, without having to buy it individually for each platform.
So, it's either MLB.TV subscription, or $20 bucks, that's it. Note that Android users will have to grab the new MLB At Bat app to update to the new features, as there were two apps last season and neither will be getting these new features. Once they've grabbed it from Google Play, they can subscribe in the app. iOS users are already set, as the new app is an update to the old version.
During Spring Training, everyone can stream more than 200 games, listen live to broadcasts, track league-wide scoreboards and everything.
A a brand new news section features a more media-rich and easier to read selection of news items in the app. The previous news section was adequate, but not exactly fantastic looking, so this is a nice upgrade.
There are also now sortable batting, pitching and fielding stats on both iPad and Android tablets (this won't show up on phones apparently). The individual team pages have gotten a revamp on the iPhone and Android phones as well.
The video highlight feature has been 'expanded' on iPhone and Android phones and there is a bunch of stuff that is new on all platforms including a classic game video library archive, and new app navigation.
Get the TNW newsletter
Get the most important tech news in your inbox each week.